'No remorse': Millionaire Muslim fraudster who posed as a 'battling single mother' so she could live in public housing cries in court as she loses appeal against home detention
And although caught out in her brazen practice of grand-scale welfare fraud, and convicted, she is getting a mere slap on the wrist.  One may note that she had a "mosque marriage" that was not registered with Australian officialdom; and one wonders just how much of that is going on, and how many other Muslim women of this ilk are fraudulently milking – and overburdening – the social security system.
Millionaire Muslim woman Rebecca Khodragha posed as 'battling single mother' 
She was convicted of fraud in 2016 sentenced to three months home detention  
Khodragha's appeal was thrown out in Parramatta District Court on Wednesday 
The court heard she still lives in public housing and receives Centrelink payment 
Justice Sides said she had an 'absence of remorse' and 'complete lack of insight' 
A millionaire Muslim woman who posed as a 'battling single mother' so she could live in public housing for 15 years has had her appeal thrown out of court.
Rebecca Khodragha, 44, appeared at Parramatta District Court on Wednesday to fight her three months home detention sentence, hoping for it to be lightened to community service.
The married mother-of-two, whose husband owns an electrical business which rakes in more than $1million each year, was given the sentence in 2016 when she was convicted of welfare fraud.
The court was previously told that Ms Khodrangha's husband Khaled Sabsabi owned a lucerative electrical contracting business which was registered to the housing commission address.
The full story fisked by Christina McIntosh is below the fold.
Australia: Omar Succarieh, Muslim Jihad Enabler, Is Tried For Extortion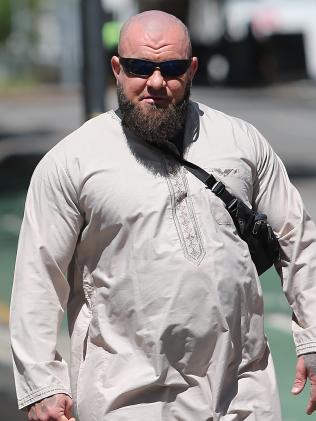 This bloke – who used to run an Islamic bookshop in one of Brisbane's southern suburbs, so any idea that he didn't really understand Islam, or wasn't a real Muslim, gets blown out of the water straightaway – is already doing time in prison for having sent money to the jihad outfit, Jabhat al-Nusra, in Syria (whither two of his brothers, Ahmed and Ibrahim, had gone to wage jihad in 2013; Ahmed is now deceased, having made himself into a human bomb in September 2013 in order to please 'allah' by killing those deemed insufficiently-Islamic).  It seems likely that at least some of the cash he was attempting to extort from an Infidel shop-owner would have ended up in the coffers of jihadis.  I recall that, some years ago now, there was a case of a couple of jihad enablers in France were extorting money from (Infidel) prostitutes, in order to raise cash for Jihad.  Throughout the lands of the Infidels many Muslims are up to their ears in criminal activity, from robbery and welfare fraud, through to large-scale organised crime.  And in many cases the profits from those activities are being channelled toward Jihad.
Here's the ABC's Andrew Kos, reporting on the trial.
'A man (That is: A Muslim man – CM) accused of attempting to extort tens of thousands of dollars from a (non-Muslim – CM) cafe manager threatened to "break his legs" if he did not pay up, a Brisbane court has heard.
Continue reading Many Muslims are engaged in criminal activity to support jihad →