ASIO BOSS DENIES REFUGEE LINK TO TERROR. IS HE BLIND?
ASIO boss Duncan Lewis made a startling claim yesterday as he apparently tried to make One Nation leader Pauline Hanson look silly.
Instead, Lewis has made himself seem dangerously blind with this staggering claim:
I have abso­lutely no evidence to suggest there is a connection between refugees and terrorism.
Yes, that really is what he said: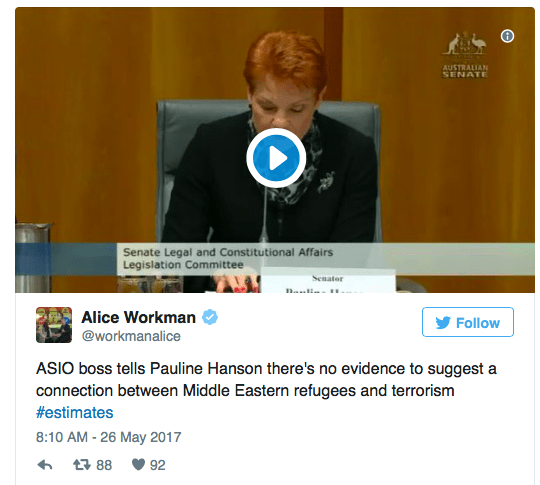 ASIO boss tells Pauline Hanson there's no evidence to suggest a connection between Middle Eastern refugees and terrorism
No evidence?
But what about Farhad Jabour, an Iranian refugee who murdered police accountant Curtis Cheng while shouting "Allah is the greatest"?
What about Man Monis, an Iranian refugee and Islamic State supporter who staged the deadly Lindt cafe siege and caused the death of two hostages?
Continue reading "No Evidence" claims a Dunce who is sworn to protect us →