Black Lives Matter: "We Will Burn Down This System" – Part II
by Soeren Kern
A recent survey by the Pew Research Center found that more than two-thirds of Americans support the Black Lives Matter movement. While Gatestone Institute and doubtless many others wish that blacks and all minorities benefit from the equal opportunities and protections offered by the U.S. Constitution, the high level of backing raises the question: How much does the public really know about BLM?
BLM's leaders openly admit that they want to abolish the nuclear family, police, prisons and capitalism.
Black Lives Matter uses Thousand Currents, which is an IRS-approved 501(c)(3) organization, as its fiscal sponsor. Donations made on the Black Lives Matter website are processed by the left-wing ActBlue Charities, a donation platform affiliated with the Democratic Party, and then transferred to Thousand Currents, which then distributes them back to Black Lives Matter.
"If this country doesn't give us what we want, then we will burn down this system and replace it. All right?… I just want black liberation, and black sovereignty. By any means necessary." — Hawk Newsome, leader of BLM's Greater New York chapter, New York Post, June 25, 2020.
BLM is also obsessed with U.S. President Donald J. Trump, who, arguably, has done more for African Americans than any other president in recent memory.
"In reality, this has nothing to do with black lives and everything to do with liberal Marxist anarchists having hijacked, as they always do, an important social issue with which they will undermine the very communities and people they claim to represent." — Tammy Bruce, US commentator, The Washington Times, June 14, 2020.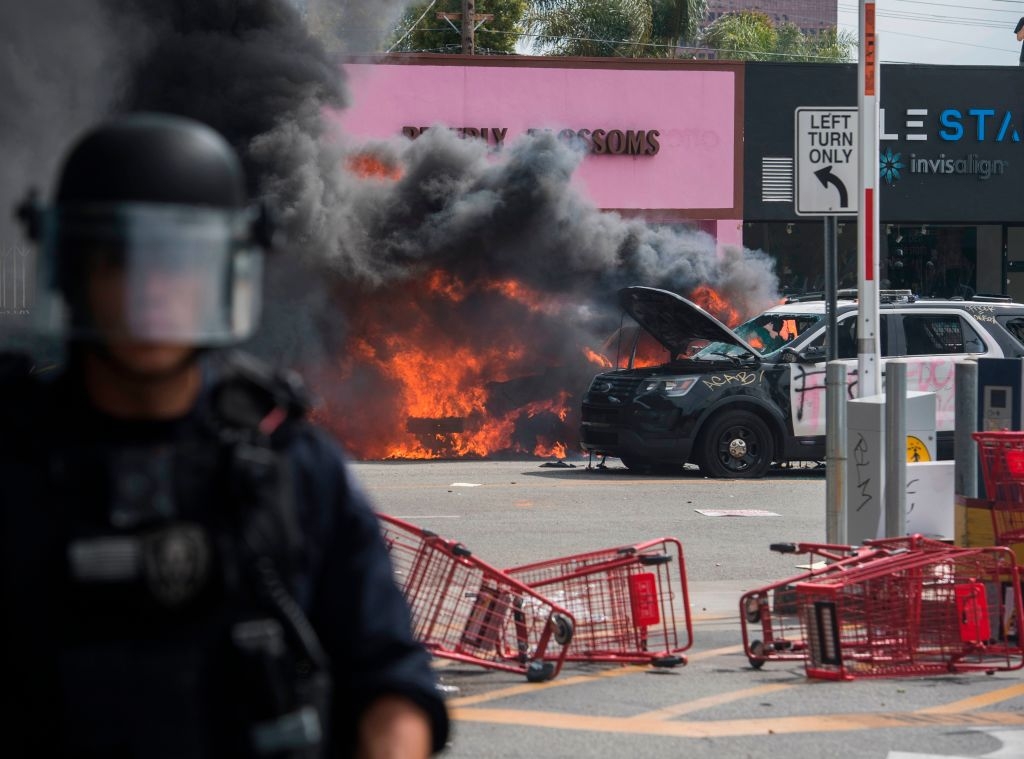 Black Lives Matter leaders have threatened to "burn down the system" if their demands are not met, and are also training black militias. Pictured: Police vehicles burn after being torched by participants in a BLM demonstration on May 30, 2020 in Los Angeles. (Photo by Mark Ralston/AFP via Getty Images)
Continue reading BLM: why would anyone in his right mind support this evil cult? →