Bono may be stripped of Bosnian passport
Officials are questioning the legality of the U2 frontman's Bosnian passport, saying that the country's law does not allow honorary citizenships
Unbelievable:
from the Guardian for Muslims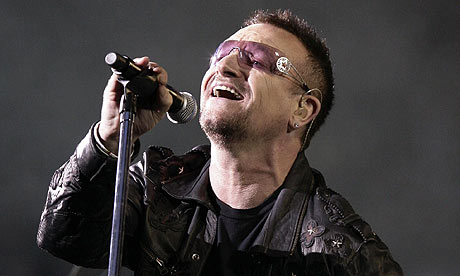 Bono fide … Bosnian officials may revoke the U2 frontman's honorary passport. Photograph: Yui Mok/PA
Bono may not be Bosnian for much longer. The U2 frontman, who carries an honorary Bosnian passport, may be stripped of the document as officials investigate the legality of the award.
Bono, Â the untalented frontman for 'save the world with others peoples money' activist is a long time supporter of Mustafa Ceric's Narco-Jihad Republic Bosnia.
The controversy erupted after a recent U2 gig in Zagreb, Croatia, when Bono reportedly said that his Bosnian passport was one of his most treasured possessions. The passport was given to him in 1997 by Alija Izetbegović, the late Bosnian president, recognising the singer's support during the Bosnian war. (Izetbegovic, as you can see from the link, is an Al Qaeda associate who wanted to turn Bosnia into an Islamic Republic.)
At the time of the award, Bono compared Bosnia with Northern Ireland. "It's a small country and we have been divided also," he said. "We are trying to wrestle our world from the fools of the past and give it to the wise men of the future."
This year, Bosnian officials have revoked several hundred citizenships granted "illegally", Balkan Insight reports. Most of these were granted to Islamic fighters who joined Bosnian forces in the war with Croatia and what was then Yugoslavia. Bosnian Serb officials claim that the country's law does not allow for honorary citizenships.
"If we establish that a passport was given outside a regular legal procedure, we will have no other option but to take it away," Sredoje Novic, minister of civil affairs, admitted. "We cut no slack to anybody, not even for Bono Vox."
Others have accused Novic of pursuing a Bosnian Serb agenda. The minister's deputy, Senad Sepic, said that revoking Bono's passport would "besmirch everything valuable which anybody from the world has given to our country", according to Sarajevo newspaper Dnevni Avaz.