Wether you liked him or not: he was one of US, and a lot more than that: R.I.P!
Christopher Hitchens dead at 62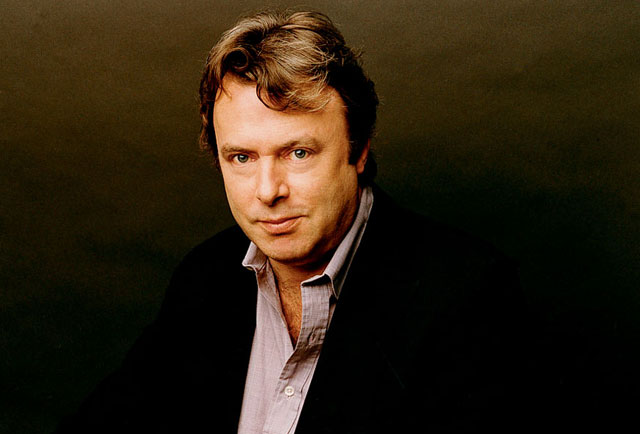 Hitchens died of pneumonia, a complication of esophageal cancer, at the MD Anderson Cancer Center in Houston, Vanity Fair announced on their website. Hitchens was a regular contributor to the magazine.
"He was a man of insatiable appetites — for cigarettes, for scotch, for company, for great writing, and, above all, for conversation," Vanity Fair editor Graydon Carter said, in an essay announcing Hitchens' death, published on the magazine's website.
"He had an output to equal what he took in was the miracle in the man. You'd be hard-pressed to find a writer who could match the volume of exquisitely crafted columns, essays, articles, and books he produced over the past four decades.
"You felt as though he was writing to you and to you alone. And as a result many readers felt they knew him. Walking with him down the street in New York or through an airplane terminal was like escorting a movie star through the throngs.
"To his friends, Christopher will be remembered for his elevated but inclusive humor and for a staggering, almost punishing memory that held up under the most liquid of late-night conditions. And to all of us, his readers, Christopher Hitchens will be remembered for the millions of words he left behind. They are his legacy. And, God love him, it was his will."
The English-born, Oxford-educated Hitchens was diagnosed with esophageal cancer in spring last year and was forced to cut short the book tour for his biography "Hitch 22" while he underwent treatment.
"Cancer victimhood contains a permanent temptation to be self-centered and even solipsistic," he wrote in Vanity Fair almost a year ago.
Hitchens, a noted enfant terrible in the literary world, was a public figure who appeared regularly on TV and has had his work published in a myriad of magazines including The New Statesman, The Atlantic, Slate and The Nation. He also published several books including the atheist tome "God is Not Great."
He was well-known for his prolific consumption of alcohol and cigarettes. It was reported that the chain-smoking Hitchens gave up smoking cigarettes in 2008, though a profile piece in The Washington Post in June last year showed that he was still indulging in the habit.
In 2003, he famously quipped that his daily intake of alcohol was enough "to kill or stun the average mule."
Hitchens, once a darling of the left, famously underwent an ideological shift in recent years, especially after 9/11, that saw him support the Iraq war and lose the support of many of his former admirers.
Hitchens is survived by his wife Carol Blue, an American writer, and three daughters, two of whom were from a previous marriage.
Christopher Hitchens: A life in quotes
Hitchens was born in the UK but made his name across the Atlantic as a caustic and controversial writer [Reuters]
Christopher Hitchens, the British author and journalist who has died at at the age of 62 , was famous for his controversial polemic writings, his sharp wit and blunt honesty.
Hitchens could write, talk and debate at length and ferociously on a wide range of subjects and was a regular contributor to publications such as the New Statesman, Vanity Fair, the Atlantic, Slate, World Affairs, and The Nation.
"Terrorism is the tactic of demanding the impossible, and demanding it at gunpoint."

– Christopher Hitchens
He was the author of 17 books, including "The Trial of Henry Kissinger", "God is not Great", and a memoir, "Hitch-22". His final publication of a collection of his essays, "Arguably", was released this year.
Here are some of his most memorable quotes from a literary and journalistic career spanning more than four decades:
"[Britain is] "Weimar without the sex." -Â Hitchens verdict on why he left the UK for America during the end of the 1970s.
"[Mother Teresa] was not a friend of the poor. She was a friend of poverty. She said that suffering was a gift from God. She spent her life opposing the only known cure for poverty, which is the empowerment of women and the emancipation of them from a livestock version of compulsory reproduction." -Â Hitchens once remarked that his enemies include Bill Clinton, Mother Teresa and Pope John Paul II.
"[Heaven is a] place of endless praise and adoration, limitless abnegation and abjection of self; a celestial North Korea." – When asked what his views on heaven were.
"Reagan is doing to the country what he can no longer do to his wife." – Hitchens was a vocal critic of the Reagan presidency.
"I am an anti-Zionist. I'm one of those people of Jewish descent who believes that Zionism would be a mistake even if there were no Palestinians." -Â Hitchens was constant in his condemnation of the illegal Israeli occupation of Palestine.
"I apply the Abraham Lincoln test for moral casuistry: "If slavery is not wrong, nothing is wrong." Well, then, if waterboarding does not constitute torture, then there is no such thing as torture." - Hitchens volunteered to be waterboarded to show how it could be used as a means of torture.
"[George W. Bush] is lucky to be governor of Texas. He is unusually incurious, abnormally unintelligent, amazingly inarticulate, fantastically uncultured, extraordinarily uneducated, and apparently quite proud of all these things."  –Hitchens' view of Bush in 1999, a year before he became US President. In 2003 Hitchens was a staunch supporter of the US-led invasion of Iraq.
"Terrorism is the tactic of demanding the impossible, and demanding it at gunpoint." -Â Hitchens said his support for the so-called "war on terror" in 2001 was premised not on conservative principles but on liberal ones.
"Religion is man-made. Even the men who made it cannot agree on what their prophets or redeemers or gurus actually said or did." - Hitchens was a dogmatic atheist, writing the bestseller, "God is not Great: How Religion Poisons Everything".
"My so-far uncancerous throat . . . is not at all the only organ with which I have blasphemed." -Â To someone who insisted that God had given him throat cancer in order to punish the "one part of his body he used for blasphemy".
"Suppose there were groups of secularists at hospitals who went round the terminally ill and urged them to adopt atheism: 'Don't be a mug all your life. Make your last days the best ones. People might suppose this was in poor taste." - A parting shot against those who suggested that he should embrace religion before he died.