Arrested Islamists suspected of planning attack in France
Paris prosecutor says three men in their 20s 'were training themselves in making explosives based on jihadist radicalization, glorification of terrorist who murdered four Jews at Toulouse school
Three Islamic terrorists arrested in southern France were planning an attack in the days ahead of the anniversary of an al-Qaeda-inspired shooting that rocked France, the Paris prosecutor said on Monday.

Police found weapons and explosives at the home of one of the suspects in the town of Marignane, near Marseille, and intercepted communications between the men suggested they were close to going into action, prosecutor Francois Molins said. (Continued below)
France
Car Attack on Mayor Who Suppressed Substitute Pork Menu from School Canteen
"Some individuals entered my property during the night and damaged my vehicle."
If you eat pork you are a "far right extremist"
 "When we see that our company Air France no longer has pork in its meals, that more and more school canteens no longer offer pork in the meals, that it's the same with government canteens, that humanitarian associations like Restaurants du coeur and Secours catholique refuse donations of products that contain pork, aren't we just submitting to the demands of the greatest extremists?"
Tipping Point in Belgium
A demographic study has just confirmed this observation: according to the calculations of the sociologist Jan Hertogen, the kingdom has 2.6 million citizens "of immigrant origin", which is 24% of the total population.
Continued:
Related stories:
Toulouse terrorist dies during police raid
The three men, who were taken in for questioning last week with a fourth man who was later released, were to be placed under formal investigation later on Monday.
"The investigation showed we were faced with a veritable laboratory for making improvised explosive devices and, even if we had no evidence of a precise plan, the messages exchanged by the participants suggested the timetable could be accelerated," Molins told reporters.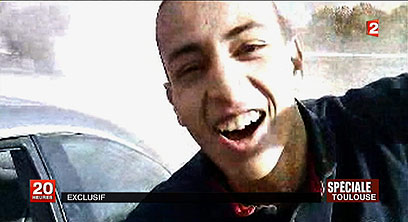 Mohamed Merah (Archive photo: AFP)
The timing of the arrests was poignant, coming exactly a year after 23-year-old gunman Mohamed Merah began a rampage that killed three Jewish children, a rabbi and three soldiers in the southern city of Toulouse. He was subsequently tracked down and killed in a shootout with police.
Speaking as Defense Minister Le Drian led a memorial ceremony in Toulouse for Merah's first victim and posthumously awarded him the prestigious "Legion d'Honneur" medal, Molins said the arrested men, in their 20s, wanted to emulate Merah.
"It was clear they were training themselves in making explosives based on a jihadist radicalization, a glorification of Mohamed Merah, and an affirmed desire to go into action."
France, which centralizes its terror investigations in Paris, is on high alert for any home-grown terrorist activity since its military intervention against Islamist fighters in Mali in January prompted threats of retaliatory action.