From Boston to Tel Aviv,  Islamic terrorists are united in their ideology, goals and techniques 
Riccardo Dugulin/Y-Net (thanks to Mullah)
Bad habits are the most difficult to get rid of. True in everyday life, this is even more so when it comes to analyzing international relations and terrorist attacks in this particular case.
An Al Jazeera opinion piece by Sarah Kendzior ("The wrong kind of Caucasian") is instrumental in highlighting the unwillingness of the global media to cover such events properly. Each time a terrorist strikes, it appears as if the politically correct Western intellectual crowds feel a hardly defendable uneasiness about the fact that the killer may be an Arab and/or a Muslim. Mrs Kendzior and her colleagues consider that any remark over a terrorist's ethnicity or philosophical and religious views is irrelevant and utterly racist as it only serves the purpose of "crucifying" a supposedly innocent group of people. The same feeling had filled the air before the terrorists responsible for the bombings were identified, giving rise to a general wave of "let's hope it's not an Arab" fear.
Related:
Mothers From Hell
Revelations that the mother of Tamerlan Tsarnaev full-heartedly supported her sons violent aims while feeding him on a jihadi culture do not bug the mass of commentators who refuse to see the correlation between the apocalyptic brand of radical Islam that has been spreading worldwide and the risk it poses to liberal democracies.
Killing Osama Bin Laden on May 2, 2011 may have been a success for the US, but it created the illusion that the target is and will remain exclusively al-Qaeda. Indeed, the organization is extremely deadly and dangerous, but it does not represent the sole terrorist threat to the US, Europe, and Israel. In fact, it is self-deceiving to attribute to Aa-Qaeda the monopoly on atrocities, a technique that belongs to a brand of media and commentators who see in Arab and Muslim terrorists non-affiliated to al-Qaeda only militants or lone-wolfs.
The killings in Boston have underscored that once more those who do not want to speak the truth abide by three tenets to explain and, to some extent, justify what happened.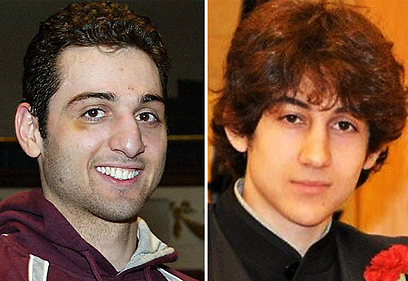 'Neither poor nor detached.' Brothers Tsarnaev (Photo: AP)
The first point is always in some way attached to the socio-economic situation of the terrorist. Poverty or isolation is waved as sacred reason for any act of terrorism. People inGaza are poor? Muslim students in Europe and the US have a hard time integrating? These appear to be situations which undeniably give them a stamp of approval to bomb and stab their neighbors. This theory loses ground and credibility faced with the fact that the Boston terrorists, as the one in London, were neither poor nor detached from the society surrounding them. They simply hated it.
A second point often raised by those defending the sociological aspects of terrorism is that these attacks are, explicitly or implicitly, linked to the US foreign policy and Israel. In this case, the truth still can't be said because, to some extent, these commentators choose to use and rephrase Khomeini's Great Satan discourse. Richard Falk is the embodiment of such perverted thinking. If Bostonians are the "canaries" in a coal mine, the innocent deaths needed to denounce world imperialism, then those perpetrating these gruesome murders embody honorable fighters. The extent to which this logic is self-defeating and unsustainable should be evident to everyone, yet it continues to hide and fight the truth, the truth which sees two brothers wage their hate campaign based on fundamentalist Islam against innocent civilians.
The third and last point used in those events targets a general a posteriori racist feeling. As if the reason the terrorists attack lies in the way people will decide to react to these mass murders. The need to denounce an ideology, a sect and psychology which sees in the death of innocent civilians a way of life and an ultimate goal can never and should never be repressed under the scope of a politically motivated devastating wishful thinking.
The truth still can't be said because, when addressed in clear terms, it is deemed racist and anti-Islam. Those daring to state the reality of an explosive situation are targeted as heretics in their societies. While this is unfolding in the US and Western Europe, radical Islam as a death-oriented ideology keeps spreading its cancer cells against which the official discourse proposes only integration, social policies and reconciliation gestures as the key to the solution.
The Boston attacks must be read for what they are, a continuation of the global jihad, an act of endless hate against a civilization. From London to Boston, from Madrid to Tel Aviv, the killers and terrorists are united in their ideology, their goals and their techniques.
The victims need to understand it because without addressing the truth for what it is, the risk of further attacks is only increasing.
Related:
Islamic indoctrination in Boston  / Shoula Romano Horing
Op-ed: How much more bloodshed is needed for Obama to understand that Israeli concessions will not bring peace?
Full Story
Riccardo Dugulin holds a Master degree from the Paris School of International Affairs (Sciences Po) and is specialized in International Security. He is currently working in Paris for a medical and security assistance company. He has worked for a number of leading think tanks in Washington DC, Dubai and Beirut. Personal website:Â www.riccardodugulin.com