Update:
UK Votes for Jihad and Jew-Hatred: Craven Quisling MPs vote to back a call for government to recognise "Palestine" terror state
The jihadists in Gaza, Judea and Samaria have met no conditions and have refused to recognize Israel. For this they received $5.5 billion in jizya yesterday ($212 million from Obama) and now quasi-recognition from a now de facto Islamic state — the UK. A terror state in the heart of Israel.–READ MORE (Pamela Geller)
Donor fatigue? Far from it:
The West isn't 'fatigued' enough. Despite the 'donor fatigue,' the West is accepting the 'Palestinians' narrative without question.
Ample evidence has proven that Hamas uses UN and other aid money, as well as materials, to build terror tunnels into Israeli territory with the aim of attacking Israeli citizens – instead of providing buildings to its own citizens.
It seems that Western donors – who have been asked to finance the 'reconstruction' of Gaza over and over again only to see their money go for weapons – may finally have had it with Hamas and its leadership. The donor countries are said to be suffering from 'fatigue.'
Fat chance:
The Pals remain the most pampered (pseudo) national groups terrorists in the world today, and there is no end in sight.  (Tundra Tabloids)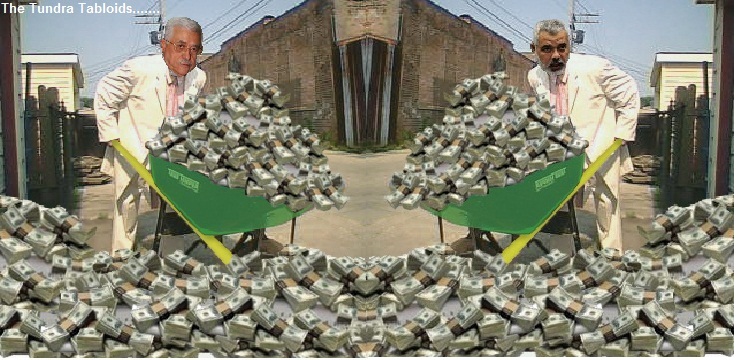 EU donates 450 million for Gaza reconstruction, VS 318 million
Edited by: editor – 10/12/14, 12:26 – Source: Reuters
© AFP. , the American Secretary of State John Kerry (L) with his counterpart  handler from Kuwait Sabah Al-Khalid Al-Sabah.
.
Brussels is giving 450 million euros for the reconstruction of Gaza, Washington donates converted approximately 168 million euros. Palestinian President Mahmoud Abbas was stated prior to the conference in Cairo that more than 3.1 billion is needed to recover. The destruction that was caused in the recent war with Israel.
(Links from the Elder and Israel Matzav)
Hamas and Abbas the big winners in the Gaza donor sweepstakes, now watch them fight 
From AP:
Donors at an international conference Sunday promised $2.7 billion to rebuild the war-ravaged Gaza Strip, but all of the key participants said their efforts would be futile without a permanent peace between Israel and the Palestinians.

U.S.-mediated talks broke down this summer before the 50-day war between Hamas and Israel began — the third since 2008 — and it remains unclear how peace can come about.
Norwegian Foreign Minister Borge Brende, who co-chaired the one-day meeting with Egypt, said pledges of $5.4 billion have been made, but that only half of that money would be "dedicated" to the reconstruction of the coastal strip.

Brende did not say what the other half of the funds would be spent on. Other delegates have spoken of budgetary support, boosting economic activity, emergency relief and other projects.
From the WSJ:
The Palestinian Authority, which governs the West Bank, also agreed to take control of Gaza, which has been run independently for the past 7 years by Hamas after the Islamists ousted the authority in 2007.

"Gaza remains a tinderbox," said United Nations Secretary-General Ban Ki-moon, speaking to donors. "Yet we must not lose sight of the root causes of the recent hostilities," which he blamed on blockades on Gaza by neighboring Israel and Egypt as they try to isolate Hamas.

Israel has faulted Hamas militant activity for the hostilities, including cross-border tunnels and rocket fire.

Qatar, long a supporter of Islamists throughout the region, including Hamas in Gaza, led the contributors with a $1 billion pledge. Other big Arab contributors included Kuwait and the United Arab Emirates, with each pledging $200 million, and Saudi Arabia, which had promised $500 million before the conference began. The U.S. agreed to donate $212 million to Gaza.

The total exceeded the $4 billion estimate the Palestinians had said was needed to recover from a 50-day summer conflict between Hamas and Israel which left many neighborhoods in Gaza destroyed, along with much of the territory's infrastructure.

Ahead of the conference, hosted in Cairo with Norway's help, other Gulf states and the U.S. had seen donations as a chance to "remove Qatar and the political factions within Hamas that are tied to Doha," from control of postwar Gaza, said Theodore Karasik, head of research at the Institute for Near East and Gulf Military Analysis in Dubai.

But the large Qatari contribution, larger than that of the three largest other donors combined, reduces that possibility. Before the latest conflict between Israel and Hamas began on July 8, Qatar was already Gaza's largest foreign benefactor.

…Ziad Abu Amr, the Palestinian Authority's deputy prime minister, said Qatar "wants to be there" in Gaza. But he acknowledged that the reconstruction would have to take place under a modified political setup that excludes Hamas because Western donors including the U.S., the U.K. and the European Union can't legally give money directly to Hamas, which they deem a terrorist group.

Qatar's close ties to Hamas and other Islamists—including the main al Qaeda affiliate in Syria, Nusra Front—has caused friction with its Gulf neighbors since the onset of the Arab Spring three years ago. Qatar's regional profile has grown through its backing of Islamist movements during this period.
If only half the $5.4 billion is earmarked for reconstruction, and the PA is the main recipient of the funds, that means that there is plenty of cash for the PA to use for its own purposes – its budget has been in very bad shape for years, and it seems likely that it will use much of the funds for its own purposes.
But Qatar's $1 billion is going straight to Hamas, to pay salaries, build housing, pay terrorist families – and to buy weapons and build terror tunnels.
It is important to remember that Arab Gulf countries have traditionally been very bad at paying their pledged to the Palestinians. Qatar has been steadfast in funding Hamas and other Sunni terror groups, though.
It seems very doubtful that Hamas will give up on day to day power in Gaza. It is likely that the PA will take over the administration of the Erez and Kerem Shalom crossings, which doesn't hurt Hamas much. There is already infighting over who will control the Rafah crossing to Egypt; Hamas knows that its insistence on controlling it  is what prompts Egypt to keep it mostly closed but Hamas will suffer a great loss of honor if it gives up its only international border with an Arab state.
The chances that the PA will dismantle Gaza terror groups, or that it will replace Hamas control over the police and interior ministry in Gaza, are quite low indeed.
Qatar has given Hamas a lifeline. The other donor countries have given the PA more excuses for their own questionable budgetary practices, such as prioritizing payments to terrorists.
The infighting is inevitable.