UK: Manchester jihad mass murderer "devout" Muslim who learned Qur'an by heart
He learned the Qur'an by heart and his father is a pillar of the mosque. Yet somehow he succumbed to what Theresa May and so many other Western leaders have repeatedly characterized as an outrageous misunderstanding and hijacking of the true teachings of Islam. Why wasn't the peaceful, benign Islam that Abedi supposedly imbibed at home and at his mosque, and from the Qur'an itself, not strong enough to withstand the appeal of this twisted version? Authorities never answer, or even seem to consider, such questions.
"Salman Ramadan Abedi named by police as Manchester Arena attacker," by Ian Cobain, Frances Perraudin, Steven Morris, and Nazia Parveen, Guardian, May 23, 2017 (thanks to the Geller Report):
"The Prime Minister vowed to 'defeat the ideology that often fuels this violence', saying: 'We struggle to comprehend the warped and twisted mind that sees a room packed with young children not as a scene to cherish but as an opportunity for carnage.'"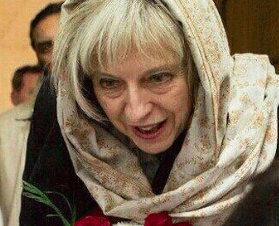 Struggling indeed.
The man who murdered 22 people and injured 59 others has been named as Salman Ramadan Abedi, a Mancunian of Libyan descent.
Police confirmed the 22-year-old's identity after officials in the United States passed it to news reporters, apparently against the wishes of the British police and security services.
Continue reading First pic's of the Manchester suicide bomber →