Police have shot and injured a (Musel-) man who attacked an officer with a hammer near Notre Dame Cathedral in Paris. The man was also armed with two knives, according to French media.
Solution:  Import more Muslims. Persecute those who tell the truth. Keep whole society under surveillance.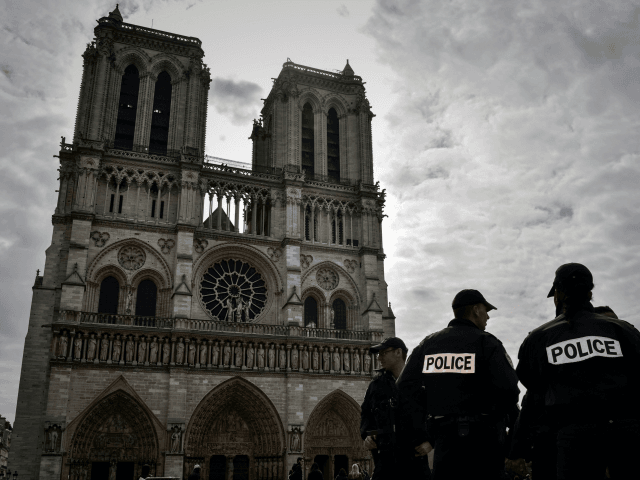 French police shot a man who reportedly attacked them outside the Notre-Dame Cathedral in Paris, France. One officer is reported to have been injured in the incident.
Police are reacting to the event in central Paris Tuesday afternoon, having shut down the neighbourhood, with some 900 tourists and worshippers locked into the Notre-Dame Cathedral for their safety.
French television network BFMTV reports the assailant, who is said to have attacked a police officer with a hammer, has been seen "on the ground", and that he had been shot in the chest.
Witnesses spoke of two shots fired, which came after the assailant reportedly went after members of the public with the hammer, before turning on a pair of policemen. After striking one in the head, the second officer used his firearm.
The injured parties were subsequently taken to hospital.
Quisling elite: `Terrorism has no religion` Mohammed: `I was victorious through terror` Our leaders lie for Islamofascism.
Police shoot & injure attacker 'armed with hammer' near Notre Dame in Paris
Paris: Gunshots and Panic at Notre Dame Cathedral
Police warn public to stay away ■ Police officers reportedly shot a man who tried to assault them ■
The regional secretary of the police union Alliance told BFM TV that the officer was hit in the head with the hammer, prompting police to fire at the attacker.
Two police sources cited by Reuters said the officers shot the man in the thorax after he attacked.
The man had also threatened passers-by before targeting two police officers, according to BFM TV.
Paris police initially tweeted that an "intervention" was taking place in the square in front of the cathedral, and asked people to avoid the area.