Abdelbaki es Satty's name also turned up in Operation Jackal, in which five extremists were convicted for recruiting young men.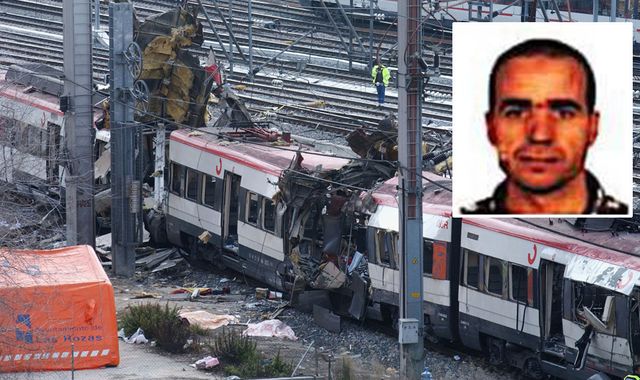 The apparent ringleader of the Spain terror attacks had links to one of the 2004 Madrid bombers.
Officials have said while the men responsible for the twin attacks in Barcelona and Cambrils were not on the security services' radar, the apparent ringleader Abdelbaki es Satty did have extremist connections.
He went to prison five years ago for trafficking hashish from Morocco to Spain, and was locked up alongside Rachid Aglif, jailed for his role in the Madrid attacks.
Related news:
Spain: Police Shoot Dead Barcelona Killer Younes Abouyaaqoub, Last Words Were 'Allah Akbar'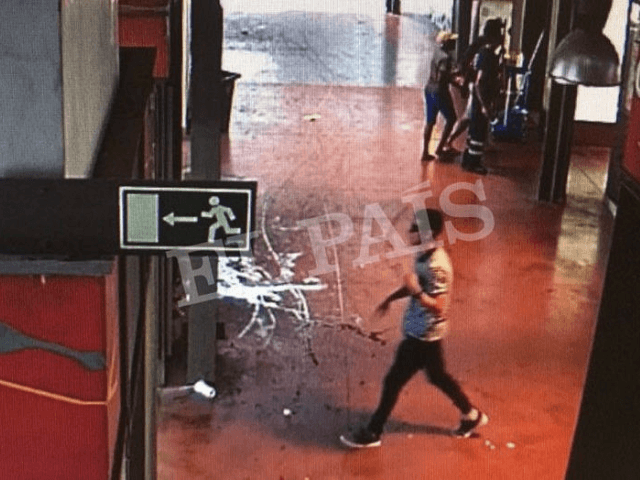 El Pais via Associated Press Images
Spanish police shot dead Younes Abouyaaqoub Monday afternoon, meaning that all known members of the terror cell that perpetrated last week's deadly attack have now been killed or arrested by the security services.
According to reports in Spain's La Vanguardia, a local of Subirats, a small town 30 miles West of Barcelona spotted a man that resembled the description of the Barcelona attacker and alerted police. Shortly afterwards response teams arrived and shot the man dead.
El Pais reports when the suspected terrorist was ambushed by police he shouted "Allah Akbar", an Arabic phrase meaning "Allah is Great", before he was shot dead at a range of 40 feet.
A bomb disposal robot was then deployed to investigate what appeared to be a suicide bomb-belt on the man.
:: Imam's home raided by Barcelona terror police
At least 191 people were killed and thousands were injured when an al Qaeda-linked terror cell detonated bombs on commuter trains during the morning rush hour, making it the worst terror attack in Spain's history.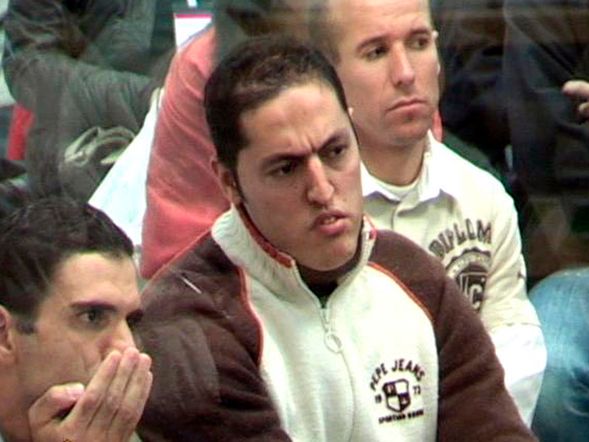 Image:Rachid Aglif (C) was one of the 28 suspects accused of the 2004 Madrid train bombingsEs Satty's name also reportedly turned up in Operation Jackal, in which five extremists were convicted for recruiting young men around seaside towns south of Barcelona.
Es Satty and several of his fellow plotters had travelled between Spain and Morocco in recent months, as they worked on their attack plans.
:: Barcelona terror police identify two bodies in terror-linked house
Spanish officials are facing increasingly uncomfortable questions about why those involved were not on the radar of the intelligence services.
Police say their efforts to track down the fugitive terror suspects are being frustrated by their inability to identify human remains found at the site of an explosion at the plotters' bomb factory, south of Barcelona.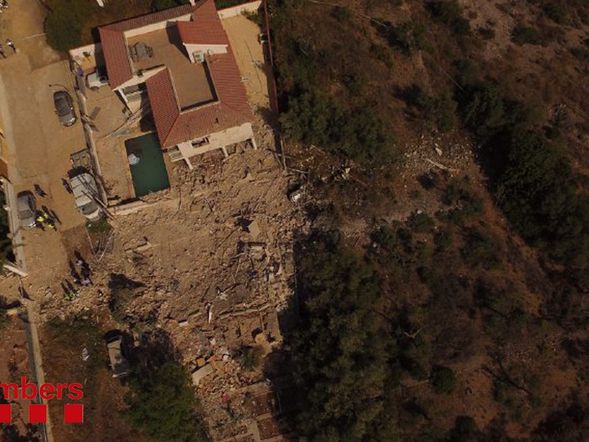 The huge mound of rubble where the house in the coastal town of Alcanar once stood, is now at the centre of the investigation.
:: Barcelona attack: Imam's home raided as police hunt terror mastermind
Police here had initially believed the blast was a non-suspicious gas explosion.
For days, forensic teams have been sifting through the remains of the property in Alcanar.
The premature explosion here on Wednesday should have triggered a vital early warning that a massive attack was imminent, but initially the clues were missed.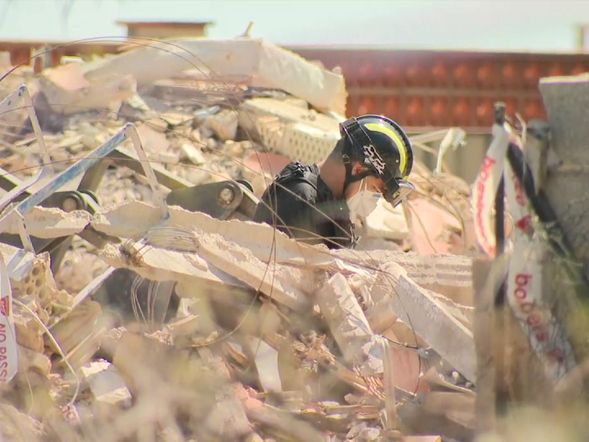 The authorities only realised it was part of the terror plot when evidence recovered after the Barcelona attack linked back to the address in Alcanar.
Investigators have discovered the remains of three people in the rubble but have not yet been able to identify them.
Meanwhile, a manhunt continues for the driver of the van that killed 13 in Barcelona.
Catalan interior minister Joaquim Forn told Catalunya Radio on Monday that "everything indicates" Younes Abouyaaqoub, a 22-year-old Moroccan and resident of the northern town of Ripoll, is the only remaining member of the 12-man cell still at large.
:: Spanish terrorist network: Who are the attackers?
Abouyaaqoub was pictured on a bank security camera in Ripoll on the day of the bomb factory explosion.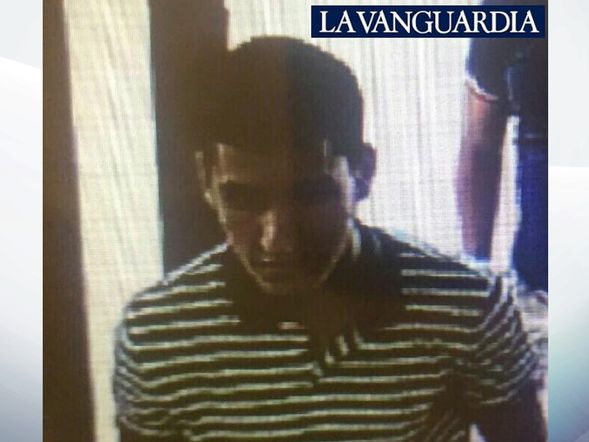 Ripoll is about 200 miles away from the scene of the blast here in Alcanar.
Locals told us that for months, groups of young men who they describe as being of North African appearance, would constantly come and go from this property.
They often dropped off materials including gas cylinders, yet their actions never aroused suspicion, only curiosity.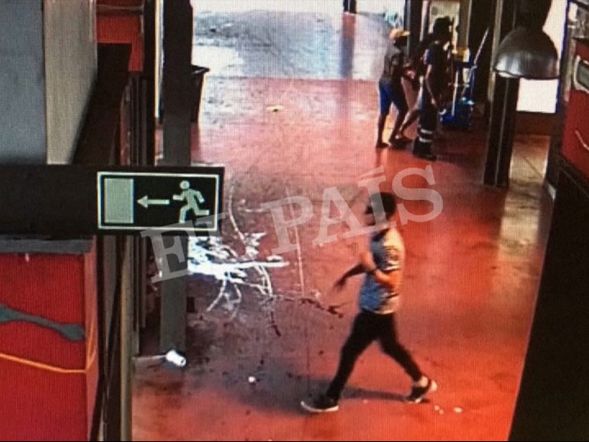 And there are wider issues to address for intelligence agencies here in Spain and beyond.
This was no lone-wolf endeavour. More than a dozen plotters hatched their plans for more than a year.
Cristine Bolz lives just across the road from the villa, and called the emergency services after the huge explosion around 11.30pm on Wednesday.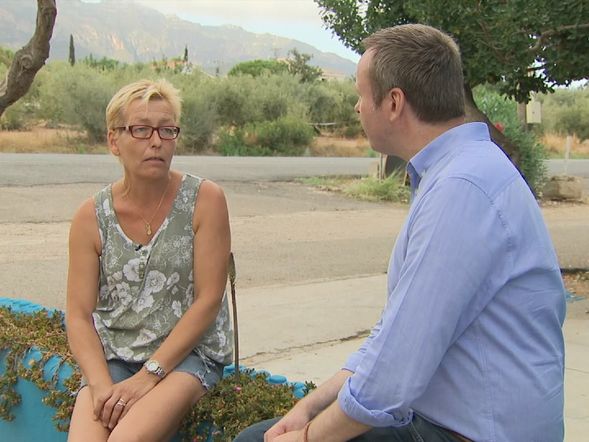 She told me she never believed the initial police assertion that there was nothing suspicious about the blast.
"We weren't really sure what it was, but something really big had just happened. I doubted this was only a gas explosion because to me it smelled like a bomb," she said.
Despite the devastation, and the discovery of more than a hundred gas cylinders amongst the rubble, police told locals there was nothing to be concerned about.
At the Hotel Carlos, Eli Beltri, who works behind the main bar, said she had no reason to doubt officials.
She said: "At the moment of the blast, people thought it was an accident, a gas cylinder that had exploded. No one imagined anything different, like an attack or a bomb, definitely not.
:: Spain terror: Who are the victims of Barcelona and Cambrils attacks?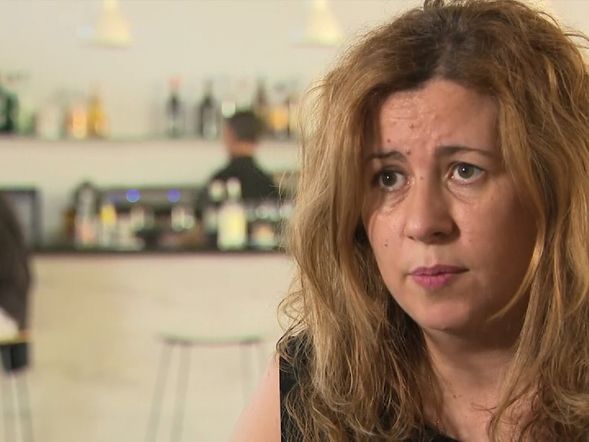 "Even on the next day, when the second bomb went off by accident and the Barcelona attack took place, no one made the connection between both events."
Some in the cell were also in Switzerland and France for a time, where they are believed to have met with other extremists, but their activities were apparently never picked up by security agencies.
With uncertainty over how many of the remaining plotters are still at large, armed police checkpoints have been set up on main roads across northern Spain and on the border with France.
Meanwhile, French newspaper Le Parisien reported on Sunday night that the Audi A3 used in the Cambrils attack was caught speeding in the Paris region about a week ago.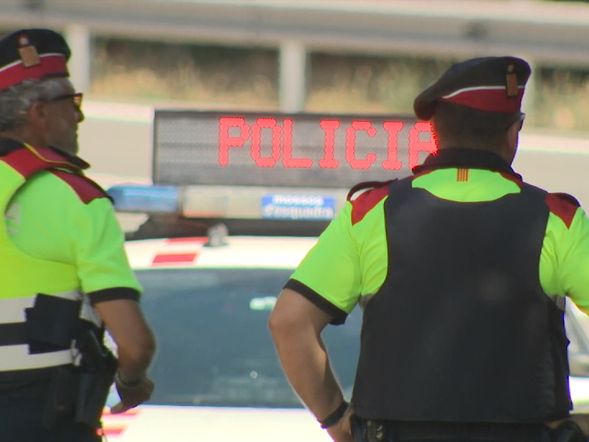 French investigators have not found a direct link between the Spanish cell and France, Le Parisien said, and are looking into the possibility the Audi could have just been transiting through the France when it was caught.
Spanish authorities say the main plot has been dismantled, but with perhaps a handful of plotters still on the loose, the threat here is certainly not over.
Barcelona attack suspect Younes Abouyaaqoub shot dead wearing suicide belt by Spanish police
The terrorist who went on the run after killing 14 people in Barcelona has been shot dead while wearing a fake suicide belt.
Younes Abouyaaqoub was shot on Monday by armed police in the town of Sant Sadurni d'Anoia in the district of Subirats, around 30 miles west of Barcelona, bringing to an end a five-day international manhunt.
The 22-year-old Moroccan reportedly shouted "Allahu akbar" as he was challenged by officers, leading to fears that he was about to launch a bomb attack. Police used a remote-controlled robot to check his body for explosives, but later confirmed that the suicide belt he was wearing was fake.
Abouyaaqoub was the last remaining member of the jihadist cell responsible for last week's twin terrorist attacks in Barcelona and Cambrils. Police now believe he was at the wheel of the van when it ploughed into crowds on Las Ramblas on Thursday afternoon, killing 13 people including Julian Cadman, a seven-year-old British boy.
He then fled on foot, walking around Barcelona for 90 minutes before hijacking a car and killing its owner, 34-year-old aid worker Pablo Perez, in order to make his getaway.
CCTV images emerged on Monday, appearing to show Abouyaaqoub starting to make his escape on foot through Barcelona's La Boqueria market after the attack. He then rammed the Ford Focus through a police checkpoint before abandoning the vehicle and fleeing on foot.
Hours later, five of his associates launched a second attack in the coastal resort of Cambrils, in which a woman was stabbed to death and a police officer badly injured. All five terrorists were shot dead by police at the scene.
There had been fears that Abouyaaqoub had fled across the border into France and might be preparing another terrorist outrage.
But the Catalan police force was alerted shortly before 4.30pm local time, when a resident of Subirats spotted a man acting suspiciously in the street.
She shouted to ask him what he was doing, causing him to run off towards a vineyard, where he was quickly challenged by armed officers.  Roget Queral, an 18-year-old resident of Sant Sadurni d'Anoia, said he believed he had seen Abouyaaqoub in the area before last week's attacks, leading to suggestions that he may have had a hideout in the town.
Police were last night continuing to piece together the movements of the cell, which was based in the town of Ripoll, around 60 miles north of Barcelona in the foothills of the Pyerenees.
It is now believed 40-year-old Abdelbaki Es Satty, the local imam, was responsible for radicalising the 12-strong Moroccan group. A former hashish smuggler, it is thought he became a jihadist after meeting one of the ringleaders of the Madrid train bombings while serving a four-year prison sentence in Valencia. After his release, he moved to Ripoll and began working at the local mosque as an imam.