SUPPORT FOR HOMO MARRIAGE FALLS
The "yes" campaign will might win, but its bullying is the only thing that could lose the unlosable:   "Australians have shifted ground on same-sex marriage in an early success for the No campaign, with support for change falling from 63 to 57 per cent as an argument erupts over advertising tactics."
"Homo Marriage is only the beginning"

For friends still believing the push for homosexual marriage is just about 'love and equal rights' and nothing more.
Perhaps you will take it from the horse's mouth? Like. Share. Think. 
SO IT ISN'T ABOUT EQUALITY AFTER ALL
A Sydney mayor has vowed to make all gay weddings free if same-sex marriage is legalised by the upcoming vote.
Labor's Darcy Byrne, who has just been appointed leader of Inner West Council, wants to give same-sex couples the opportunity to use public halls and community centres to house their nuptials for the first 100 days after the unions are legalised…
However, it doesn't appear as though this offer extends to heterosexual couples.
Animal Farm all over again.
Homo "marriage" is only the beginning: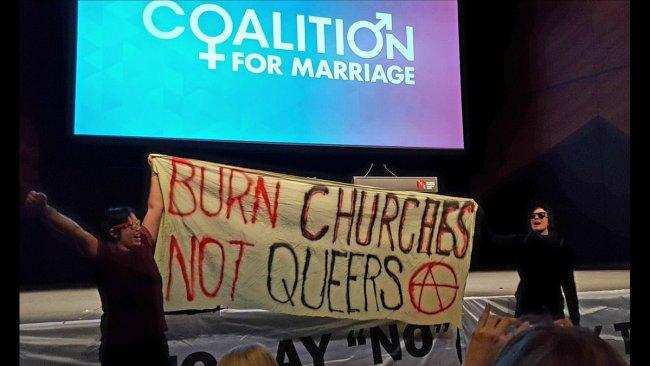 .
The Act also overturns the rule of law. Under section 19(3) of the Act legal action against someone accused of religious vilification can only be undertaken with the consent of the Attorney-General. In a free country the government doesn't get to decide when a law is applied and when it isn't.–
Two Cheers for Freedom of Speech
Paul Collits Quadrant Online September 21st 2017
Those who regard Section 18c as a foul hobble on the right to express an unfettered opinion are on the side of the angels, but only just. When the holder of a dissident opinion can be fired and lose their livelihood, as has just happened in Canberra, the State is far from liberty's only enemy  …Continue Reading
"What I did was bigoted," Sims told Triple J Hack. "But is it worse for me to be a bigot fighting for the rights of homosexuals or is it worse for her being a bigot telling people they can't have equality?"
Mohammedans want some more of our tax dollars.
So get to work everyone, because as sure as the sun rises in the East, our dopey leaders will flush our hard earned down the drain.
They are demanding $3.5 million for a helpline, so they can talk it over if they are worried their children might become radical.
First step might be to stop brainwashing their children with the rantings of a psychopathic, murderous rapist.
We can all do something to stop the Islamization of Australia.
Join Q Society, and help with the push back.
SENIOR Muslim leaders are lobbying the Federal Government for taxpayer cash to fund a telephone helpline for desperate parents, worried about their children being lured by gangs or extremist recruiters.–HERALDSUN.COM.AU
.
An important message from our former Deputy Prime Minister John Anderson. Listen. Think. Share. 
Former Deputy Prime Minister John Anderson makes another great contribution to the debate. As he says:
"We have seen in this country that even before marriage has been redefined there have been serious attempts to undermine some of our most basic freedoms … The reality is the protections for freedom of speech in this country are surprisingly weak … The outcome of this vote may be more important than any other general election."
If you're concerned about threats to our freedoms, vote no!