The intro is an excerpt from Fjordman:
Muslim-dominated Islamic Bangladesh is estimated to house around 172 million people. That number keeps growing by a couple of million annually. In a poor and already densely populated country, such a rapid population growth is unsustainable.
In the year 2000, Bangladeshi Prime Minister Sheikh Hasina was asked by the Los Angeles Times how the country was going to feed, house and employ the expected doubling of its population by 2050. She replied: "We'll send them to America. Globalisation will take that problem away, as you free up all factors of production, also labour. There'll be free movement, country to country. Globalisation in its purest form should not have any boundaries, so small countries with big populations should be able to send population to countries with big boundaries and small populations."[2]
Hasina is essentially arguing that her nation needs more Lebensraum, and that other countries should meekly accept this. Several Muslim nations seem to attempt a similar policy of population dumping through mass migration.
Bangladesh's Prime Minister Sheikh Hasina has issued a new call for Myanmar to take back the some 420,000 Rohingya Muslims who have fled violence in the Buddhist-dominated country.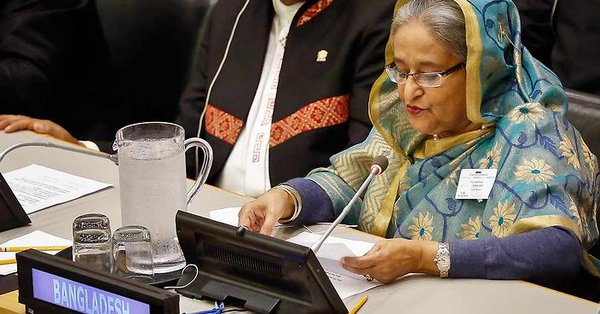 Ms Hasina, speaking to Bangladeshi activists in New York where she is attending the UN General Assembly, also called for greater international pressure on Myanmar over the new crisis which has unfolded in the past three weeks, media reports said.
"We have told Myanmar, they are your citizens, you must take them back, keep them safe, give them shelter, there should not be any oppression and torture," she told a meeting late Tuesday in New York.
Continue reading Bangladesh PM says Myanmar must take back Rohingya →