… because that's really tarnishing the image of Islam, right?
CNN reports from Canada: "Khawlah Noman was walking to her Toronto school when a man suddenly appeared behind her and cut her hijab."
The report continues:
"I felt really scared and confused," the 11-year-old girl said at a news conference Friday.
The man approached the child from behind Friday morning as she made her way to school with her younger brother. He pulled the hood off the girl's jacket and cut her hijab with a pair of scissors, police said.
Ontario Premier Kathleen Wynne:
This is a cowardly act of hatred, and it has no place in Ontario. This does not represent who we are. We must stand firm in our support of this young girl who was assaulted simply for wearing a hijab.
The Huffington Post:
Toronto police are investigating an attack on an 11-year-old girl whose hijab headcovering was repeatedly cut on her way to school on Friday, heightening pressure on Canadian governments to take further action against attacks on Muslims.
Khawlah Noman, a sixth grader at Pauline Johnson Junior Public School in Toronto, Canada was walking with her younger brother to school when a man came up behind her, pulled off her jacket hood, and started cutting the bottom of her hijab.
Canadian Prime Minister Justin Trudeau:
YOUTUBE
There's just one thing:
Toronto police say an 11-year-old girl's report of having her hijab cut by a scissors-wielding man as she walked to school last week did not happen.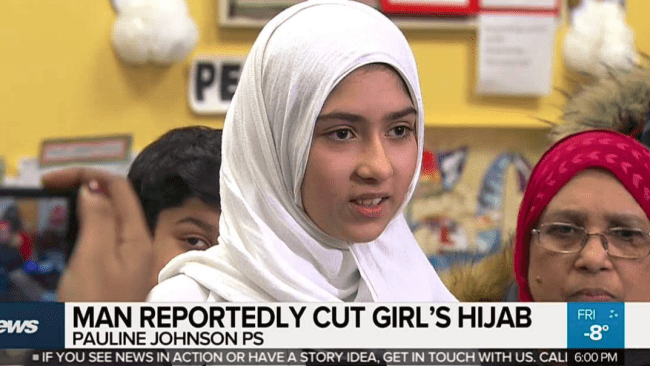 Along comes a Mohammedan taqiyya gigolo:
Let's keep some perspective here: one false story does not mean Islamophobia doesn't exist
Muslims are victims, especially when they manufacture fake hate crimes and get caught doing so: