Muselmaniac who killed two and injured eight in stabbing frenzy smiles from the dock as his trial begins.
The "smiling terrorist" may be smiling because he believes that he will be greatly rewarded in Paradise.
It has been reported on the authority of Jabir that a man said: "Messenger of Allah, where shall I be if I am killed?" He replied: "In Paradise." The man threw away the dates he had in his hand and fought until he was killed. (Sahih Muslim 20:4678)
Prosecutor Hannu Koistinen said "His intention was to kill and perhaps to die by a police bullet" and that during the investigation, Bouanane admitted that "he wanted to be shot by police, in other words, to die a martyr."
Note also that he entered Finland on false pretenses as a "child refugee".
Attacker at 'War Against Women'
This is not the sort of War on Women that feminists usually protest.
They prefer nonexistent imaginary ones carried out by white men, for some strange reason…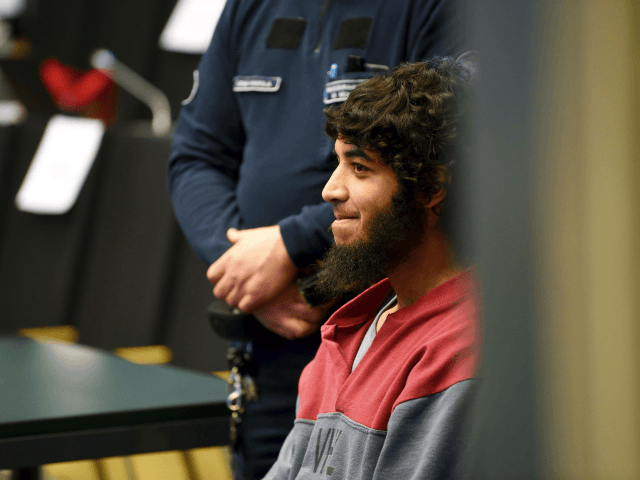 A rejected asylum seeker who targetted women in a stabbing attack said he was at "war against women" and committed the attack to "strengthen the Islamic kingdom".
Moroccan Abderrahman Bouanane, 23, told the district court on Wednesday that he had justified his attack because of Western nations' military action against Islamic State in Syria and Iraq, Helsingin Sanomat reports.
The court heard that the defendant was inspired to attack the eight women and two men with a knife in the southwestern Finnish city of Turku on August 18th, 2017, by a 23-year-old Uzbek-based Turkish man he met at the mosque.
The Turk, who is currently the subject of an international search, allegedly told Bouanane that Finland was guilty of causing the instability in Syria and sent 100 soldiers to fight there. Finland has sent 100 trainers to Iraq since 2015.
"It gave me the position that I have the right to kill Finns," he told the court in the ongoing trial.
In other news:

Speaking on public radio following the foundation's announcement, Orbán remarked: "I think you will understand if I fail to cry over its decision to close the headquarters in our capital.
"The fight against Soros, its liberal ideology, its initiatives on migrants, will continue wherever the foundations of its foundation are," he told MR1.
Continue reading Finland: Jihad Against Women By Remote Control →