World leaders react to Trump's Middle East plan
Muselmaniacs go apeshit over Trump's plan
Update:
Islamic jihadis in Muslim countries hate tourists, who are often visiting sites of jahiliyya, the pre-Islamic society of unbelievers. And if they're visiting Muslim sites, they're trampling them down under their Infidel feet. Either way, they're not welcome. "Jordan Charges Stabbing Attack Suspect with Terrorism," Asharq Al-Awsat, January 26, 2020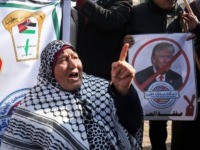 Predictable as the 'allahuakbar' during the next terror attack. They don't want peace, they want to kill Jews & destroy Israel.
WHAT TRUMP NEEDS TO SAY TO ABBAS
Israel's most highly respected authority on Islam gives his advice.
President Trump will be meeting with PA President Mahmoud Abbas this coming Wednesday.  Unlike his predecessor, President Trump understands that the major problems in the Middle East are Iran, ISIS and Syria, and that the Palestinian-Israeli conflict has a minor connection, if any,  to the broader conflicts in the Middle East. Still, President Trump is looking to take a swing at solving the Palestinian-Israeli conflict, a feat that has eluded all of his predecessors.  Is a solution possible, and if so, what needs to be done to reach it?
I spoke with Professor Moshe Sharon, professor emeritus at Hebrew University, and world renowned expert on Islam, about the possibilities of President Trump striking a peace agreement in the Middle East.  A former student of Professor Bernard Lewis, Sharon is considered Israel's most highly respected authority on Islam, and served under Prime Minister Menachem Begin as his advisor on Arab affairs where he took part in the negotiations with Egyptian President, Anwar Sadat. Continue reading What Trump Needs to Say to Abbas →