Only Muslims are 'humans', Islam 101. Readers of this blog have seen Islamic supremacist attitudes documented  like this many times.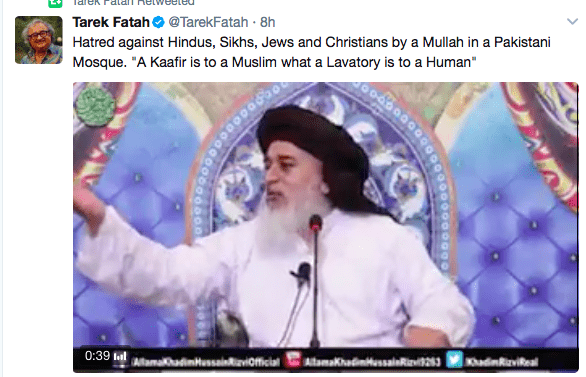 "We cannot coexist"
Funny that. They know, and they are quite upfront about it. But we are not supposed to say or do anything about it.
.
EGYPTIAN ISLAMIST IN EXILE WAGDI GHONEIM: CHURCHES ATTACKED BECAUSE COPTIC "CRUSADERS" SUPPORTED "DESPICABLE-SISI"
Turkey-based Egyptian Islamist Sheikh Wagdi Ghoneim said that the April 9 bombings in the Coptic churches in Tanta and Alexandria were Allah's punishment because "the Crusaders in Egypt supported Despicable-Sisi," whom he called "that worn-out shoe on Trump's foot." The video was posted on Sheikh Ghoneim's YouTube channel a day after the bombings.   Wagdi Ghoneim: "This is my commentary on the bombing of the two churches in Egypt, in Tanta and in Alexandria.   […]   "My commentary is bas…View Transcript Page
Has Pope Francis lost his moral compass?
I don't think he ever had one….
Pope Francis has compared conditions in overcrowded facilities, used to house asylum seekers, to those that were in concentration camps of the Nazi German era. He reprimanded Europe for turning back on the plight of migrants by sealing borders with a refugee deal.
The Pope was leading a prayer service for martyrs who fell victim to Nazism, terrorism and totalitarian regimes across the world, when he shared athe story of a Muslim refugee from a Middle Eastern country he met during a visit to a detention camp in Lesbos last year.
The man said his Christian wife suffered for her faith, as the terrorists slit her throat after she refused to throw her crucifix on the floor.
The asylum seeker and his three children were forced to flee the village and eventually made it to the Greek island of Lesbos, where they were resettled to a prison-like detention facility, visited by the Pope.–RT.COM
Continue reading "A Kaafir is to a Muslim what a Lavatory is to a Human" →