I am soooo tired of Rice! Does that make me a RICIST?
Rice: "There is simply no reason to avoid the subject of how we get to a Palestinian state"
*
You'd think constant terrorism and an absolute inability or unwillingness even to live in peace with one another would be good enough reason, but apparently not. This is Condoleeza Rice in full fantasy mode, even imagining Israel living in peace with a "democratic" Palestinian neighbor, despite the fact that the "Palestinians" have never shown any inclination toward either peace or democracy. "Rice urges more Mideast peace talks," from AP,
*
WASHINGTON – Secretary of State Condoleezza Rice said Friday that Mideast peace talks should resume despite an outbreak of violence among Palestinian factions.
"It doesn't help to talk about a timetable, but it does help to talk about a commitment," Rice said after meeting with world powers for a strategy session on the Middle East.
The gathering of would-be peacemakers comes amid renewed fighting between Hamas militants and security forces loyal to the former ruling Fatah Party that has raised new alarm about a possible Palestinian civil war.
More than 100 Palestinians have been killed in internal violence since Hamas won parliamentary elections last year and formed a Cabinet.
Despite that violence, "there's simply no reason to avoid the subject of how we get to a Palestinian state," Rice said after a meeting at the State Department with foreign ministers from Russia, the European Union and the United Nations….
"We expressed our concern about events on the ground in the Palestinian territories. Obviously innocent people are being caught up in this violence and it needs to stop," she said.
"That said, there is simply no reason to avoid the subject of how we get to a Palestinian state," Rice said. "The Palestinian people have waited a long time for a state and the Israeli people have waited a long time for the peace and security that would come from having a democratic neighbor."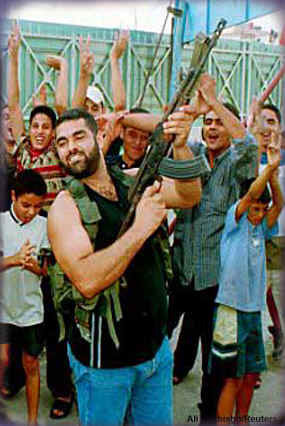 Waiting Palestinians…
*
Well, if she sez so I guess we just can't let them wait anymore, can we?
But lets hear it from the Arabs, with thanks to LGF
Palestinians: "We Don't Deserve a State"

Apparently, Palestinians are worried that the civil war between Hamas and Fatah is going to damage their image with the international community: Palestinian W. Bank residents: 'We don't deserve a state'.
There are no words for dark irony this profound.
As the fighting between Fatah and Hamas continues in the Gaza Strip, many residents here said Saturday that they were concerned that the international community would turn its back on the Palestinians.
Hafez Barghouti, editor of the PA-funded daily Al-Hayat Al-Jadeeda, said he was concerned that the fighting would tarnish the image of the Palestinians. "Tens of millions of people now look at us as worthless gangsters with no values," he complained.