* They do it, they're proud of it,  but they don't wanna be reminded of it. A dose of reality where inverted reality  replaced reality a long time ago: from the Islamic republic of the sharia, Iran:
Iran: Stoning Flick a hit at Toronto festival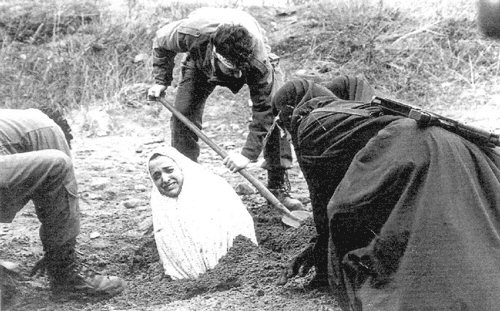 Rome, 16 Sept.
(AKI) –
An Iranian feature film that tells the story of a woman being stoned to death has made headlines at the Toronto Film Festival and provoked an angry response from Iranian authorities. 
The film, entitled 'The Stoning of Soraya M.' by Iranian-American director Sirous Norasteh, was shown at the festival which ended last Saturday. 
   
The film tells the real-life story of Soraya, an 18-year-old woman and mother stoned to death in 1984 for alleged sexual infidelity in western Iran. 
rong>
The film has been described by Iran's state news agency Irna as another "Hollywood operation to damage the image of the Islamic Republic." 
"(It's) a film that serves the warmongering strategy of George W. Bush," said Iran's semi-official news agency Fars.
The story of the film says that Soraya's husband Ali no longer wants to be with her after they had four children together, and that he wants to marry a 14-year-old girl.
Ali cannot afford two wives, so he demands a divorce from Soraya, who refuses for economic reasons. Instead, Ali conspires with the local mullah to frame Soraya for infidelity.
The story is told by her aunt, Zahra, played by Iranian expatriate and Oscar-nominated actress Shohre Aghadashlou.
The film is based on a book published in Paris in 1994 by Franco-Iranian journalist Fereydoun Sahebjam.
Fereydoun is played in the film by Jim Caveziel, who acted in Mel Gibson's film The Passion of the Christ. 
****
No Mo Women's Rights in Teheran:
Flogging for women's rights campaigners
"A Tehran appeals court confirmed a one-year jail term and 35 lashes for Massoumeh Zia. The sentence will be suspended for five years," Farideh Gheyrat was quoted by the Kargozarannewspaper.
"The appeals court also upheld the six month jail term and 10 lashes, which will be suspended for two years, for Marzieh Mortazi Langrudi," she added.
Zia, 31, was arrested with 70 other people in a June 2006 demonstration in a Tehran square which was broken up amid reported police brutality. The protesters were demanding equal rights for women in divorce, inheritance and child custody.
Mortazi Langrudi, 55, and 32 other women were detained in March 2007 outside a Tehran revolutionary court where five fellow feminists were standing trial for organising the 2006 protest.
Several participants in both demonstrations have been charged with disturbing public order or harming national security and given jail terms, some suspended.
Iran has exerted mounting pressure on women's rights campaigners over the past year. Earlier this month four activists were sentenced to six months in jail over articles on feminist websites.
It has also cracked down on women involved with a signature campaign that calls for change to Iranian laws deemed as discriminatory to women.
Ms Gheyrat added that the appeals court had sentenced a member of the teachers' union, Ali Pour-Soleiman, to one year in prison and 35 lashes, which would be suspended for five years.
But the court commuted a three-year sentence against activist teacher Mohammad Hashemi to a 15 million rial ($A1920) fine.
Dozens of teachers were arrested following demonstrations in March last year, in which they demanded higher salaries and accused President Mahmoud Ahmadinejad of not keeping his election promises to spread wealth.