*Â I'm sure they were totally innocent and peaceful until they were tortured with halal burgers and loud music in Gitmo. We made them do it. its all our fault!
American Muslim Teenager Killed in Bombing by Ex-Gitmo Detainee: the Untold Story of Jihad Hitting Home
Susan Elbaneh was murdered by al Qaeda and apparently most of the media does not want you to know. Last week, you saw her killers' faces splashed across the headlines yet away from her hometown, the media was busy playing echo-chamber.

There are people here among us who believe these finger wagging monkeys deserve our support…
Released Gitmo inmates up the jihadi rhetoric
Strangely, the New York Times has failed to report the whole story three times.
The proof of that assertion is: Robert F. Worth wrote of Susan Elbaneh's fugitive cousin last March; he mentioned her death, name, and hometown last September while reporting on the bombing of our embassy in Yemen yet made no mention of Jaber Elbaneh; and their names and the latter's connection to the Lackawanna Six were missing from his reports last week about two former Guantanamo detainees reuniting with al Qaeda in Yemen and their being suspected in that same attack upon our embassy.
American girl Susan Elbaneh was murdered by al Qaeda and reporters from in and near her hometown actually began doing their jobs back as far as September 18, 2008: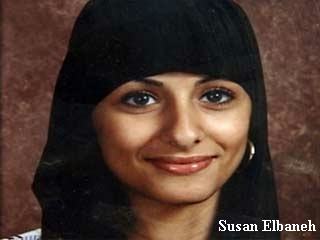 A Lackawanna High School student who traveled to Yemen to be married last month was one of the victims of a terrorist bombing Wednesday at the U. S. Embassy in Yemen, the woman's school principal said. Attackers armed with automatic weapons, rocket-propelled grenades and at least one suicide car bomb assaulted the compound in the Yemeni capital of Sana. Officials listed the 16 people killed as six assailants, six guards and four civilians. Susan Elbaneh, 18, was killed, along with her Yemeni husband, as they stood outside the embassy, family members said Wednesday.

They were apparently there to do paperwork for the husband's move to the U. S. when the attackers struck, said Elbaneh's brother, Ahmed.
* FBI tries "outreach" with Somali community to "prevent radicalization"

The Associated Press said Elbaneh had been in Yemen for a month for the arranged wedding Aug. 25. School officials said Elbaneh was the daughter of Ali T. Elbaneh and the niece of Mohamed T. Albanna, two Yemeni-American community leaders who took plea deals in a case involving an unlicensed money-transmitting company that illegally sent at least $5.5 million to Yemen. Authorities never have alleged that the money was used for terrorist purposes. In November 2006, U. S. District Judge William M. Skretny sentenced Ali T. Elbaneh to six months of home confinement for playing what federal prosecutors called a very minor role in the illegal business. Albanna received a five-year prison term. Authorities said the dead woman also was related to Jaber Elbaneh [Ed. — that is the FBI's bulletin], Mohamed Albanna's nephew, a fugitive accused of traveling to a terrorist training camp in Afghanistan with the "Lackawanna Six."
To its credit, CNN got most of the story right, on September 18, 2008:
[Susan] El-Baneh's wedding was a source of pride for her family as they celebrated the holy month of Ramadan, a time in which Muslims believe the Quran was revealed and presented to the Prophet Mohammed. "But if you die in the month of Ramadan, you go straight to heaven, and that is where my sister will be," Ahmed El-Baneh said. "But anyone that did this cowardly act, they will go straight to hell." Susan El-Baneh is related to Yemeni-American Jaber El-Baneh, who is on the FBI's most-wanted list, accused of being the seventh member of the Lackawanna Six. The six were convicted or providing material support to al Qaeda. El-Baneh confirmed the relation but preferred to talk about his sister and how the attack proved anyone can be the target of a terrorist act.

"It touches everyone no matter who you are," he said. Muslims are supposed to be peaceful, he said, and those who committed the attack on the embassy in Yemen only smear that view. "They say they do this for a cause, but there is no cause," he said. "A cause is when you sit down and talk, not when you kill millions and millions of people, now including my sister among them. What is the cause for that?"
Knowing that, what explains the New York Times' failure to mention Jaber Elbaneh or the Lackawanna Six plot in Robert Worth's September 19, 2008 report?
No American officials or embassy employees were killed or wounded, embassy officials said. Six of the dead were Yemeni guards at the compound entrance, and the other four killed were civilians waiting to be allowed in. One of the dead was an American woman, the State Department said in Washington on Thursday. News reports described her as a young woman who had recently married in an arranged wedding. The Associated Press identified her as Susan Elbaneh, 18, from Lackawanna, N.Y. Family members said she was killed along with her Yemeni husband as they stood outside the embassy, the news agency reported. The attack on Wednesday was the deadliest and most ambitious in years in Yemen, a poor south Arabian country of 23 million peoplewhere militants aligned with Al Qaeda have carried out a number of recent bombings.
Lackawanna and the Elbaneh family were absent from Robert Worth's January 22, 2009 article. His report seemed more a debate about the veracity of official statements made about former Guantanamo detainees returning to the battlefield and whether the detention facilities at Gitmo should remain open:
The emergence of a former Guantánamo Bay detainee as the deputy leader of Al Qaeda's Yemeni branch has underscored the potential complications in carrying out the executive order President Obama signed Thursday that the detention center be shut down within a year.

The militant, Said Ali al-Shihri, is suspected of involvement in a deadly bombing of the United States Embassy in Yemen's capital, Sana, in September. He was released to Saudi Arabia in 2007 and passed through a Saudi rehabilitation program for former jihadists before resurfacing with Al Qaeda in Yemen.
Lackawanna and the Elbaneh family remained missing on January 25, 2009 from Robert Worth's subsequent report:
American counterterrorism officials have already confirmed that Said Ali al-Shihri, 35, who was released from the American prison camp at Guantánamo in November 2007, is now the deputy leader of Al Qaeda's Yemeni branch. He is suspected of playing a role in a deadly attack on the American Embassy in the Yemeni capital, Sana, in September.

In the video released Friday, Mr. Shihri sits alongside a man identified as Abu Hareth Muhammad al-Awfi, who appears with a script at the bottom of the screen giving his Guantánamo identification number, 333. That number corresponds to a man known in Pentagon documents as Mohamed Atiq Awayd al-Harbi, who was also released to Saudi Arabia in November 2007.
Yet Mr. Worth knew full well who Jaber Elbaneh is on March 1, 2008: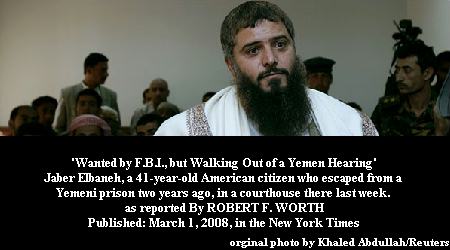 Jaber Elbaneh has been one of the F.B.I.'s most wanted terrorism suspects ever since he escaped from a high-security prison two years ago in Sana, the capital of Yemen. So when Mr. Elbaneh, a 41-year-old American citizen, walked freely into a Yemeni courthouse where his conviction in a bombing case was being appealed last Saturday, the judge and the prosecutor were stunned. They asked him to show identification, which he did.

Then the broad-shouldered, bearded convict — who is accused by American prosecutors of providing support to Al Qaeda — surprised them again: he gave a speech. "I've been sentenced to 10 years in this case, and three years in another," he said, as camera shutters clicked furiously around him. "But it's wrong; I haven't committed any crimes in this country or the United States."

He added that after his prison escape he surrendered directly to Yemen's president, Ali Abdullah Saleh, who absolved him of any more jail time. With the judge still sitting speechless, Mr. Elbaneh, who once worked in a cheese factory in Lackawanna, N.Y., then walked out of the courthouse. No one tried to stop him.

Mr. Elbaneh's mysterious act of bravado, which prompted an angry protest from the State Department, cast an unusual light on the distinctive counterterrorism efforts of Yemen, a desperately poor Arab country that has long been viewed as a haven for jihadists. The Yemeni authorities often negotiate arrangements with suspects that are entirely separate from court verdicts.

Mr. Elbaneh, for instance, surrendered to Yemeni authorities last May after 15 months on the run and a lengthy negotiation. The agreement, like many others of its kind, included a pledge by Mr. Elbaneh not to carry out any terrorist acts in Yemen. In exchange, the authorities promised that he would not be sent back to prison, and would not be sent to the United States, which has sought his extradition since 2002.
Reportedly, many of her family members and fellow Muslims in Lackawanna have denounced al Qaeda's violent jihad. Yet both her father and uncle financially supported a regime whose alliances are at best mixed. Six of her neighbors are in jail after terrorist training in Afghanistan. And her cousin is in Yemen on the same side as those who murdered Susan Elbaneh while waging war against America.
Conversely, the New York Times has strongly advocated for full due process rights for the detainees at Guantanamo and furthered their propaganda. The Times supports the release of al Qaeda-trained Uighar and Yemeni terrorists onto America's streets. Perhaps that explains why the full and tragic story of a bright American teenager being murdered in Yemen by former Guantanamo detainees did not become "all the news fit to print."
From Atlas:
CAIR was frothing at the mouth when the Jews were defending themselves in Israel — claiming "Americans" were stuck in Gaza. The outrage!! Stuck!
"It is shocking that our own government refuses to ask a nation that receives billions of American tax dollars each year to pause its killing machine long enough to bring U.S. citizens to safety," said CAIR National Communications Director Ibrahim Hooper. "It is imperative that a long-term cease-fire be established to protect all of Gaza's civilian population."
But the murder of this beautiful American girl by a Gitmo detainee? Silence!