Robert Spencer explains: But, didn't the smiling apologist quote Qur'an 29:46? That's the verse that says: "And argue not with the People of the Scripture unless it be in (a way) that is better, save with such of them as do wrong; and say: We believe in that which hath been revealed unto us and revealed unto you; our Allah and your Allah is One, and unto Him we surrender."
However, that line of discourse is intended for use in Islamic proselytizing, or dawah. Just as seeking new believers is a one-way street under Islamic law, it would be forbidden for a non-Muslim to employ this argument under Sharia, since the underlying message of the verse is: "We worship your deity, too, but you're doing it wrong."
An update on CNN, October 29 (thanks to Jihad Watch):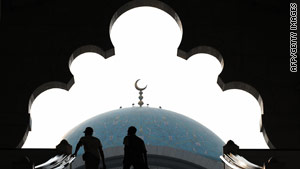 When Muslims have the upper hand, they don't need to pretend any longer that "we all believe in the same god" and that Christianity, Judaism and Islam are all "Abrahamic faiths"- in Malaysia,  the Muslims rule  and Islam is a work in progress*. The ruling Muslims need no longer pretend that Al-Ilha, the pagan moon-god of the ancient desert Arabs, is not the God Jews and Christians worship.
Malaysia: Bibles Confiscated Because They Refer to God as "Allah" (CNN) ––
Authorities in Malaysia have seized more than
20,000 Bibles
in recent months because they refer to God as "Allah," Christian leaders said Thursday.

The seizures have fed fears among minority groups, which see signs of encroaching Islamic fundamentalism in the predominantly Muslim but multi-racial country.

"There is a growing sense of Islamic assertion, yes," said the Rev. Hermen Shastri, general-secretary of the Council of Churches of Malaysia. "There is some concern."

The Bibles were written in the country's official language, Malay — in which the word for God is "Allah," as it is in Arabic.

However, Malaysia's government says the word is exclusive to Islam.
Use of word "Allah" in Christian publications may confuse Muslims and draw them to Christianity, government says
(watch out dhimmies! We have enough angry Muslims already. We can't have any confused ones…)
* Â Islamization [Islamisation]: The erasure of the customs, norms and laws of any country or region in order totally ensure Islamic dominance. This can be done through political pressure – as in the West – where full out Jihad is not possible, such as in places like Pakistan and Afghanistan, where the ultimate goal of Islamization has been achieved by violent Jihad and finally through political pressure for peace – which in Islam can only come under Shari'a rule.
Related links: