Update:
 "Stockholm Syndrome"
European Anti-Semitism and the Fear of Muslims
by Timon Dias  •  November 21, 2013 (Gatestone Institute)
When European history teachers omit the Holocaust from their curriculum, they do not do this because they hate their Jewish students more than their Muslim students. They omit it because they are afraid of their Muslim students. They might also believe they do it to be "nice," but then how come this same "niceness" is not afforded to the Jews?

In the "Stockholm Syndrome," now seen, ironically, in Sweden, victims start bonding with their abusers in the wish that if they share the same values as their abusers, their abusers might stop abusing them. "We must be open and tolerant toward Islam and Muslims because when we become a minority, they will be so toward us." — Jens Orback, former Swedish government minister.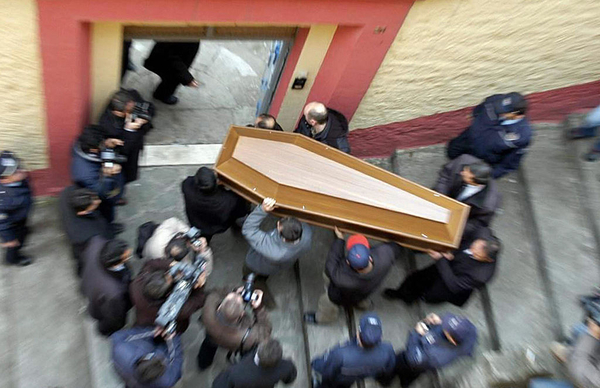 Jens Orback (center), a former Swedish government minister, famously said: "We must be open and tolerant toward Islam and Muslims because when we become a minority, they will be so toward us." (Image source: Swedish Social Democratic Party/Anders Löwdin)
The European Union [EU] is singling out Israel for sanctions. Not only are the officials at the EU failing to boycott other regions that legally count as occupied territories, but they are actively aiding at least one clearly occupying power, Turkey, in the Turkish-occupied northern Cyprus: in 2006, the EU approved a $259 million aid package for the Turkish Cypriot community there. In addition to that double-standard, the EU's High Representative for Foreign Affairs, Catherine Ashton, has revealed noticeable prejudice on multiple occasions, the latest example being when she felt compelled to compare the Toulouse massacre to "what's happening in Gaza," any similarities to which would objectively be hard to come by.–Continue Reading
(Some of) Today's Offerings from the Religion of Peace:
Pro-Democracy Activists Intimidated by al-Qaeda  (Gulf News)
Decent people are caught between two devils in Syria.
Egypt's Latest Fatwas  (Gatestone)
Don't go swimming in Egypt – unless you're male.
Why Are America and The West Funding Sharia Law?  (INN)
Trying to turn a deeply Islamic country into one that respects basic human rights is proving to be impossible.
Obama's Munich  (FrontPage Magazine)
Peace in our time?
Jihad Watch:
Nigeria: Muslim mobs murder at least 71 Christians
Just remember: the real problem is "Islamophobia!"
"They fear that the herdsmen, with backing from Islamic extremist groups, want to take over the predominantly Christian areas in order to acquire land for grazing, stockpile arms and expand Islamic territory. Hit-and-run, guerrilla-style attacks on Christian villages in which children are shot to death as they sleep support their suspicion that the assaults are motivated by desire to eliminate Christianity."
Interfaith dialogue in Greece: Muslims vandalize churches and burn icons
That's only because racist-bigot-Islamophobes didn't built them a mosque on the Acropolis in Athens. If only we could have sat down and had a "dialogue" with them, everything would have been OK. "In the capital of Crete, churches vandalized and icons burned," fromPravoslavie, November 22 (thanks to JW)
He's gone:
Egypt investigates disappearance of author critical of Islam after Muslim cleric declared him an Infidel and called for his murder
He should have never, never gone to Egypt. He wasn't even safe in Germany.
"An Egyptian newspaper report said he had been abducted." He could be dead by now. But remember: the real problem is "Islamophobia."  –"Egypt investigates disappearance of author critical of Islam," from Reuters, November 26
No human rights for Christians:
Norway Jihad:
At least ten ethnic Norwegian converts to Islam are fighting as volunteers in the civil war in Syria, state broadcaster NRK has reported, building on information from Norway's PST intelligence agency.
The channel spoke to a man whose brother had converted to Islam and travelled to Syria.
"It began with Youtube videos. He folded his clothes, and went only with long clothing and a short beard," the man said. Â "He began to read the Quran and would no longer eat pork. He began to concentrate only on religion, and his expression became stricter and stricter."
According to Petter Nesser, a researcher at the Norwegian Defence Research Establishment, converts are often more radical and extreme than ordinary Muslims.
"Various studies show that converts in extreme environments may have more to prove just because they come from outside," he told NRK. "In some cases this means that they are radicalized faster and are more extreme than people who come from a Muslim background."
He said their Western passports, and accent-less grasp of languages, made converts useful for extremist groups.