Kansas Airport Bomber
Libtard media obsessed with race of 'homegrown' Â bomber: he is white!
Wichita Airport jihad plotter:
"I have become 'radicalized' in the strongest sense of the word, and I don't feel Allah wants me any other way"
As Pamela Geller notes, this report goes out of its way to say that Loewen is white, as the media continues to pretend that jihad terror has something to do with race rather than with religious belief and ideology.
In any case, the Feds should be asking why it was apparently so easy for him to become "radicalized," and what prompted his "radicalization." But that could lead them into uncomfortable areas about Islam that they do not wish to examine; to do so would be "Islamophobic."
Shock Horror!
Elitist Ian Buruma: "Globalisation is turning the west against its elites"
After a criticizing Geert Wilders, Marine Le Pen and Nigel Farage, Ian Buruma writes:
The world is shifting in ways that make many western citizens uncomfortable. Non-western powers are rising fast. The European sense of superiority is becoming harder to maintain. Non-white populations are growing in the west. In much of the US, white Christians of European origin no longer dominate politics….
Buruma's passive idiocy is astounding and his handwringing comical. (BCF has more)
It is the greatest of ironies that those men and women who serve our nation take an oath to uphold a code of character that the "Commander-in-Chief" does not. (Allen West has more)
Clever Scumbag:
Benefits cheat who stole £82,000 while her husband ran £400,000-a-year tandoori restaurant is dragged screaming to cells as she is jailed
Expensive tastes: Benefits cheat Johura Begum screamed as she was taken down to the cells
Johura Begum spent £130 a time at the hairdressers despite wearing a burka
She also splashed out on Burberry clothes and designer handbags
Claims she had no idea that her husband owned a successful restaurant
Said she didn't know parents owned home she claimed housing benefit for
Her husband was due to be sentenced also but failed to turn up at court
If you say 'let them drown in their own filth' you are a 'racist-bigot-Islamophobe'.
Meanwhile, in Jerusalem:
Storm causes massive flooding in Gaza – over 5,000 evacuated (here)
Continued:
Thousands evacuated from flooded Gaza homes
Massive flooding hits Gaza, injuring more than 100, moving UN to evacuate thousands in makeshift rescue boats
Rescue workers evacuated more than 5,000 Gaza Strip residents from homes flooded by four days of heavy rain, using fishing boats and heavy construction equipment to pluck some of those trapped from upper floors, an official said Saturday.
The ongoing downpour is part of a storm that has covered Jerusalem and some of the West Bank with a thick blanket of snow. Even parts of Gaza, a coastal territory with a milder climate, saw some snow, the first in years.
Related stories:
In Israel, 28,000 homes remained without power Saturday, one-third of them in Jerusalem, police said. In the low-lying areas of Gaza, water has been rising since heavy rains began late Wednesday, flooding streets and homes.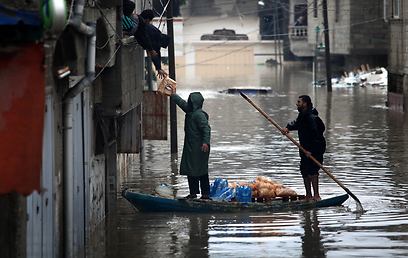 Rain turns Gaza streets into canals (Photo: MCT)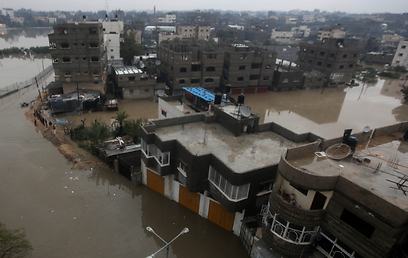 Gaza flooded (Photo: MCT)
One of the hardest hit areas was Nafak Street in Gaza City's Sheik Radwan neighborhood, close to a rainwater reservoir.
Said Halawa, an area resident, said the reservoir overflowed Wednesday evening. By Thursday, water had poured into the ground floor of his two-story home where he and 41 other members of his extended family live, Halawa said.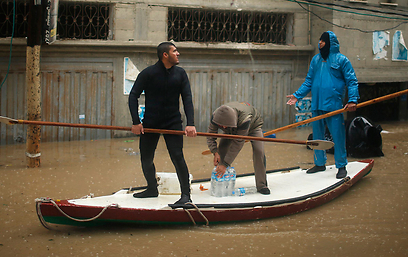 Rescue boat making water delivery (Photo: Reuters)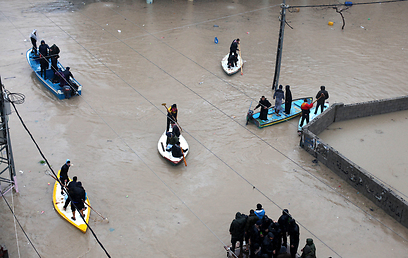 Gaza boat traffic (Photo: MCT)
The family called for help and was evacuated by boat from the upper floor. Halawa said he and his family were taken to a makeshift shelter in a neighborhood school. "We got some assistance, some blankets and some food, but I didn't save any of my belongings," said the 52-year-old taxi driver.
Elsewhere on Nafak Street, local TV showed a rescuer standing on the shoulders of another man in a boat as they tried to reach people in a third-floor apartment.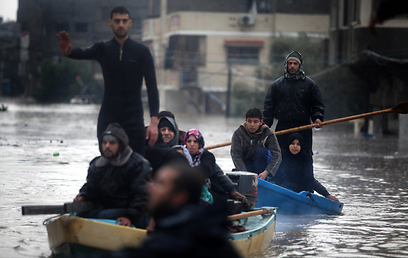 More than 100 wounded (Photo: MCT)
In all, about 5,250 people were evacuated from flooded homes, said Mohammed al-Madaina of Gaza's Civil Defense Department.
Another hard-hit area was the refugee camp of Jebaliya in northern Gaza. The local Al Aqsa TV station, run by Hamas, showed Prime Minister Ismail Haniyeh and Interior Minister Fathi Hamad, both of Hamas, touring Jebaliya in a boat.
"Large swathes of northern Gaza are a disaster area with water as far as the eye can see," Chris Gunness, a spokesman for the main UN aid agency for Gaza refugees, wrote in an email to reporters.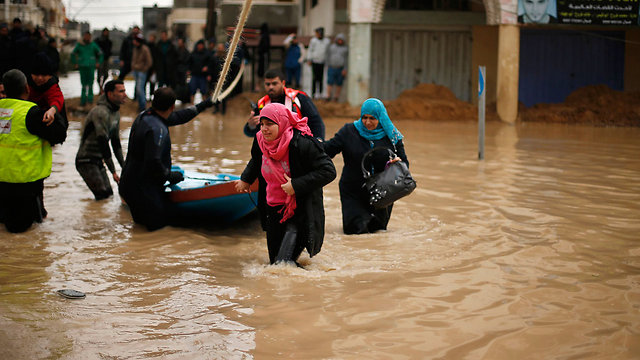 UN aid chief: 'Gaza is a disaster area' (Photo: Reuters)
Gunness also said areas near a refugee camp in northern Gaza "have become a massive lake with two-meter-high waters engulfing homes and stranding thousands."
The UN agency evacuated hundreds of families to UN facilities and distributed 5,000 liters of fuel to local pumping stations, he said.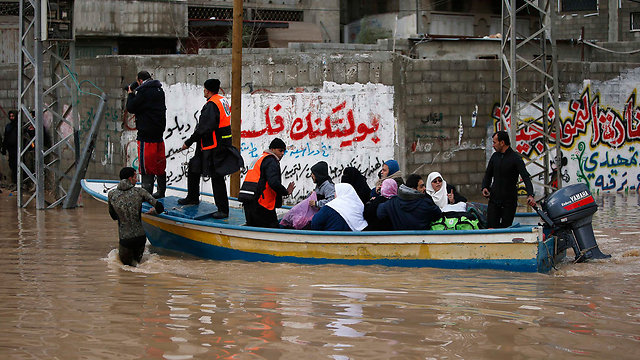 Photo: Reuters
The Gaza health ministry said 100 people had suffered injuries in the severe weather, which damaged poorly built homes in the coastal territory. People were injured from car accidents on flooded roads and by items falling from inundated buildings.
 Gaza's Hamas government said 4,306 people in all had been evacuated to schools and other centers used as makeshift shelters in the past four days.
Gaza's 1.8 million people have also been enduring around 12-hour blackouts daily since the lone power plant was switched off last month due to a fuel shortage.
The territory lacks much basic civil infrastructure and lives under an Egyptian-Israeli blockade meant to cut off arms flows, but which also curbs imports of fuel, building supplies and basic goods.
Israel opened a main crossing with Gaza on Friday to allow in fuel supplies and four water pumps to help relieve flood damage.
 Gunness added that once the storm is over, "the world community needs to bring effective pressure to end the blockade of Gaza."
Gaza residents "must be freed from these man-made constraints to deal with the impact of a natural calamity such as this," he added.
Housing Minister Yousef Jhariz, who headed the government's crisis team, said the storm caused at least $64 million in damages. In all, the flooding forced about 40,000 people from their homes.
Israel sent emergency aid to Gaza at the request of the United Nations, said Maj. Guy Inbar, a military official. This included four water pumps and diesel fuel for heating, he said, adding that Israel was ready to meet additional requests if made.
The Associated Press and Reuters contributed to this report