MEMRI TV:
Special Dispatch No. 5733
Jordanian Journalist: Hitler Was A Million Times More Merciful Than Israel's Leaders
In an article posted on the website of the Jordanian daily Al-Sabil, which is owned by the Muslim Brotherhood, journalist Jamal Al- Shawahin stated that no more than a few hundred or a few dozen Jews and non-Jews were put to death in the Nazi gas chambers, as a punishment for committing treason, and that Jewish circles exploit this minor incident to this day to achieve political gains. Al-Shawahin also compared Israel to Nazi Germany and concluded that the former is currently the world's most criminal regime and that Hitler was "a million times" more merciful than former Israeli prime ministers Ariel Sharon, Yitzhak Shamir and Yitzhak Rabin. He added that Hitler and Palestinian leader Haj Amin Al-Husseini jointly struggled against the British mandate, which allowed Jews to enter Palestine and Arabs to be expelled from it.
The following are excerpts from the article: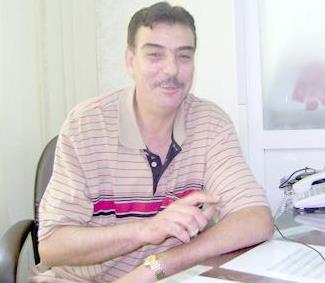 Jamal Al- Shawahin (image:Â sahafi.jo)
"Why did the German leader Hitler hate the Jews and constantly threaten to cut out their dirty tongues, although they were of impeccable German origin? Why did he fear their activities [although] they constituted less than 500,000 citizens, over half of whom immigrated to Palestine prior to 1930 and of those remaining [in Germany] over half subsequently emigrated to the United States and other countries, so that by 1939 only a few thousand poor and totally destitute [Jews] remained? During World War II [those Jews] were dispersed or transferred to camps where they were allegedly burned in the gas chambers. This is questionable, because those killed in the gas chambers were no more than a few hundred or a few dozen people, [both Jewish] and others, who were accused of treason. But Jewish circles trade on them and obtain infinite dividends to this day."
MEMRI TV Clip No. 4261
Israeli Jews Deported To Europe In Hamas Parody On Israeli National Anthem – Warning: Graphic Images
Hamas TV recently broadcast a parody on the Israeli national anthem, called "The End of Hope" (a play on the Hebrew title "Ha-Tikva"). In the parody, produced by the Izz Al-Din Al-Qassam Brigades, the military wing of Hamas, Jews are seen being deported to Russia and Germany. The parody aired on the Hamas-owned Al-Aqsa TV channel to mark Israel's Independence Day.
Following are excerpts:

TV host: "We have a video… We are used to the Al-Qassam Brigades responding to every action taken by the Zionist enemy, whether a military or security action, or in the realm of intelligence or the media.
"The Al-Qassam Brigades have produced a short film. Titled 'The End of Hope,' it responds to the false claims of the Zionist enemy."
[…]
Title: "The End of Hope"
A giant model of a Star of David, topped by the Knesset and a menorah, covers most of the area of Israel. A boy wearing a kafiya is seen running toward it and throwing a stone at it, whereupon the model collapses.
Song: "The army of the Zionists was built of wax.
"It has already melted, and no hope for it remains.
"The Jews are villains, who have been here before.
"Will someone please tell me what is left of them.
"Two parts – the first will be returned
"to its land of origin, if it so chooses,
"while the food who insists [on remaining]
"is doomed to be buried underground."
MEMRI TV Clip No. 4259
Iranian Foreign Minister Zarif: We Will Fight Zionist Allegations About Holocaust Denial
In a recent speech to the Iranian parliament, Iranian Foreign Minister Mohammad Javad Zarif said that his country would continue its struggle against the allegations of the Zionists regarding Holocaust denial. "We will not allow the Zionist propaganda machine to invent lies," he said. According to media reports, Zarif also said that he would not allow people to deny the Holocaust. This statement, however, was not included in the part broadcast by IRINN.
Following is an excerpt:

Mohammad Javad Zarif: "We will continue our struggle against the allegations of the Zionists regarding Holocaust denial. We will not allow the Zionist propaganda machine to invent lies. They portray themselves as victims, and at the same time, they spread panic regarding our beloved and proud Iran."
[…]