"Off Italy?" No . Other reports that said the Italian Navy picked  them straight up from the Libyan coast, which means we're now offering a free ferry service for black Africans, most of them Mohammedans from safe countries.
Italian coast guard and navy vessels rescued nearly 1400 migrants from boats and rubber dinghies in the southern Mediterranean on Tuesday, officials said, indicating numbers were rising again as the weather warms up…
Officials fear the numbers of migrants trying to reach southern Italy by sea, relatively contained so far this year, will increase as sailing conditions improve in warmer weather and as the migrant route to Europe via Greece dries up after a deal brokered by the United Nations will result in economic migrants being sent back to Turkey.
New boat arrivals in Mithymna on Lesbos, Greece, have reduced to almost zero over the last few days, but it remains unclear whether that is due to the windy weather or the deal between the EU and Turkey.
"Almost zero" is an exaggeration: 
The numbers of people reaching Greece from Turkey have declined since an EU-Turkey deal went into effect on March 20… Before the deal, the numbers arriving each day had numbered in the thousands. On Monday, 1,662 people arrived, but this fell to 600 on Tuesday and 260 on Wednesday.
The news that Europe's borders were down reached even Myanmar:
The Turkish coastguard on Sunday stopped five boats carrying dozens of illegal migrants, mostly from Myanmar, who were trying to reach the Greek island of Lesbos, local media reported.
Update: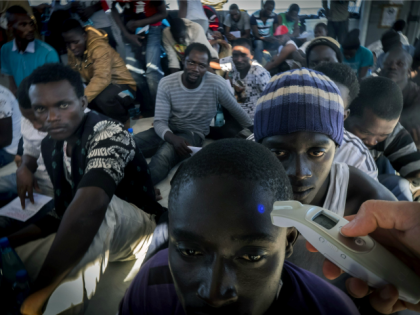 Continue reading 1400 "refugees" off Italy in one day, reports al AGE