"Belgian police have said 94 returned Jihadists from Syria are living there. This is amazing to me that these people can kill people abroad, come here, and then walk free in the centre of Brussels.
"Free movement of people in Europe allows these people to travel across Europe, to move their explosives and guns across the EU. It means free movement for fighters, for guns. It allows them to move at will".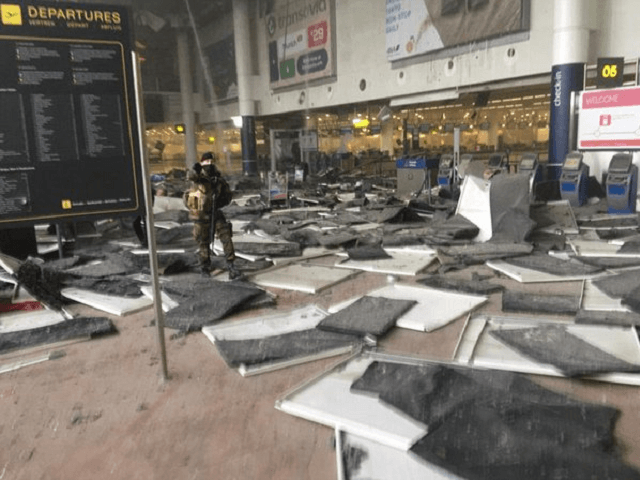 Multiple blasts have rocked Brussels today, with two explosions at the departure hall of the city airport and a further blast at a metro station in town.
Early reports this morning suggested there had been one fatality, but Belgian media are now reporting that number has risen to at least 23, with dozens injured.
Lots more here on Breitbart
Update:
"Explosions" in Brussels
An apparent terrorist attack in Belgium:
ANTI-terror experts have been scrambled to Brussels airport after two explosions.
Multiple injuries have been reported and medics are racing to the scene.
The cause of the two blasts, which occurred at around 8am this morning at an American airline check-in desk, are unknown at this stage.
There are unconformed reports that a bomb had been placed next to a check-in desk.
The blasts occurred four days after the arrest in Brussels of a suspected participant in November militant attacks in Paris that killed 130 people. Belgian police had been on alert for any reprisal action.
Social media showed pictures of smoke rising from the departure hall where all windows had been shattered by the blast. Passengers were seen running away down a slipway from the departure lounge.
UPDATE
There are now reports of an explosion at a metro station in Brussels close to the European Union buildings.
Earlier the Belgian Public Broadcaster says several people have been killed in twin blasts at Zaventem airport in Brussels…
Shots were fired and Arabic shouted before the blasts, according to Belgian news agency Belga.
Last November Brussels was locked down for days for fear of some of its Muslim immigrants:
On Monday night the Belgian government promised to ease the unprecedented crackdown put in place by the Belgian government as security services hunt a network of local Islamist militants linked to the Paris attacks and suspected of planning a similar operation in Brussels. However, Charles Michel, the prime minister, stressed that the threat remained "serious and imminent".

Armoured vehicles and soldiers remained deployed throughout the historic centre of the de facto capital of Europe, and at major stations. Most shops, cafes and banks, most government offices, all museums and cinemas were "exceptionally" closed, according to the hastily typed notices pinned to their windows. About 300,000 children did not attend classes or creches, and universities were shut. The metro and its feeder lines were suspended.
Brussels is the largest Muslim city in the European Union, with 300,000 Muslims. Several of the attackers in the Paris massacre came from Molenbeek, the Muslim enclave in Brussels, as did other terrorists before them:

It's where the sister of the botched Thalys train attacker, Ayoub El Khazzani, lived in an unregistered flat this summer. El Khazzani had stayed in Brussels before the attack.

It was also the home neighbourhood of two men who were killed in firefight with Belgian police in January, weeks after the Charlie Hebdo shooting. The pair had travelled to Syria and were suspected of running a terrorist cell preparing an attack in the Belgian town of Verviers.

Mehdi Nemmouche, a Frenchman who killed four in an attack on Brussels' Jewish Museum in 2014 and who is thought to have travelled to Syria, was also staying in the area prior to his attack.

Finally, Abdelmoumaim Haddad, who was sought by Belgian police in Spain on an international arrest warrant for terrorism charges in 2014, was also found in the district. 
UPDATE

Reports of 10 deaths and around 30 others injured at Zaventem.  Reports of third explosion at Maalbeek Metro station… The explosions at Zaventem airport in Brussels were part of a "suicide attack", according to the Belgian state broadcaster.
Maybe more:


13 dead in Brussels airport suicide attack, 35 severely wounded 
Around 23 people are feared dead and many wounded after a suspected suicide bombing and explosions at Brussels Airport and a Metro station in the Belgian capital. Around 13 are believed to have been killed at the airport and ten in the metro explosion.