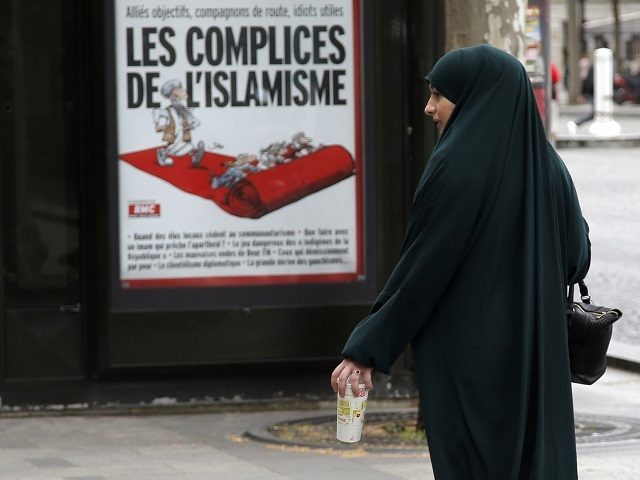 France is waking up.
Breitbart reports that "an Ifop poll for Le Figaro measuring perceptions of Islam has found that people have a growing sense of unease about its role in France."
And well they should. What is different now is that people are actually saying it: "What's notable about the results is that where once such sentiments were perceived as the preserve of the 'extreme right', they are now felt across the political spectrum. Back in 2010, 39 per cent of Socialist Party voters felt Islam was too prominent within French society — a majority of 52 per cent feel this to be the case six years on."
Despite the smear, libel, and defamation that is directed toward anyone who dares any criticism of Islam, people across the political spectrum are voicing concern about an immigrant population that refuses to assimilate and instead seeks to impose its ready-made model of society and governance that they believe to be superior to that which France already has.
The elites will no longer be able to frame this as a "far-right" issue (what does that mean anyway — the Nazis were leftists: National Socialists). In Muslim countries such as Bangladesh, devout Muslims hack you to pieces if you criticize Islam. Here in the West, Islamic supremacists and their leftist lapdogs hack your name and your reputation to pieces. Hate groups such as the Southern Poverty Law Center (SPLC), the Council on American-Islamic Relations (CAIR), and the Islamic Society of North America (ISNA) work feverishly to murder your good name.
The French paper Le Figaro says the poll confirms a "total rejection" of the religion in France, after its capital in 2015 saw two deadly jihad terror attacks. But it's not just Brussels, Paris, Chattanooga, Garland, San Bernardino – it's the burning cars, the vicious anti-semitism, the restrictions on our freedoms.
Continue reading Pamela Geller: Poll Shows 'Total Rejection' of Islam in France Across the Political Spectrum