Working on a tip from the American FBI, Canada's Royal Canadian Mounted Police moved against 24-year-old Aaron Driver, an Islamic State supporter, and killed him after a tense standoff on Wednesday, before Driver could carry out a planned suicide bomb attack.
Reuters reports the raid was conducted in the small Ontario town of Strathroy, 140 miles south of Toronto. When the police confronted Driver, he detonated an explosive device, injuring himself and another person.  (Breitbart)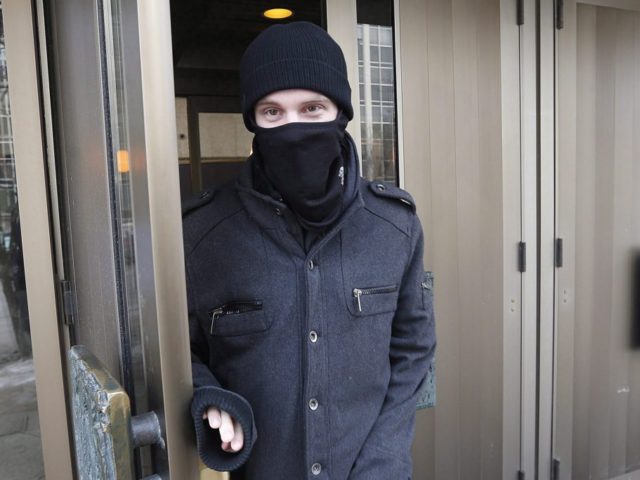 In a dramatic take down with an explosion and gunfire, an Islamic State agent was taken down by police in the process of an attempted suicide bombing in the…
The Rebel
.
Full post below the fold.
.
In a dramatic take down with an explosion and gunfire, an Islamic State agent was taken down by police in the process of an attempted suicide bombing in the Ontario city of Strathroy today.
UPDATE: The Star interviewed the suspect, Aaron Driver/Harun Abdurahman, in 2015:
Harun Abdurahman is a Canadian who was raised as a Christian in a military family with a proud record of service in the Canadian Armed Forces. He converted to Islam at 17. What follows is an edited version of his answers during his interview with the Star. (Harun Abdurahman is an online alias.)
[…]
Another reason I started studying Islam is because it's not just a religion as you can compare to Christianity or mainstream Judaism but it's a full-encompassing way of life that includes a financial system, a system of law, as well as religious beliefs and practices.
UPDATE: The National Post says that Aaron Driver is also known as Harun Abdurahman.
Speaking about Abdurahman:
"I wasn't too surprised that Harun would face more law enforcement action at some point. He had been warned in the past about his posts," Prof. Amarnath Amarasingam, who has been studying Canadian foreign fighters for a major research project told the National Post's Stewart Bell at the time.
"Instead of scaling back his activity, he only became more entrenched in the online network, had multiple backup accounts from which to tweet from in case one got suspended, and never really slowed down."
UPDATE 00:09 Aug. 11 from the Brandon Sun:
Driver, originally from Winnipeg and in his mid-20s, was under a court order not to associate with any terrorist organization, including the Islamic State of Iraq and the Levant.  […] In February, Driver's lawyer and the Crown agreed to a peace bond stating there are "reasonable grounds to fear that he may participate, contribute directly or indirectly in the activity of a terrorist group."
His convert name and the mosque he went to have still not been published as of yet however.
UPDATE: From CTV NEWS:
A suspected ISIS sympathizer believed to be the lone suspect in a suicide bomb plot on a major Canadian city was killed Wednesday during a dramatic police takedown in a southern Ontario town, CTV News has learned.

Aaron Driver, 23, was killed inside a home in Strathroy, Ont., a community about 225 kilometres west of Toronto. He was well known to Canadian intelligence and police officials for his support for the Islamist terrorist group.

Police believe Driver was acting alone in the alleged plot, and there is no threat to public safety. But officials were swarming the Strathroy house until late Wednesday night, concerned about what may have been inside.
From Ottawa News radio CFRA:
580 CFRA: RCMP thwarted ISIS suicide bombing attack in "major Canadian city"
RCMP sources confirm that the threat received on Wednesday, August 10, 2016 was an imminent suicide bombing attack in a major Canadian city planned by a suspect affiliated with ISIS (a.k.a, IS, ISIL, Daesh, Islamic State, Caliphate), 580 CFRA reported.
RCMP have detained an individual after warning in an internal government memo that information had been received of a potential terror attack in Canada today by a lone suspect.

"Earlier today, the RCMP received credible information of a potential terrorist threat," the RCMP said in a statement released Wednesday evening.

"A suspect was identified and the proper course of action has been taken to ensure that there is no danger to the public's safety."
BREAKING: CTV News has learned the terror suspect is 23-year-old Aaron Driver, a suspected ISIS sympathizer.