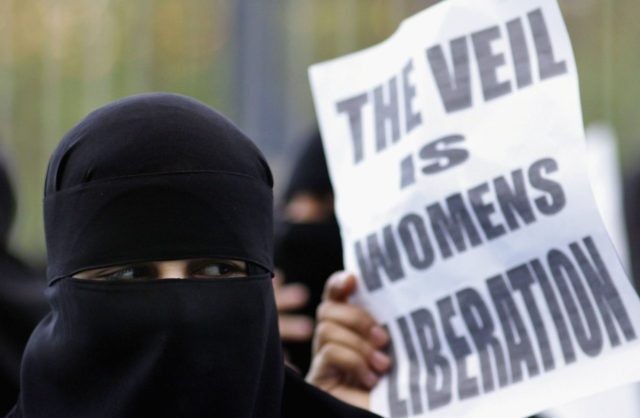 Sharia is a scary word because sharia is scary.
The supremacist tenets of sharia law inform the creed apartheid, gender apartheid, Islamic Jew-hatred, codified bigotry, misogyny, free speech prohibitions and homophobia inherent in Islamic law. Sharia is scary because it is punitive, supremacist, racist and misogynist.
But Ansari says it's scary because "for starters, it's short and easy to pronounce. When you add the word 'creeping' in front of it, it starts to look even creepier. Especially since American people know very little, or nothing, about Islam, according to a Pew Research Poll." She adds: "The word 'Sharia Law' has Americans conjure up images of guys with turbans."
No, sharia law conjures up the images of girls murdered in honor killings, beheadings, slaughters of gays, non-Muslims, apostates, and secular Muslims, whippings, floggings, amputations, and public hangings commanded in Islamic law. "Guys with turbans"? Hardly.
It further erodes Ansari's argument that she evokes the Sikhs. Sikhs have been brutally persecuted under the boot of Islam. Her article includes a picture of the actor and fashion designer Waris Ahluwalia, who is not a Muslim and follows a different religion called Sikhism. Waris is Sikh. I repeat, Waris is not Muslim, he is Sikh. But he wears a turban, so for Ansari's purposes he must be Muslim, and he probably follows Sharia Law. Except that again, he is Sikh, not Muslim.
It gets worse. Ansari goes on: "But wait a minute― does anyone actually know what Sharia Law even is? I'm a lawyer and I'm Muslim, so people think I'm supposed to know Sharia Law. I bet many people probably think I follow it, simply because I'm a Muslim.
So, I thought I'd take the opportunity to set the record straight on Sharia Law. After all, who better to explain it than a Muslim lawyer?"
After that build-up, you would expect her to do what she promised to do: "set the record straight on Sharia Law." Instead, she says: "I don't know squat about Sharia Law. I don't think many Muslims do. Yeah, you heard me. I'm a lawyer, I'm Muslim… And I still couldn't tell you what Sharia law is all about."
A Muslim who doesn't "know squat about Sharia Law" is hardly fit to write about it, let alone attack those who oppose the most brutal and extreme ideology on the face of the earth. Muslims who don't practice or "know squat" about sharia law are not the problem. Muslims who seek to impose it are the problem. Muslim countries that enforce are the problem.
Maryam Khan Ansari defending Khzir Khan puts her foot in her mouth, because Khan is a longtime proponent of sharia law and knows a lot about it. Journalist Paul Sperry reports:
In 1983, for example, Khan wrote a glowing review of a book compiled from a seminar held in Kuwait called "Human Rights In Islam" in which he singles out for praise the keynote address of fellow Pakistani Allah K. Brohi, a pro-jihad Islamic jurist who was one of the closest advisers to late Pakistani dictator Gen. Zia ul-Haq, the father of the Taliban movement.
Khan speaks admiringly of Brohi's interpretation of human rights, even though it included the right to kill and mutilate those who violate Islamic laws and even the right of men to "beat" wives who act "unseemly."
Ansari keeps piling it on: "Sharia Law is a very complicated body of law (imagine, like, a very difficult to understand Tax Code) and it isn't something that the average Muslim can understand in depth. And like American law, it doesn't come from just one book. It comes from many different sources. So like American law, only (some) properly trained legal people can make sense of it."
Nonsense. Everywhere sharia law is practiced, the penalties are the same: stoning for adultery, death for apostasy, amputation of the hand for theft, death for criticism of Islam. Everywhere sharia is implemented. It really isn't complicated.
Ansari's second "myth" is: "All Muslims believe in Sharia Law."
No one believes all Muslims believe in sharia law. If that were the case, no Muslim who sought to impose it should be admitted into the USA. But we do see sharia being imposed here in America – with speech restrictions (under the guise of restrictions on "hate speech"), the Islamization of the public square, the Islamization of the public school, the Islamization of the workplace, and the Islamization/mosqueing of the neighborhood.
Islamic scholars know what sharia is. Islamic theologians know. And when they don't, they consult Al Azhar scholars – Sunni Islam's most prestigious institution. One principal English-language source for the content of Islamic law is Reliance of the Traveller: A Classic Manual of Islamic Sacred Law. Dr. Alan Godlas, Associate Professor of Religion at the University of Georgia, calls it a "carefully translated manual of the proper practice of Islam (shari'a) according to the Shafi'i mad'hab. It has been an essential book in the library of any serious English speaking Muslim or scholar of Islam since its publication in 1991."
Ansari also insists that Muslims don't want to impose sharia in the U.S.:
Now, I'm sure there are some crazies out there who want to impose Sharia Law on everyone. There are a lot of crazy people of all races and religions. But just because they're nuts, it doesn't mean that they can actually make it happen. In fact, anyone who thinks that Sharia Law will ever take over the U.S. Constitution is a different kind of crazy. And crazy people, while scary, really can't make the leadership of a country change.
More lies. Muslims fiercely work to impose the blasphemy laws under the sharia. The Muhammad cartoons are the most obvious example. All over the Muslim world, secular thinkers, poets, writers, journalists, bloggers, and cartoonists have been targeted for death because they were critical of Islam. How many Muslims stood with us in Garland, Texas? Zero.
As a modern Muslim woman, Maryam Khan Ansari should work to oppose the most brutal and extreme ideology on the face of the earth and free the millions oppressed, subjugated and slaughtered under the boot of sharia. Instead, she is a slave to it, advancing gruesome, unforgivable lies in order to disarm the American people in the face of the gravest threat to our freedom that we have ever faced.
Pamela Geller is the President of the American Freedom Defense Initiative (AFDI), publisher of PamelaGeller.com and author of The Post-American Presidency: The Obama Administration's War on Americaand Stop the Islamization of America: A Practical Guide to the Resistance. Follow her on Twitter here. Like her on Facebook here.