Reclaim Australia in Asio's sights, intelligence chief tells senators
Those who resist the islamic expansion program are as bad as the head chopping savages. The people who are sworn to protect us are sadly misguided and incompetent, it seems.
Radical anti-Islamic groups are posing a growing threat to the country's security, Duncan Lewis says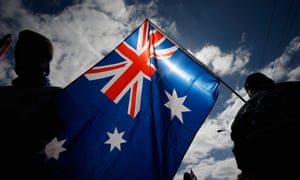 Radical anti-Islamic groups are posing a growing threat to Australia's security, according to the country's head of intelligence.
The Australian Security Intelligence Organisation's director general, Duncan Lewis, said Reclaim Australia, in particular, was of interest to Asio.
Authorities charged a man affiliated to the rightwing group under commonwealth counter-terrorism laws for the first time in August for allegedly collecting or making documents to prepare for terrorist acts.
Lewis said Reclaim Australia had "offered violence" in the past and he expected its members would continue to do so when they confronted pro-Islamic groups.
"To the extent that there is a possibility of violence, or there is indeed violence being offered, that is of interest to us," he told a Senate committee late on Tuesday night. "That is business for Asio.
"It is a real problem and it is something that we're very, very acutely aware of and I have people working that particular issue."
In other news:
MALCOLM Turnbull has hit out at calls led by One Nation to ban Muslim immigration, saying it was what terrorists were seeking to achieve.
.
Only Muslims can stop Muslim terrorism. We're helpless to do anything about it. And we must keep on importing more Muslims or the Muslim terrorists will win.
Does this argument make sense to Turnbull? To anyone?
Asked by the Greens senator Nick McKim whether the threat from such groups was growing, Lewis said it had – primarily over the past 18 months.
"Yes it is, but I wouldn't describe it as going up in any vertical way. It's come off a low base and it's now more present than it was."
Lewis also revealed that up to 70 children of Australians have been exposed to extremist groups in the battlefields of Syria or Iraq.
He said these children had either travelled to the conflict zones with their Australian parents or been born there.
He said Asio was investigating about 190 people in Australia who were actively supporting groups such as Islamic State through recruiting, fundraising or seeking to join themselves. That included about 40 Australians who had returned from Syria or Iraq.
"The long-term impact of the returnees will be a security issue for this country's intelligence and law enforcement agencies for many years to come," he said.
Lewis confirmed that up to 68 Australians were believed to have been killed in the conflicts – 11 of them since May. About 110 people were still fighting or engaged with terrorist groups in Syria and Iraq.
"As Isil's territory continues to contract, it's expected that many of those Australians who are supporting Isil in Syria and Iraq will be killed or captured," he said, using another acronym for Islamic State.
Lewis warned that, for the sake of national security, action would be taken against anyone who returned to Australia after committing a terrorist attack.
To date, Asio has recommended the cancellation or refusal of more than 190 passports of Australians linked to extremist groups. More than 20 visas for non-Australians have also either been cancelled or refused.
"Let me be absolutely clear: the threat of terrorism in Australia is real and present in our community," Lewis said. "It required vigilance by both the Australian community and abroad, and governments of all levels to continue to combat it."
The intelligence head also highlighted the existential, insidious and strategic threats posed by foreign espionage. Though he couldn't provide specific details, he said the threat was ongoing and pervasive.
"It's more significant than many in our community would realise."
Update:
More on Turnbull, the Goldman-Sachs boy:
AUSSIE PM: IF WE BAN MUSLIMS, THEN MUSLIM TERRORISTS WIN
October 18, 2016
Yes. Being banned from Western countries leaving them unable to invade, conquer and kill in them is exactly what Muslim terrorists want. Also they really don't want to be thrown in the briar patch.
Terrorists win if Muslims banned: Turnbull
Malcolm Turnbull has pushed back at calls by One Nation and others to ban or limit Muslim immigration, saying that would be pandering to the whims of terrorists.
In a speech to Parliament on racial tolerance, the Prime Minister said concerns about Muslims should not be dismissed because they were real but political leaders had a duty to step up and ease them.
"The resolution of this conflict within Islam will ultimately depend on Muslims, but in the meantime the Islamist terrorists have succeeded in raising levels of anxiety about Muslim immigration, about the role of Islam itself within Australia.
So to summarize… only Muslims can stop Muslim terrorism. We're helpless to do anything about it. And we must keep on importing more Muslims or the Muslim terrorists will win.
Does this argument make sense to Turnbull? To anyone?
Mr Turnbull noted that terrorists wanted the wider Australia community to turn against Muslims
"Their message to Australian Muslims is 'you are not wanted here, you will never be accepted here, you cannot be Australian.'," he said.
The most effective weapon against this is inclusion.
So we'll love Muslims into abandoning murderous Islamic aims. That's a great plan. Perhaps it should also be applied across the board. We could have loved the Nazis into no longer wanting to invade and conquer other countries. Not to mention the Communists.
A recent Essential Media Poll found 49 per cent of Australians supported a proposal by Pauline Hanson to ban Muslim immigration.
A study released Monday by the Australian national University found 45 per cent of Australians fear they or a family member will be affected by a domestic terrorist attack. 
The ANU research also found a clear link between fears of Islamic extremism and terrorism. It shows 71 per cent are concerned or very concerned about the possible rise of Islamic extremism in Australia.
The window is opening.