Everyone & everything is "racist"
Some 6,000 migrants were dispersed when the Calais Jungle was demolished.…
The New Anti-Racist Racists
by Douglas Murray
There is a trait campaigning groups have that is well known. Once they have achieved their objective, they continue. Usually it is because there are people with salaries at stake, pensions, perks and more.
Suddenly the SPLC seemed to spy a new fascism. The SPLC saw this new fascism in people who objected to people flying planes into skyscrapers, decapitating journalists and aid workers and blowing up the finish line of marathons.
One got the impression that it had become immensely useful for some people to be able to smear those concerned about Islamic fundamentalism, and try to make them akin to Nazis. The only other movements who find this equally useful are, of course, Islamic extremists.
Here is this "anti-racist" organisation, largely made up of white men who present themselves as being anti-racists, and yet who spend their time attacking Ayaan Hirsi Ali, a black immigrant woman. At the top of any list of "hate-groups," the SPLC must in future be sure to place itself.
The SPLC's list of "anti-Muslim activists" also includes a practising Muslim, Maajid Nawaz, one of the most principled and courageous people around calling out the extremists in his faith for their bigotry and hatred. He does so, like Hirsi Ali, at no small risk to himself.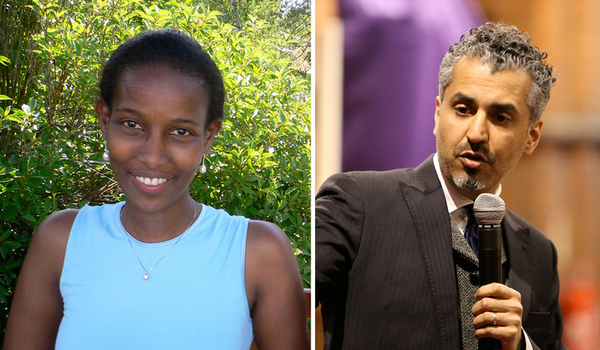 The Southern Poverty Law Center (SPLC), based in Montgomery, Alabama, has struck again. The self-appointed boundary-markers and policemen of free discussion have issued what they call a "Field Guide" to help "guide" the media in "countering prominent anti-Muslim extremists." It is hard to know where to start with such idiocy, so let us start from the beginning.
Related links:
The SPLC was founded in 1971, ostensibly to fight for civil rights among other good causes. By the end of its first decade it was targeting the KKK and other racist organisations. So far so good. But like many a campaigning organisation, they experienced the happy blow of basically winning their argument. By the 1990s, there were mercifully few racist groups in America going about unchallenged. When a member of the KKK cropped up everybody in civil society pretty much understood that here was a bad person who should not be given a free pass.
Continue Reading Article

Robert Spencer in FrontPage:
The SPLC's Libelous New Report on 'Anti-Muslim Extremists'
Equating counter-jihadists with jihadists. My latest in FrontPage:
The objective of this libelous new report from the hard-Left money-making and incitement machine the Southern Poverty Law Center (SPLC) is made plain within it: "Before you book a spokesperson from an anti-Muslim extremist group or quote them in a story, research their background — detailed in this in-depth guide to 15 of the most visible anti-Muslim activists— and consider the consequences of giving them a platform."
They wish to silence those who speak honestly about the nature and magnitude of the jihad threat, blaming us for a supposed rise in "Islamophobia." If they really want to stamp out suspicion of Islam, of course, they will move against not us, but the likes of Omar Mateen, Syed Rizwan Farook, Tashfeen Malik, Nidal Malik Hasan, Mohammed Abdulazeez, Dzhokhar Tsarnaev, and the myriad other Muslims who commit violence in the name of Islam and justify it by reference to Islamic teachings.
The SPLC doesn't do that because its objective is not really to stop "Islamophobia" at all, but to create the illusion of a powerful and moneyed network of "Islamophobes," who can only be stopped if you write a check to the SPLC. That's what this is really all about.
In constructing this illusory edifice, the SPLC labels me and fourteen others "anti-Muslim extremists." We are, of course, no more "anti-Muslim" than foes of the Nazis were anti-German, but note the word "extremists." That's the mainstream media and Obama administration's term of choice for jihad terrorists. In what way are we "extremists"? Has anyone on the SPLC's hit list (and given the SPLC's track record of inciting violence against its targets, that is exactly what it is) ever blown anything or anyone up? Beheaded anyone? Boasted of our imminent conquest of any territory and the massacre of or enslavement of its people? No, all we have done is speak critically about jihad terror and Sharia oppression. The SPLC is trying to further the libel that we are the other side of the coin, the non-Muslim bin Ladens and Awlakis. Until we commit any terror attacks or conspire with others to do so, however, the SPLC's libel is only that: a libel.
It's also passingly ironic that the SPLC list includes several people who are doubtless horrified to be in this company, as they have endeavored for years to distinguish their message from that of those whom they themselves would smear as "Islamophobes." But their temporizing and pandering didn't work: they ended up on the Index of Prohibited Thinkers anyway, as will, ultimately, anyone who dares to note that Islam just might have something to do with the acts of murder committed in its name and in accord with its teachings.
The "report" as a whole stands as an example of the Left's strange tendency to present true statements as if they were self-evidently false, without bothering to explain why. Apparently the SPLC knows its supporters and is aware that it doesn't need to bother with troublesome things like, you know, facts.
The SPLC's hit list recurrently excoriates people for making true statements that it apparently regards as self-evidently false. For example, it says that Ann Corcoran of Refugee Resettlement Watch "accuses immigrant-run stores of illegally trafficking in food stamps." This is a case that Corcoran makes with evidence – evidence that the SPLC doesn't bother to try disproving. It says that Steven Emerson of the Investigative Project on Terrorism "has claimed that the Obama administration 'extensively collaborates' with the Muslim Brotherhood." That he actually has done so doesn't seem to bother them. As Andrew C. McCarthy has noted, "Barack Obama has spent his presidency cultivating Islamists, particularly from the international Muslim Brotherhood and its affiliates in the United States." The SPLC also hits Emerison for having "asserted that Europe is riddled with 'no-go zones.'" Regarding "no-go zones," here are some news articles from just the past few weeks:
Sweden: Police admit losing control of 55 no-go zones
France: Police need extra protection when entering Muslim no-go zones
Germany: Police "sick" of citizens' no-go zone fears
The SPLC excoriates Brigitte Gabriel of ACT for America for saying that any "practicing Muslim who believes the word of the Koran to be the word of Allah … who goes to mosque and prays every Friday, who prays five times a day — this practicing Muslim, who believes in the teachings of the Koran, cannot be a loyal citizen of the United States." Yet it says nothing, of course, about the many teachings of the Qur'an that contradict American Constitutional principles: the denial of the freedom of speech, the death penalty for apostasy, the devaluation of women, and more. How to reconcile these teachings with U.S. citizenship, the SPLC did not bother to explain.
The SPLC quotes David Horowitz saying: "There are only a couple of degrees of separation between anybody on the left and the terrorists — and that includes people in the Democratic Party, even those who are anti-terrorist." Here again, no refutation is offered – yet the Left's dalliance with Palestinian jihad groups and overall anti-Americanism make it impossible to dismiss Horowitz's assertion.
Frank Gaffney of the Center for Security Policy, we're told, "is gripped by paranoid fantasies about Muslims destroying the West from within." The SPLC doesn't bother to mention the Explanatory Memorandum on the General Strategic Goal for the Brotherhood in North America, the captured Muslim Brotherhood internal document that explained that Brotherhood members "must understand that their work in America is a kind of grand Jihad in eliminating and destroying the Western civilization from within and 'sabotaging' its miserable house by their hands and the hands of the believers so that it is eliminated and God's religion is made victorious over all other religions."
In attacking Pamela Geller of the American Freedom Defense Initiative, the SPLC descended to outright fabrications. Notes Geller: "Their claim that I insist that Obama is the 'love child' of Malcolm X is patently untrue. The SPLC also states that I 'have spoken to a neo-fascist group in Germany,' when in fact I have never even been to Germany." It characterizes former FBI agent John Guandolo's claim that CIA director John Brennan was a convert to Islam as an "outlandish accusation," when in fact "a U.S. asset assigned overseas with Brennan in Saudi Arabia when he was station chief confirmed years ago their firsthand account that Brennan was indeed the target of a Saudi intelligence influence operation that led to his conversion. Brennan has also stated publicly that he visited Mecca, which is impossible for a non-Muslim to do unless he is a special guest of the Saudi King."
Even more strangely, the SPLC targets Ayaan Hirsi Ali, a woman who grew up as a Muslim in Somalia, suffered genital mutilated at the hands of Muslims, is under death threats from Muslims, and lives in exile from her homeland because of Muslims. Instead of trying to discredit her, the SPLC should be honoring her for her stand for human rights against Sharia oppression. But the SPLC has other priorities.
Of me, the SPLC concedes that I am a "real intellectual" but complains that I am "entirely self-taught in the study of Islam." An odd objection. One cannot be both "self-taught" and a "real intellectual"? In any case, it's false: I am indeed mostly self-taught in the study of Islam, and make no secret of or apologies for it; every day's headlines proves me correct. Nonetheless, the fact is that I did first read the Qur'an and began studying Islam in earnest while at the University of North Carolina. My claims, says the SPLC, are "provably false," but then only offers a number of them that are demonstrably true, without any attempt to refute them.
It even says that I have "referred to Barack Obama as 'the first Muslim president.'" This one epitomizes the dishonesty of the SPLC. The quote comes from an article I wrote in 2007 discussing how Obama was not a Muslim, stating that his obvious affinity for Islam and the Muslim world could make him into "our first Muslim president" the way Bill Clinton was called "our first black president." After eight years of Obama, I'd say I was proven correct in rather spectacular fashion.
The SPLC, finally, hits me for having "even suggested that the media may be getting money to depict Muslims in a positive light."
The facts are once again deeply unfortunate for the SPLC: George Soros funded a report on "Islamophobia" on Twitter and gave $200,000 to the Center for American Progress for a defamatory report on alleged "Islamophobes." He also spent $600,000 for favorable coverage of the Muslim migrant inundation, bought favorable coverage of the Iran deal, and bought "Islamophobia" propaganda after the San Bernardino jihad massacre.
But what need does the SPLC have of facts? It knows its readers won't check up on the veracity of its claims, but will accept them at face value, since the SPLC is of the camp of the saints, the enlightened and tolerant Left. Those who are outside that camp clearly have no rights that the SPLC feels bound to respect.
Muslim reformer Maajid Nawaz enraged about being on SPLC hit list of "anti-Muslim extremists" with "real bigots"
Maajid Nawaz has no problem with the Southern Poverty Law Center aiming to destroy the reputations and endanger the lives of those whom he believes to be "real bigots." But when it's his ox that is gored, it's a different story. As I noted here, the problem with being angry about Nawaz being on the SPLC list, but silent (or even approving, as Nawaz is in the Atlantic article below) about everyone else who is on it, is that if criticizing religious beliefs makes him an "anti-Muslim extremist," then it won't be long before everyone who dares to utter a critical word about Islam will be on the list — and that is indeed the objective of the list: to stigmatize and marginalize any and all such critics. Much more below.
"How Did Maajid Nawaz End Up on a List of 'Anti-Muslim Extremists'?," by David A. Graham, The Atlantic, October 29, 2016 (thanks to Lookmann):
When earlier this week, the Southern Poverty Law Center and three other groups released a list of 15 "anti-Muslim extremists," many of the names came as no surprise. They included Pam Geller, who led the fight against the misleadingly nicknamed Ground Zero mosque, and her ally Frank Gaffney, who has called Barack Obama a crypto-Muslim and assailed Grover Norquist as a Islamist agent. Others were more controversial, like Ayaan Hirsi Ali, who is beloved by some as a truthteller and reviled by others as a bigot.
Millions of Americans opposed the Ground Zero Mosque (which was not misleadingly nicknamed at all); a CNN poll showed 68% of Americans opposing it. Many millions of Americans are skeptical about Barack Obama's affinity for Islam. Are they all "anti-Muslim extremists"? Maybe the SPLC thinks so, or would like the public to think so, in order to buttress false claims about a rise in "Islamophobia."
But in reality, this is setting the bar impossibly low. Opposing what many Muslims around the world would have seen as a triumphal mosque on the site of a jihad victory (a la the Dome of the Rock on the Temple Mount) makes one an "anti-Muslim extremist"? And presumably favoring that mosque and having no problem with Barack Obama's manifest solicitude for the Muslim Brotherhood brings one within the pale of acceptable critics of Islam? But the SPLC list is of supposed "anti-Muslim extremists." Surely one's opinion of the Ground Zero Mosque, Barack Obama and Grover Norquist should be tangential — at best — to whether someone is an "anti-Muslim extremist," a label that conjures up images of fanatics exhorting, approving of, inciting and even plotting violence against innocent Muslims. But apparently The Atlantic, and possibly also Nawaz himself, thinks otherwise.
 But one name in particular stuck out: Maajid Nawaz, a British activist who runs the Quilliam Foundation, which calls itself "the world's first counter-extremism think tank." (It's named for Abdullah (né William) Quilliam, a British convert who opened the U.K.'s first mosque in 1889.)
Nawaz is a star in certain anti-terror circles, thanks to a compelling personal narrative: A self-described former extremist who spent four years in an Egyptian prison, he has changed approaches and now argues for a pluralistic and peaceful vision of Islam. He stood for Parliament as a Liberal Democrat in 2015, and advised Prime Ministers Tony Blair, Gordon Brown, and David Cameron.
Nawaz's work has earned him detractors—critics claim he has embellished or neatened his narrative, some attack him for opportunism, and others question his liberal bona fides—but calling him an "anti-Muslim extremist" is a surprise. Unlike the likes of Gaffney and Geller, he doesn't espouse the view that Islam itself is a problem; unlike Ali, who now describes herself as an atheist, Nawaz identifies as a Muslim.
Ah, here's the rub. Apparently for The Atlantic, if not for the SPLC, if you believe that "Islam itself is a problem," you're an "anti-Muslim extremist," while if you agree with Nawaz that Islam is a Religion of Peace (see below), then you're fine. But the question of whether or not Islam is a religion of peace is a question of fact, that can be established or disproved by recourse to the evidence. If one examines the Qur'an, Muhammad's teaching, and the rulings of Islamic legal authorities and concludes that core Islamic sources contain texts and teachings that can be and are used by Islamic jihadists to justify their actions and make recruits among peaceful Muslims, does that in itself make one an "anti-Muslim extremist"? Apparently The Atlantic and Nawaz think so. But why? Facts are facts. They are what they are. They are neither pro- anything or anti- anything, and they are neither "extreme" nor "moderate."
This is the result of that kind of thinking: if I were to challenge Nawaz to debate me on the question of whether or not Islam is a religion of peace, he would either ignore my invitation or refuse it. And why? Because he regards me as an "anti-Muslim extremist." And why? Because I don't believe Islam is a religion of peace. So the question is decided by the stigma that is attached to one side of the issue before it is even debated. He need not debate whether Islam is a religion of peace with me because I'm an "anti-Muslim extremist," and he knows I'm an "anti-Muslim extremist" because I don't believe Islam is a religion of peace.
That, indeed, is why Nawaz initially denounced me. At the Quilliam Foundation's triumphant press conference with Tommy Robinson and Kevin Carroll announcing their departure from the English Defence League, Nawaz conferred with his colleague Usama Hasan and then gestured to the assembled media to give him the floor; Hasan declared that I "promote a hatred of Islam and…blame all the problems of Islamic extremism on the religion of Islam itself," as Nawaz looked on approvingly. This is false, as I don't promote a hatred of Islam, but merely tell the truth about its teachings and how Muslims apply them, but in any case, apparently as far as Nawaz is concerned, if one does not affirm that Islam is a religion of peace that has nothing to do with the violence committed in its name by people who avow that they're acting in accord with its teachings, one is an "anti-Muslim extremist." What he is angry about is that he has said all the right things in this regard, so as to be acceptable to the Left, but because he has dared to suggest that Muslims should accept the parameters of a pluralistic society (again, see below), he has been lumped in with the rest of us as an "anti-Muslim extremist" anyway.
This just illustrates the truth of what I have said for years: the SPLC and Hamas-linked CAIR and their allies don't care if you say the right things 99% of the time. As far as they're concerned, anything that can, however remotely, be construed as critical of Islam makes one an "anti-Muslim extremist." Anyone and everyone who is even weakly and tepidly critical of Islam will be destroyed. Nawaz apparently remains unaware of this, and thinks the rest of their list is offered in good faith; they just made a mistake by putting him on it. He doesn't understand the real game that the SPLC and its allies are playing.
When I spoke to Nawaz on Thursday, he was both baffled and furious."They put a target on my head. The kind of work that I do, if you tell the wrong kind of Muslims that I'm an extremist, then that means I'm an [sic] target," he said. "They don't have to deal with any of this. I don't have any protection. I don't have any state protection. These people are putting me on what I believe is a hit list."…
"I'm the one who's a Muslim in this!" he said. "I'm listed there with people such as Pam Geller? It's unbelievable."
So apparently it's perfectly all right that Pamela Geller lives under a death fatwa from the Islamic State. I gather that he would be just fine with the fact that I was contacted by the FBI a few weeks ago and informed that they picked up intel that a Muslim is looking around for me, hoping to find and kill me. Nawaz seems to think he is the only one with a target on his head, or that it's all right if the jihadis target people he regards as actual "anti-Muslim extremists."
He pointed out that he does things like appear in an Intelligence Squared debate arguing for the proposition—against Ali, in fact—that Islam is a religion of peace. ("I lost the vote," he said, with a tinge of bitterness.) He has also won praise for battling Islamophobes in the press.The report cited several counts against Nawaz. One is that he tweeted a cartoon of Muhammad—an intentionally provocative act, given that many Sunnis find it blasphemous to depict the prophet, but one that doesn't fit neatly into the "anti-Islam" category. (Most Shiites don't object at all, but in any case, is simply committing a blasphemous act anti-Islam?) A second is that Nawaz visited a strip club in London during a bachelor party, which is true, tasteless, and seemingly irrelevant to the matter at hand.
Third is a Daily Mail op-ed about the niqab, or face veil. The report states that he "called for criminalizing the wearing of the veil, or niqab, in many public places." Nawaz counters that he only called it inappropriate. But he did write that their should be a "policy" barring the niqab in certain spaces: "Let me make this clear: it is our duty to adopt a policy barring the wearing of niqabs in these public buildings. Here's my test: where a balaclava, motorcycle helmet or face mask would be deemed inappropriate, so should a niqab."…
What's most insidious about the SPLC's targeting of Nawaz is that the two most salient items in their dossier on him is that he doesn't disapprove of cartoons of Muhammad or of the niqab. So they think he is an "anti-Muslim extremist" for wanting Muslims to adopt, or at least tolerate, the values of the secular West — which Western leaders and Muslim leaders in the West constantly assure us that they do, anyway. The SPLC's inclusion of Nawaz is not outrageous because all the rest of us on the list are bigots and he isn't; their charges are as ridiculous against us as they are against him. The SPLC's inclusion of Nawaz is outrageous because it implies approval for the idea that Muslims in Western countries should not abide by the mores of those countries, but should establish Sharia enclaves.
Mark Potok, a senior fellow at SPLC who wrote the report (and has a long resume of similar work on extremists), told me that Quilliam's list of groups was the linchpin of the case for Nawaz as an anti-Muslim extremist. (Potok also noted that the list was compiled in collaboration with Media Matters for America, the Center for New Community, and ReThink Media.)
Noteworthy that these are Soros-funded groups.
Nawaz, meanwhile, accused SPLC of "McCarthyism" for compiling the guide. "Who compiles lists of individuals these days?" he said. "Even if someone was an anti-Muslim bigot, there shouldn't be lists of names of individuals."
That's the most sensible thing Nawaz has said about this whole controversy, but it cuts against his statements such as "I'm listed there with people such as Pam Geller? It's unbelievable."
Potok rejected the argument out of hand. "If criticizing any number of people is McCarthyism, then I guess the only answer to never criticize anyone. One can disagree or agree with a particular listing that we've made. … In some sense, to make a statement like that is to say that we shouldn't criticize." He noted that SPLC was careful never to list addresses or contact information for those it labeled extremists.
Potok is, of course, lying. On the SPLC's main page about me, it prominently lists my "location" — a town they think I live in. They're wrong about where I live, but the incitement and menace is plain: they're telling violent Leftists and jihadists where they think they can find me.
"Our point is not to make these people targets for violence, Potok said. "The point is to tamp down the really baseless targeting." While Nawaz demanded a correction, retraction, and apology, Potok said none was coming.
One thing that seemed to particularly irk Nawaz was the fact that the report came from SPLC. While the group is controversial—and particularly loathed on the American right—Nawaz's objection was that he has known and respected their work for years. "It lends the wingnuts a level of credibility," he said.
He should have had an epiphany over the last few days, and realized that the SPLC is not a group worthy of anyone's respect. That he clearly hasn't is evidence of a very slow learning curve.
Yet Potok surely has a point about lists, even if one rejects Nawaz's inclusion on this particular one. If naming and shaming the likes of Geller and Gaffney is beyond the pale, how should one combat Islamophobia, which is a real and growing problem?
"Islamophobia" is not actually a "real and growing problem," but a propaganda term designed to intimidate people into thinking it wrong to oppose jihad terror.
Nawaz endorsed the work of Tell MAMA UK, an organization that tracks attacks on Muslims and other incidents of Islamophobia.
Really? Here's the truth about Tell MAMA UK: Muslim group fabricated evidence of "wave of attacks on Muslims" in wake of London jihad murder
There are legitimate disagreements about the most effective way of fighting Islamophobia. There are also grounds to argue about whether what Quilliam is doing is truly making much difference. But what makes Nawaz's appearance on the list so peculiar is that he and SPLC share the goal of fighting back against unfair targeting of Muslims. If even natural-seeming allies are preoccupied fighting each other about tactics, what hope is there prevailing in the fight against real bigots?
What The Atlantic and Nawaz don't realize is this: everyone who discusses how jihadists use Islamic teachings to justify their actions will be smeared as a bigot. The distinction Nawaz has tried to maintain between his work and that of mine and others on the list didn't spare him from inclusion on the list. Nor will it spare anyone else who dares to speak the truth about these issues. Their fundamental confidence in a hate group such as the Southern Poverty Law Center demonstrates either inexcusable naivete, or fanatical attachment to the Left, or both.