BRIDES, BURQAS AND COMEDY
Tim Blair, The Daily Telegraph
Many of the ABC's most popular programs are picked up from the BBC. Let's see if our billion-dollar broadcaster will buy the rights to this particular BBC production.
Recommended by many readers, please meet the Real Housewives of Isis: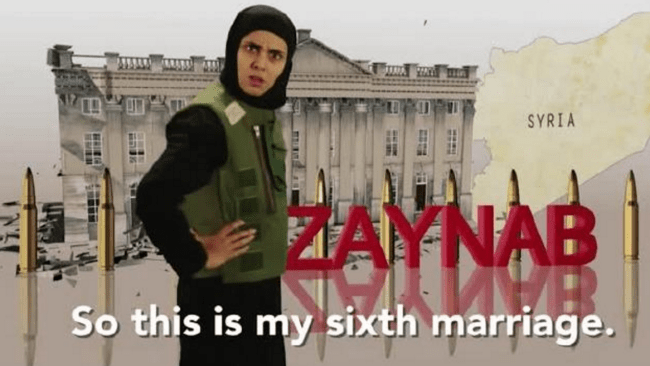 Naturally, some are offended by this entertainingly realistic portrayal of ISIS brides:

Pamela Geller has more:
The BBC created a short video designed as a fake trailer for a show parodying Real Housewives – 'Real Housewives of ISIS.'
I, for one, do not think it funny. Not for the reasons that Muslims and leftists don't. Leftists and most especially Muslims don't think it's funny because they see it as mocking Islam and many support the work of ISIS. Insulting, mocking or criticizing Islam is punishable by death which is why I have been targeted for assassination multiple times by devout Muslims.
I don't think it's funny because the oppression, subjugation, misery, and slaughtering of millions to impose Islam across the world is happening now. The blood in Istanbul still stains the streets. Berlin, Nice, San Bernardino, Paris, Copenhagen, Orlando, Ohio State, Garland, NYC, Jerusalem, Brussels, Munich, Nairobi, etc — it's too fresh, the flesh and the bone.
And yes, while Charlie Chaplin was funny and phenomenal as Hitler in The Dictator, his film was a warning in 1940. And Hogan's Heroes was funny because we had already won the war.  But the films of the mid-forties about the Nazis were dead serious and rightly so. America was in the thick of it then just as ewe are now. And like the Europe is really in the throes of war.
I guess we should applaud the BBC for evening attempting such a thing because they are as much the problem as the ideologies they protect — jihad and sharia. Still it is something.
WATCH: LEFTISTS AND MUSLIMS HAVE MELTDOWN AFTER BBC AIRS PARODY 'REAL HOUSEWIVES OF ISIS'
The Rebel, January 4, 2017:
The BBC did something no one expected and amusingly mocked the Islamic State and women who travel to Syria in a clip from their show Revolting.
The short video is designed as a fake trailer for a show parodying Real Housewives. There's actually some fun shots thrown at Islamists, feminists, and the religion of Islam itself. It's borderline politically incorrect, which means it's way funnier than anything the CBC has ever done.
However, some on the left don't like this one bit. On Facebook Aftab Bashir wrote, "Let's make satire about British soldiers being killed in Iraq and let's ridicule their widows and children coz its all a bit of a laugh ain't it."
In a follow up comment, Ebrahim Dar-wa said, "Funny for non Muslims but we don't take this as a joke. Even though ISIS is made up by the West a lot of views are based on religion so this is attacking Islamic values."
Another user, Hannah Berry wrote, "How about instead of putting in the money to make this you could actually send the money out to help those suffering in places like Allepo."
More Muslims whined saying "Disgraceful and distasteful. The BBC is normalising Islamophobia through comedy" and "So a show depicting hijab wearing women as terrorists. How do you think this will help the Muslim women living in west suffering daily attacks from ignorant, hateful people? This is really sick."
While these may seem like minority Muslim opinions, you'd be surprised. A poll released last year found that 23 per cent of British Muslims support the introduction of Sharia law. And that's not all. 39 per cent of Muslims, male and female, say a woman should always obey her husband.