FBI: Suspect Flew to Gun-Free Ft. Lauderdale Airport 'Specifically' for Attack
.
The FBI's George Piro says shooting suspect Esteban Santiago traveled to gun-free Ft. Lauderdale-Hollywood International "specifically" to carry out his attack.
Piro is Special Agent in Charge of Miami.
According to BBC, Piro made clear that "the suspect had traveled to Fort Lauderdale specifically to carry out the attack." And Piro dispelled earlier claims that the attack was the result of an altercation aboard Santiago's inbound flight, saying, "There was no sign of any altercation on the flight or at the airport before the attack began."
The Crime Prevention Research Center reports that Florida is one of only six states that prohibit concealed carry permit holders from carrying guns in the unsecured areas of airports for self-defense. Santiago allegedly carried out his attack in the baggage claim area, which is unsecured.
Florida state Senator Greg Steube (R-23) is pushing legislation that would allow concealed permit holders to be armed in unsecured areas, thereby lessening the criminals' advantage. On January 6–the very day of the Ft. Lauderdale attack–the New York Daily News mocked Steube's efforts, saying:
We are supposed to think it is perfectly normal that it is now legal in the state of Texas, thanks to a Republican-controlled legislature, to carry concealed weapons on a college campus. So why wouldn't a state senator in Florida like Steube, whoever he is, be just fine with people carrying guns through his state's airports? If the bill becomes law in Florida, even after what happened at Fort Lauderdale-Hollywood International on Friday, make sure you send up a flare — or send out a tweet — the next time some passenger carrying a gun in an airport like that saves a single life. It will be like the Second Amendment on steroids.
Santiago's flight originated in Alaska, which means that is where he first brought his firearm into the airport. However, Alaska differs greatly from Florida in that law-abiding Alaskans are allowed to be armed in the unsecured portions of airports for self-defense.
Libtards are up in arms about any suggestions that armed citizens could have stopped the carnage: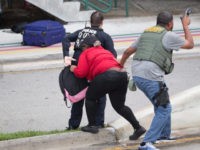 AWR Hawkins is the Second Amendment columnist for Breitbart News and host of "Bullets with AWR Hawkins," a Breitbart News podcast. He is also the political analyst for Armed American Radio. Follow him on Twitter: @AWRHawkins. Reach him directly at awrhawkins@breitbart.com.