Jahannam, in case you are not familiar with the term, you can look it up here.
"Blind Sheikh" Omar Abdel Rahman, mastermind of 1993 World Trade Center jihad bombing, dies
Said prosecutor Andrew McCarthy:
The Blind Sheikh is a doctor of Islamic jurisprudence graduated from al-Azhar University in Cairo, the seat of Sunni Islamic learning for over a millennium. His area of expertise is sharia — Islam's legal code and societal framework.
The jihadists who listened to him did so because he is an internationally recognized authority in the political ideology that draws on Islamic scripture to inspire attacks against the West.
The centrality of ideology tells us why terrorists obeyed the Blind Sheikh. It tells us why terrorists act. This is something we must grasp if we have any hope of defending ourselves and defeating our enemies.
He was a a doctor of Islamic jurisprudence and he plotted jihad mass murder on a grand scale. There is a lesson in this for policymakers, but are any heeding it?
"Omar Abdel Rahman, 'blind sheik' convicted in 1993 World Trade Center attack, dies at 78," by Matt Schudel, Washington Post, February 18, 2017:
Omar Abdel Rahman, the "blind sheik" and Egyptian spiritual leader who was convicted in the 1990s of being a mastermind of terrorist plots to bomb the World Trade Center and other U.S. landmarks, died Feb. 18 at a federal prison in Butner, N.C. He was 78.
Kenneth McKoy, an official of the Federal Correction Complex in Butner, confirmed the death to the Associated Press, saying the cause was diabetes and heart disease.
Abdel Rahman, who was blind from an early age, denounced secularism among other Muslims and, in the 1980s, built an alliance with al-Qaeda leader Osama bin Laden while living in Afghanistan. He led a militant group in Egypt before moving to the United States in 1990.
In 1993, a bombing of the World Trade Center left six people dead and more than 1,000 injured. Abdel Rahman was later arrested and charged with being the mastermind of that plot and others to blow up the United Nations, Holland Tunnel, George Washington Bridge and other landmarks….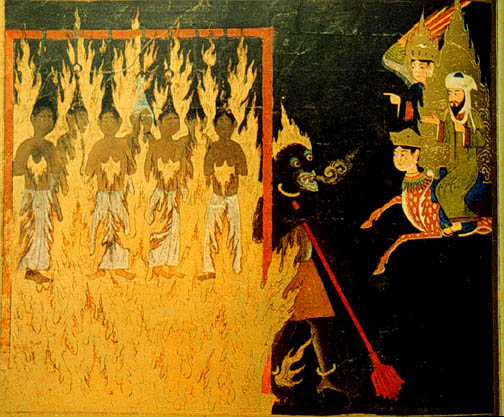 Prophet Muhammad, Buraq and Gabriel, observe "shameless women" being punished in Hell for exposing their hair to the sight of strangers.
Vlad Tepes has more:
 The Blind Sheik is dead. "Ding dong bitches!"  (Character in TV show)
'The Blind Sheikh,' Tied To '93 World Trade Center Attack, Dead At 78
NEW YORK (CBSNewYork/AP) — Omar Abdel-Rahman also known as the "blind Sheikh," has died at a prison hospital in North Carolina at age 78, law enforcement sources told CBS2.
Abdel-Rahman inspired the 1993 World Trade Center attack, a plot to blow up local landmarks and issued the Islamic ruling that Osama bin Laden used to justify 9/11.
(At the Blind Sheik's NYC mosque, plans were also found for a plot he had called, "Landmarks" which was the blue print that, while meant to be used against NYC, was eventually used a few years later against Bombay in a horrific attack that killed many people, burned down the Taj Mahal hotel, and murdered several people at a Lubavitcher Jewish organization as well as the slaughter of numerous people at Cafe's and a main rail station.)