German states spent more than €20 billion on migrants in 2016, far more than had been predicted. Meanwhile, in its election manifesto the AfD (Alternative für Deutschland, Alternative for Germany) pledges to get rid of 200,000 more migrants than are taken in annually.
Related links:
Germany: Two "youths" spray tear gas onto Hamburg train, sickening two children and four adults
"Youths" has often been used as an establishment media euphemism for Muslims. As the situation rapidly deteriorates in Germany, it is easy to see why authorities would be trying to cover up the reality of the situation in any way they can. Maybe none of these attacks have anything to do with the global jihad, but in that case, the stoic silence of German officials on salient details is even less explicable.
"Hamburg tear gas attack – Children left with burning eyes and breathing problems on train," by Joey Millar, Express, March 10, 2017:
TWO YOUNG children were treated for burning eyes and breathing problems after a tear gas attack on a packed train in Hamburg this evening.
Two "youths" have fled the scene after spraying the toxic substance in a carriage carrying around 50 people.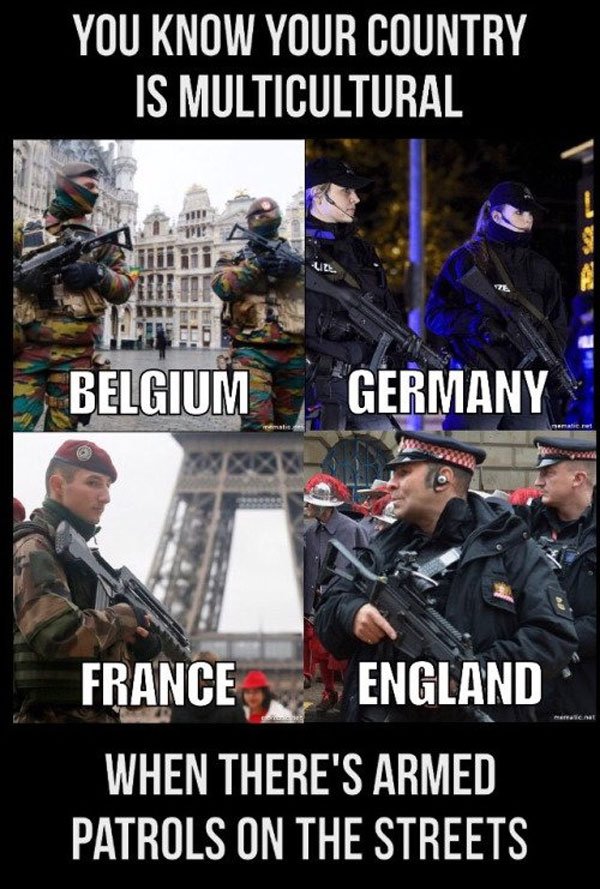 Several people, including two children aged three and six, were hurt and treated by first responders. 
The children suffered respiratory and eye problems – although their injuries are not thought to be serious.
One photo showed a paramedic consoling an upset children with a balloon fashioned from a first aid glove. 
Four adults have also been injured. Their injuries are also not thought to be lasting.
The train was headed towards Hamburg Airport when the incident occurred. 
Police are now hunting down the pair who carried out the attack. 
According to witnesses a large police and fire service presence remains at the scene around an hour after the incident….
Updates on Dusseldorf:
Thanks to the Gates of Vienna
Below are several updates on the situation in Düsseldorf. All translations and summaries are by Egri Nök:
Concerning today's alleged machete attack, a brief announcement was posted on the Facebook page of the North Rhine-Westphalia Police:
As part of the manhunt, currently, the Kalkumer Forest is being searched with participation of the riot Police
Please take precautions:
Avoid lonely roads, dark corners, etc.
Critically evaluate whether children can comprehend dangerous situations
Report suspicious people and observations to the emergency police number
Concerning yesterday's axe attack at the main train station:
It has been officially revealed that the suspect in custody is from Kosovo. Der Spiegel call him "Fatmir H." but their article has no new information besides that. He is an asylum applicant — a "refugee", in other words.
Raw notes from the press conference in Düsseldorf, March 10:
Never trust the fake-stream media:
" Look how NBC news demonizes Europeans who don't want to be cut down with axes while going to work in the morning, don't want to be run over by trucks and cars during Christmas, don't want their daughters and wives gang raped, don't want their schools turned into mosques, don't want to lose their social services, homes and lands to invaders !
.
For NBC, the good guys are the terrorists, the ISIS infiltrators and the bad guys are those who want Europe to remain European. A radical idea ! " (Akos Magyar)