We need a voice against stupidity. We have a PM who invites radical Islamic headbangers and their tilts to "iftar dinners" at taxpayer expense, bows and scrapes to them and disses  critics. I doubt that we will hear a word from him in favor of free speech.
HIRSI ALI CANCEL'S TOUR, CITING MORE THREATS
Andrew Bolt
And, indeed, the threats and abuse to the tour organisers have been astonishing – at least, to those who haven't noticed the increasing intolerance of the Left and Islamic Right:
Internationally renowned author and anti-Islam campaigner Ayaan Hirsi Ali has cancelled her upcoming tour of Australia and New Zealand, citing security concerns as one of the reasons for the decision.
Ms Hirsi Ali was due to speak in Brisbane, Melbourne, Sydney and Auckland from Thursday to Sunday this week, but has suddenly pulled out.
She lives with around-the-clock security protection due to her criticisms of radical Islamists…
Ms Hirsi Ali was born to a Muslim family in Somalia, but has been a vocal critic of Islam after renouncing the religion…
She has been a controversial figure, earning, according to the event's organisers, "widespread criticism among the liberal left and death threats from the religious right."
The event was organised by Think Inc., a Sydney-based organisation that attempts to provoke debate and rational discourse through conversation…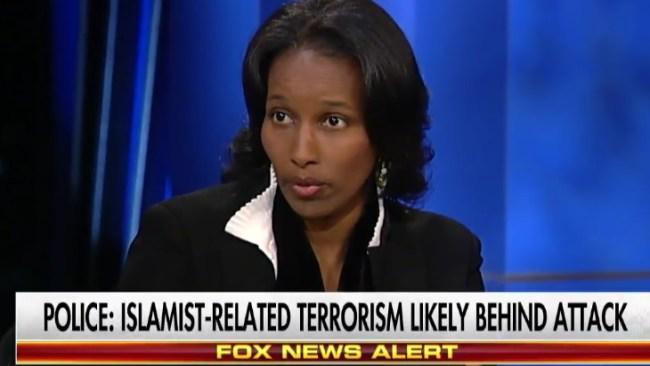 Its insurers were contacted and warned there could be trouble, and venues where she was scheduled to speak had been contacted and warned that there would be protests where she was due to appear.
Much of this was done by an individual called Syed Murtaza Hussain of the Council for the Prevention of Islamophobia Inc.
He informed Festival Hall in Melbourne there would be 5000 protesters outside the venue if the engagement went ahead.
May I point out to the Council for the Prevention of Islamophobia that it creates exactly what it claims to condemn?
Then there were the 400 activists and academics also demanding Hirsi Ali not come speak, vilifying her and giving encouragement to those wanting to stop her by other means:
We, the undersigned, would like to express our utmost disappointment that Ayaan Hirsi-Ali is being brought to Australia by Think Inc…. Although we are not a homogenous group, we are united in our condemnation of Hirsi-Ali's discourse which is grounded in hate-mongering and bigotry… Hirsi-Ali's divisive rhetoric simply serves to increase hostility and hatred towards Muslims…
Ayaan Hirsi Ali's conversation does not contribute to any insights nor further the debate in any way. This is simple sensationalism designed to fuel division and hate. 
These women turn on Hirsi Ali as the voice of "white supremacy" – can you believe it? – and accuse her of profiteering from the death threats against her. They denounce her as an oppressor of Muslim women, when the evidence is that she is oppressed in a way none of her critics are.
Oh, and that claim that Hirsi Ali "does not speak for us"? Of course, she doesn't – because she's not a Muslim now, is she?
Maher Mughrabi, foreign editor of The Age and The Sydney Morning Herald, last week heaped up the hate – and note the blame-the-West victimhood that makes reform of Islam near impossible:
Hirsi Ali serves up pseudo-theology that tells us that if we pulp the nasty, warlike Madinan verses of the Koran and extract the kind and gentle Meccan ones, we'll have better Islam and better Muslims.
Never mind the fact that every religion and every nation that has ever aspired to create a community has had both martial and pastoral characteristics (is that blood on the wattle?). Never mind that in the past two centuries far more violence has been imported into the Muslim world than it has exported.
In other news:
Sarah Hanson Young at Pooraka Mosque!
So much for a strong, independent leader…Show some self respect Sarah, Women in Australia do NOT need to cover up for fear of assault! Try campaigning in Saudi Arabia and speak about the oppression of Women there, then you will understand how Islam treats Women! Just proves she would do ANYTHING for votes!