'May God curse you, you pig, you dog': Islamic leader Sheikh Mohammad Tawhidi abused by Muslims as he walks down the street in Sydney
The Daily Mail is engaging in fake news re "God". It is certain that the Islamic headbangers in Lakemba didn't say "God", they said 'Allah'.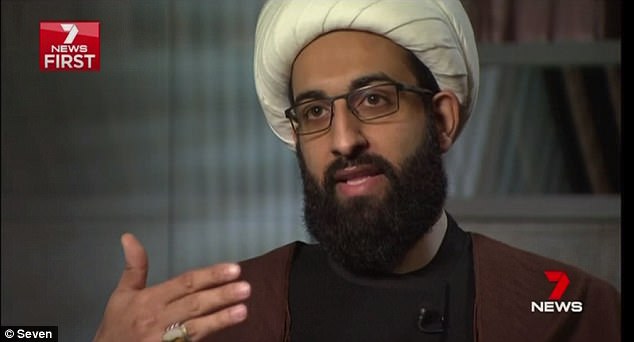 Shia imam Sheikh Mohammad Tawhidi did a street walk at Lakemba in Sydney
He was called a pig and a dog in Arabic as he visited Sydney's Muslim heartland
The religious leader is outspoken against radicalisation, sharia law and violence 
He fears he could be shot at or stabbed next time he visited that area of Sydney 
An Islamic sheikh who speaks out against radicalisation and sharia law has been cursed and spat at while walking down the street in the Muslim heartland of Sydney.
Shia imam Sheikh Mohammad Tawhidi was mobbed with abuse only moments after strolling along Haldon Street in Lakemba, which is home to Australia's largest mosque.
A man shouted in Arabic as he ventured past shops with 7News reporter Bryan Seymour shortly before noon on Monday.
Asked by what the insult meant, Sheikh Tawhidi said: 'It means, 'May God curse you, you pig, you dog.'
After only a few minutes, Sheikh Tawhidi and the 7News crew returned to an unmarked van to avoid the possibility of violence.
Sheikh Tawhidi, who moved to Australia from Iraq when he was 12 in 1995, said this was the first time he had experienced abuse of this nature.
'We were abused, spat at, insulted, called pigs and dogs and they gathered to try and intimidate us,' the Adelaide-based religious leader told Daily Mail Australia shortly after the incident.
'I have never been insulted or abused in Australia by any non-Muslim.
A man on a closed Facebook page used the Arabic word for dog, kalb, to wonder why violence wasn't inflicted on Sheikh Mohammad Tawhidi
Sheikh Mohammad Tawhidi believes Muslims influenced by the Koran didn't want him there
'I have never suffered from racial discrimination at all and today was the first time that I ever experienced racial discrimination in my entire life and it was from a Muslim.'
Sheikh Tawhdidi said the holy Koran had influenced the men who abused him on Monday.
'They believe the land belongs to God and they are the chosen nation of God and that everybody that doesn't believe in the God that they believe in, the way they believe in, then it's basically not their land and they have no right to be on it,' he said.
However, he fears something worse could happen next time.
'If this continues, there will come a time where an average Australian will require a visa to enter those areas,' he said.
'I was expected to be shot at, I expected to be stabbed with a knife, it was very normal for me and I was not afraid.
'My appearance today was a statement that I am not afraid.'
Read more: http://www.dailymail.co.uk/news/article-4462250/Sheikh-Tawidi-abused-Sydney-s-Muslim-heartland-Lakemba.html#ixzz4frcYVD3u
Follow us: @MailOnline on Twitter | DailyMail on Facebook