How about "fretting" over a bunch of dead innocent kids? Sick sons of bitches literally pissing on the graves of the victims:
This is the knee jerk response of the enemedia and leftwing cultural elites as dismembered little girls lie in the morgues of Manchester's hospitals, their tiny bodies wracked by nails, bolts and shrapnel.
This is the knee jerk response of the enemedia and leftwing cultural elites as dismembered little girls lie in the morgues of Manchester's hospitals…  BY
PAMELA GELLER
ABC: Manchester Attack 'Likely to Inflame Anti-Islamic Sentiment'
Despite the horrific nature and impact, ABC was eager to downplay the motive behind the deadly attack. In fact, ABC was more worried about the perpetrators than the victims, warning that this could provoke an "anti-Islamic backlash" across Europe.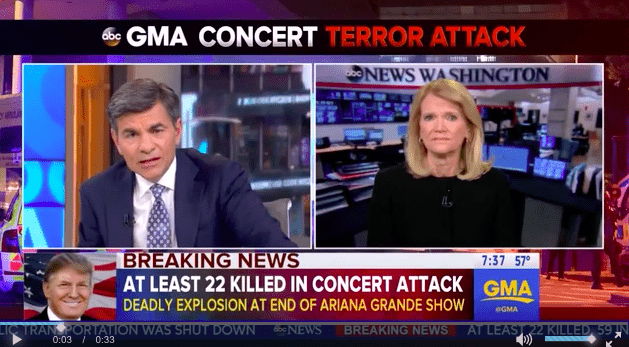 On Tuesday's "Good Morning America," co-host George Stephanopoulos and ABC Chief Global Affairs Correspondent Martha Raddatz stated that the attack in Manchester could lead to anti-Muslim backlash.
.
Stephanapolous said that while people are determined to go back to their normal lives, "this is also likely to inflame anti-Islamic sentiment across Britain, across Europe."
Child victims aren't even buried yet and Muslim leaders of Manchester already "concerned" about Islamophobia..
Manchester bomber Salman Abedi's father, Ramadan Abedi, was a member of the Libyan Islamic Fighting Group (LIFG) also known as Al-Jama'a al-Islamiyyah al-Muqatilah bi-Libya , was an armed jiahd group whose members include alleged Al Qaeda organizer Abd al-Muhsin Al-Libi who now holds a key command position in the Libya Shield Force.–BY
PAMELA GELLER
What a dolt.
Greater Manchester Mayor Andy Burnham says the terror attack "defies any reasoning"  and people will not let it divide the city.
Sick.
.
Manchester Mayor: Bomber Was A Terrorist, Not A Muslim
Andy Burnham insisted people should not turn on the Muslim community in the aftermath of the Manchester terror attack.
Salman Abedi killed 22 people, including children as young as 8, when he detonated a suicide bomb outside the Manchester Arena on Monday night.
He was born and raised in Manchester to Libyan parents and worshipped in a mosque in Didsbury, not stopped going because the imam was speaking out against ISIS.
But the Mayor of Manchester insisted that this man was a terrorist who had noting to do with Islam. 
"Theresa May says such attacks 'will not break us,' but her own life is lived in a bullet-proof bubble, and she evidently does not need to identify any young people today in Manchester morgues,"
"Also, 'will not break us' means that the tragedy will not break her, or her policies on immigration. The young people of Manchester are already broken – thanks all the same, Theresa."
"Sadiq Khan says 'London is united with Manchester', but he does not condemn Islamic State – who have claimed responsibility for the bomb," —Musician and songwriter Morrissey.
Muslim sex grooming paved the way for the Manchester Arena attack.–FRONTPAGEMAG.COM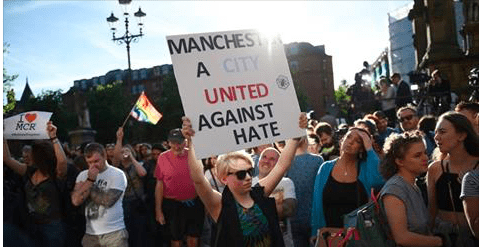 Newsweep: "Muslims in Manchester fear reprisals" after jihad massacre
Sick f*cks.
The establishment media is sticking to its narrative: Muslims are always and in every case victims who must be accorded special solicitude. When a Muslim commits jihad mass murder, the establishment media immediately kicks into "backlash" mode, behaving as if Muslims were the victims of the attack, and that the real threat is racist, bigoted "Islamophobes."
This narrative is increasingly counterfactual, and has to be ever more frequently shored up with fake hate crimes. Those fake crimes are a no-lose proposition: the fake hate crime gets international front page headlines; the revelation that it was fake is relegated to page 37.
Police officers patrolling in central Manchester on Wednesday. The British government has put the country on its highest level of alert – "critical," meaning that a further attack "may be imminent. (NYT)
Alan Jones and Rita Panahi speak to Eddy with their thoughts on what should happen moving forward.–AU.TV.YAHOO.COM
BRITAIN, like Australia, decided it was racist to ban Muslim immigrants. So now it instead must send its army into the streets.
.
Philippines:
Martial law declared as Islamic State jihadis storm city and battle national army
(CNN) Philippines President Rodrigo Duterte said his martial law declaration for the country's restive south was necessary in order to fight militants there.
.
.
Police in Thailand say a bomb blast at a Bangkok army hospital on Monday has wounded 25 people. Three of them were in a serious condition.
.
The injured included retired army officers and civilians, who were promptly treated and released. Those seriously injured have remained under medical care at the hospital.
It is the third bomb explosion in two months: a blast outside the National Theatre injured two passers-by earlier this month, and another outside the former lottery office injured two workers in April.
Never buy your Islam from a Mohammedan female:
Dr Qanda Ahmed lies her a$$ off. She wants you to believe there is some kind of Islam that doesn't want to subjugate us: