The hide & the hubris of Muselmaniacs is breathtaking. They murder your children and claim victimhood:
According to ABC News, the bomber's father, Ramadan Abedi (not to be confused with Huma Abedin) was a member of an al-Qaida-linked Islamic group in Libya. For this, he was accepted as a "refugee" by the British government.
Liberals' main reaction to the attack was not to demand the toppling of the terrorist-friendly British government, but to worry about an upsurge in Islamophobia. They say there's nothing we can do about terrorism and we probably shouldn't do anything anyway, because we deserve it.
"We hear reports but many people are very scared to talk about the problem…."
Mohammed Ullah, Muslim chaplain at University of Manchester, said that he had heard reports of a Muslim girl being spat at and another Muslim person being told to "go home". An arsonist attacked a mosque in Oldham, Greater Manchester, shortly after the atrocity.
"Islamophobic attacks have increased in the last few years exponentially,  I say to Muslims you should not have to apologise for the actions of individuals…."
Muslims are the real victims of Manchester
Islamophobia has become normal. Our challenge now is dismantling it without doing more damage
Mariam Veiszadeh
Since I founded the lslamophobia Register in late 2014, I have effectively been at the coalface of this issue. I joke about the fact that I have become the Islamophobe's favourite poster child and the sacrificial lamb (halal of course) of the anti-Islamic movement. …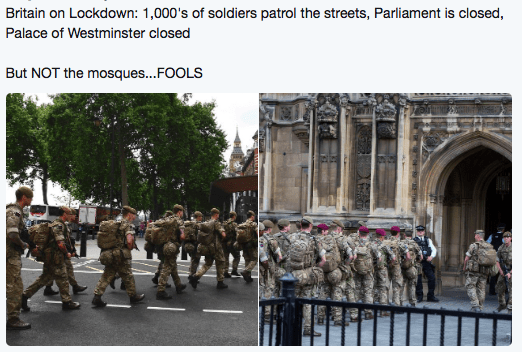 What kind of f*kcwits are employed by the NYT?
If Salman Abedi had been a "right-wing extremist," the Times, and the world, would know right now. But when the killer is a devout Muslim who knows the Qur'an by heart, was known to British authorities as a terror threat, and had been in touch with a recruiter for the Islamic State (ISIS), the New York Times is baffled.
Alaa al-Ameri: How Abedi was taught to hate Britain
Alaa al-Ameri, a British Libyan, so to speak, says Manchester suicide bomber Salman Abedi, also from a Libyan family, was coached by Islamists Muslims to hate Britain. The British elites are wrong to assume it's Britain which has caused offence. Read this.  
Manchester Arena bomb maker at large and could strike again
Intelligence services now believe that Salman Abedi who detonated the nail bomb in the foyer of the venue was a 'mule' using a device made by someone else
.
FINALLY, THEE BOMBERS MOTHER & friends speak out…this is a lengthy fairly detailed summary…..
"The family is super religious," one neighbour, who did not want to be named, said.
"I only ever saw the mother once or twice in 10 years. She always stayed in the house and whenever I saw her she was wearing a veil."
Security services are today probing if Abedi, whose parents came to the UK from Tripoli in the early 1990s, had links to two infamous ISIS recruiters.
Friends had reportedly argued with the radicalised young man, with a community working telling BBC: "all of the publicity is about Muslims not coming forward and this shows that they are coming forward and expressing their concerns."
The US leak came after Home Secretary Amber Rudd has said she is irritated with the US for releasing information about the Manchester bomber before UK police would have liked.
Ms Rudd said the British had wanted to control the flow of information to "keep the element of surprise".
Earlier today top French official revealed the Manchester Arena murderer is believed to have recently travelled to Syria and had "proven" links with ISIS.
Interior minister Gerard Collomb said this morning that British and French intelligence have information the British-born attacker had been to the ISIS hotbed.
He did not provide details, and said it is unclear whether Abedi was part of a larger network of attackers.
However it's been revealed that Abedi may have had links to at least two ISIS recruiters who have operated in the Manchester area.
Three more men have today been arrested just streets away from where Abedi lived.
Mr Collomb said: "We only know what the British investigators have told us. He was a British national of Libyan origin, he grew up in Great Britain.
"All of a sudden he travelled to Libya and then most likely to Syria, became radicalised and decided to commit this attack."
When Mr Collomb was asked whether there was a terrorist network, he replied: "We don't know yet (if there's a network). In any case, links with Daesh (ISIS) are proven."
Collomb, who spoke with Theresa May after the attack at the Ariana Grande concert, said the two countries should cooperate closely on counter-terrorism despite Britain's pending exit from the EU.
With France still under a state of emergency after a string of ISIS attacks, French President Emmanuel Macron is holding a special security council meeting today.
The killer is suspected of receiving terror training in Syria where he may have visited after seeing family in Libya.
Sources claims he could have sneaked back into Europe via the Med without alerting British authorities.
One relative said he looked "happy and relaxed" in the days leading up to Monday night's attack.
The claims come as investigators probe the possibility Manchester Arena suicide bomber Salman Abedi was part of an ISIS-inspired terror cell containing a master bomb-maker.
The terrifying theory comes as investigators also study the deranged murderer's links to extremists based in Libya and ISIS recruiters operating out of the UK.
The suicide bomber was known to the intelligence services "up to a point", Home Secretary Amber Rudd said this morning.
Ms Rudd disclosed that the intelligence services had been aware of Abedi, who is reported to have recently returned to the UK from a visit to Libya.
She told Sky News: "We do know that he was known up to a point to the intelligence services".
The minister later added it now "seems likely" that the former business studies drop-out and Manchester United fan was not acting alone.
It's a view shared by the country's top terrorism experts.
Security specialist Will Geddes told the Daily Telegraph: "If the suicide bomber has been given the device by someone else, that opens the possibility that there is still a bomb maker out there somewhere and finding him will obviously be a top priority for the police and security services."
There are also questions to how a bomb maker was able to get his or her hands on the material needed to make the deadly device without alerting the authorities.
Abedi is believed to have attacked the Arena with a chemical bomb packed with deadly shrapnel – similar to the ones used in the 7/7 attacks.
Terror experts said the type of bomb used in Monday night's attack – which left 22 dead – points the finger towards a sophisticated explosives-making operation.
Former Scotland Yard counter-terror officer David Videcette said: "It sounds likely to have been a device carried in a bag containing a tub with chemicals and then surrounded by nuts, bolts and nails to cause the maximum amount of damage. Such devices are extremely difficult to get right.
"Getting all that to work in the right order and at the right time is very technical. The skills needed are not something that can be acquired easily and I would think it is highly unlikely that the suicide bomber is the bomb maker."
Raffaello Pantucci, director of international security studies at Royal United Services Institute, says the security forces will be trying to find out if Abedi made the nail bomb himself or if he was given it by an expert bomb-maker.
He said; "A device has been successfully detonated. It is not a pressure cooker device, so he has not just attached something to it to make it blow up, it is an explosive device which takes some skill and training with chemicals.
"So the concern is whether someone gave it to him and there is a bomb-maker out there or whether the attacker was trained and built the bomb himself.
"They will be looking into whether that knowledge came from outside sources or whether it is still out there.
"We know it was a shrapnel bomb and it was in a bag he put down on the ground. We can draw from the fact it works and went off when he wanted to demonstrates a certain level of skill and sophistication, something you don't see in a pressure cooker bomb."
An investigation is under way into his possible ties with fellow Mancunian Raphael Hostey, also known as Abu Qaqa al-Britani.
Abedi was believed to be a family friend of Hostey, who persuaded hundreds of Brits to head to Syria and fight for ISIS. He was killed in a drone strike in May last year, aged 24.
Describing him during the trial of another radicalised Brit who had hoped to travel to Syria, a judge said of Hostey: "He has become an inspirational figure, encouraging others to travel and join in with Jihad."
It's reported Abedi been in contact with Hostey in the run up to his death and another well-known ISIS figure Abdalraouf Abdallah.
Abdallah, 23, was jailed for five and a half years in July after being convicted of trying to help other Manchester-based wannabe jihadis to join ISIS.
Abdalraouf, who like Abedi, was the son of Libyan dissidents, travelled to Libya in 2010 on a gap year and joined an Islamist extremist group.
During one anti-Gaddafi rally, he was shot and paralysed and left confined to a wheelchair.
On his return to Manchester he began encouraging friends and associates to join ISIS.
Killer Abedi, 22, is thought to have returned to the UK from Libya as recently as this week.
It was also claimed last night that he had travelled by train from London to Manchester on Monday in advance of the attack.
This has raised suspicions that he may have met co-conspirators or been supplied with his explosive device by an as-yet-unidentified bombmaker.
He was not, however, one of the 350 returning jihadis on the MI5's watchlist.
A team including 30 armed officers raided the suicide bomber's home in the Fallowfield area and police were seen recovering a book called Know Your Chemicals.
Abedi born in Manchester and grew up in tight-knit Libyan community that was known for its strong opposition to Colonel Muammar Gaddafi's regime.
His older brother Ismail had been a tutor at Didsbury mosque's Koran school.
One imam said last night said that Salman Abedi, who wore Islamic dress, had shown him "the face of hate" when he gave a talk warning on the dangers of so-called ISIS.
The imam of Didsbury Mosque, Mohammed Saeed said Salman stopped going to the mosque in 2015 as he objected to anti- ISIS comments.
He said: "Salman used to come to the mosque occasionally, he wasn't particularly friendly towards me because he didn't like my anti-ISIS sermons.
Arena
"He didn't like what I was saying and showed me the face of hate. He came to the mosque less and less after that.'"
Born in 1994, the second youngest of four children, Abedi's parents were Libyan refugees who fled to the UK to escape Gaddafi.
His mother, Samia Tabbal, 50, and father, Ramadan Abedi, a security officer, were both born in Tripoli but appear to have emigrated to London before moving to the Whalley Range area of south Manchester where they had lived for at least a decade.
Today neighbours described the family as very traditional.
"The family is super religious," one neighbour, who did not want to be named, said. "I only ever saw the mother once or twice in 10 years. She always stayed in the house and whenever I saw her she was wearing a veil."
Security services had known about the 22-year-old but it is believed he was not regarded as a high risk.
Last night it was claimed a group of outlawed Libyans lived in the Fallowfield district of Manchester.
Included in their number is said to be a watch-maker turned bomb-maker.
Abedi is reported to have been radicalised fairly recently in "the mosques of south Manchester".
One neighbour said: "There are many people who were suspicious about him."
His former landlord said he used to be "a regular kid, drinking and going out until a year ago when he dropped off the radar."
Yesterday cowardly ISIS thugs claimed responsibility for the atrocity.
THE mother of suicide bomber Salman Abedi had raised concerns about her son's radical views, it's been reported. News sources in the US claim his family had told…