UK: Tommy Robinson arrested in early morning for covering Muslim pedophile gang outside courtroom…
Thanks to the Tundra Tabloids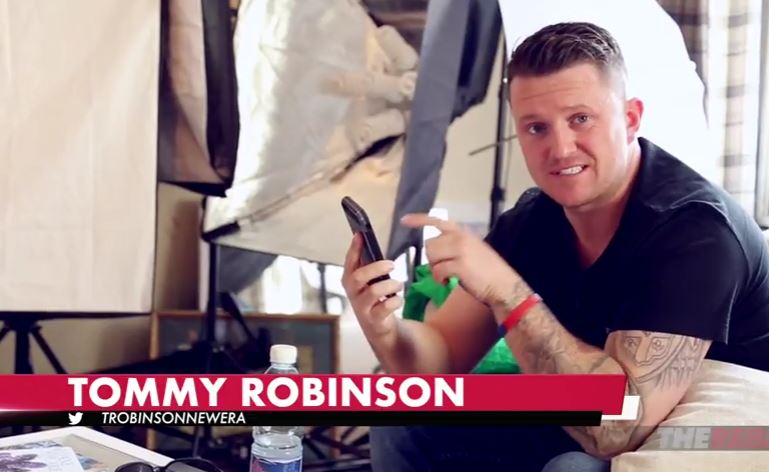 ---
UK police haven't quite figured out that Rebel Media is a news org. that has the same rights to cover news stories like any other media. They even have White House press core credentials.
This is going to look even worse for the elites once this goes viral, UK elites quashing the free press due to political considerations. Oh, and they arrest him like they would for a thug terrorist in the wee hours of the morning.
This morning, just after 4 a.m., the Bedfordshire Police went to Tommy Robinson's house, banged on his door, woke up his entire family, arrested Tommy, and took him to jail.
CLICK HERE TO HELP FUND TOMMY'S LEGAL DEFENCE
What did he do to deserve such a shocking visit? Why did the police have to come to his home in the dead of night — upsetting his wife and scaring his children?
I'll tell you what he did, because I was there with him. Two days ago, Tommy Robinson and I went to the Canterbury Crown Court, to report on the trial of an alleged Muslim rape gang.
That's it. That's all we did. That's why Tommy was arrested.
See, Tommy and I both work full-time for TheRebel.Media. And unlike the mainstream media that prefers to cover up horrific crimes like that, we report them. These four Muslim men are on trial for allegedly gang-raping a 16-year-old girl who wandered into their kebab shop asking for directions.
Tommy and I went to court to cover the story — and to ask the accused men some questions. That's what real journalists are supposed to do.
Incredibly, when court officers saw Tommy, they actively worked with the accused men to sneak them out of the court through another door, so we couldn't film them!
Just whose side are the police on?
Well, we found out at 4 a.m. this morning, didn't we?
The police claim that Tommy was in "contempt of court" for filming his report outside the courthouse — for "livestreaming" some quick comments from his cell phone while standing on the court house steps.
But that's where journalists report on court cases all the time. Tommy didn't do anything unusual.
He didn't film anyone other than himself. And when a court official asked him to move, he did.
We did our work, and then we left. If Tommy had done anything wrong, why didn't the police say something, right then and there?
Why would Bedfordshire police, nearly two hours' drive away from Canterbury, be involved at all?
Why did they raid his home at 4 a.m.?
And why did they only arrest Tommy — and not me and our cameraman, who were there with him?
Is it because Jon Boutcher, Bedfordshire's Chief Constable, sees Tommy's journalism as a threat, and wants to intimidate him? This has happened to Tommy before — time and time again.
But this time, it's different. Because this time, we've got friends. We've got you. 
And here's what I think we need to do together:
1. Sign our petition to Chief Boutcher: "We demand that the Bedfordshire Police stop harassing Tommy Robinson, the UK's leading independent journalist, and his family."
Please click here to sign the petition.
2. Help us fight back in the court of law. We've hired a leading law firm to go to bat for Tommy. Even before sunrise, they were working to get Tommy back home to his family. They're still at it right now. But lawyers cost money. Will you please help us chip in, to save Tommy?
Please click here to help defray our legal costs.
We're doing important journalism that's in the public interest. That includes telling the truth about the wave of Muslim rape gangs that have exploited thousands of British girls.
We're going to keep doing our journalism — even if politically correct police chiefs don't like it.
But for now, we have to save Tommy. He has been there for us — now let's be there for him.
Yours truly,
Caolan Robertson
TheRebel.Media
P.S. As I write this, Tommy is still in jail. All for a brief video commentary on his cell phone, on the steps of the court house. Let's get him home to his family. Please click here to help.
P.P.S. Please tell your friends to visit www.SaveTommy.com — and post that as your Facebook status.