"In their eyes the attackers are martyrs who are going to paradise. And if they stand for a minute of silence they are against their Muslim brothers who fought for jihad and fought the 'infidels.'"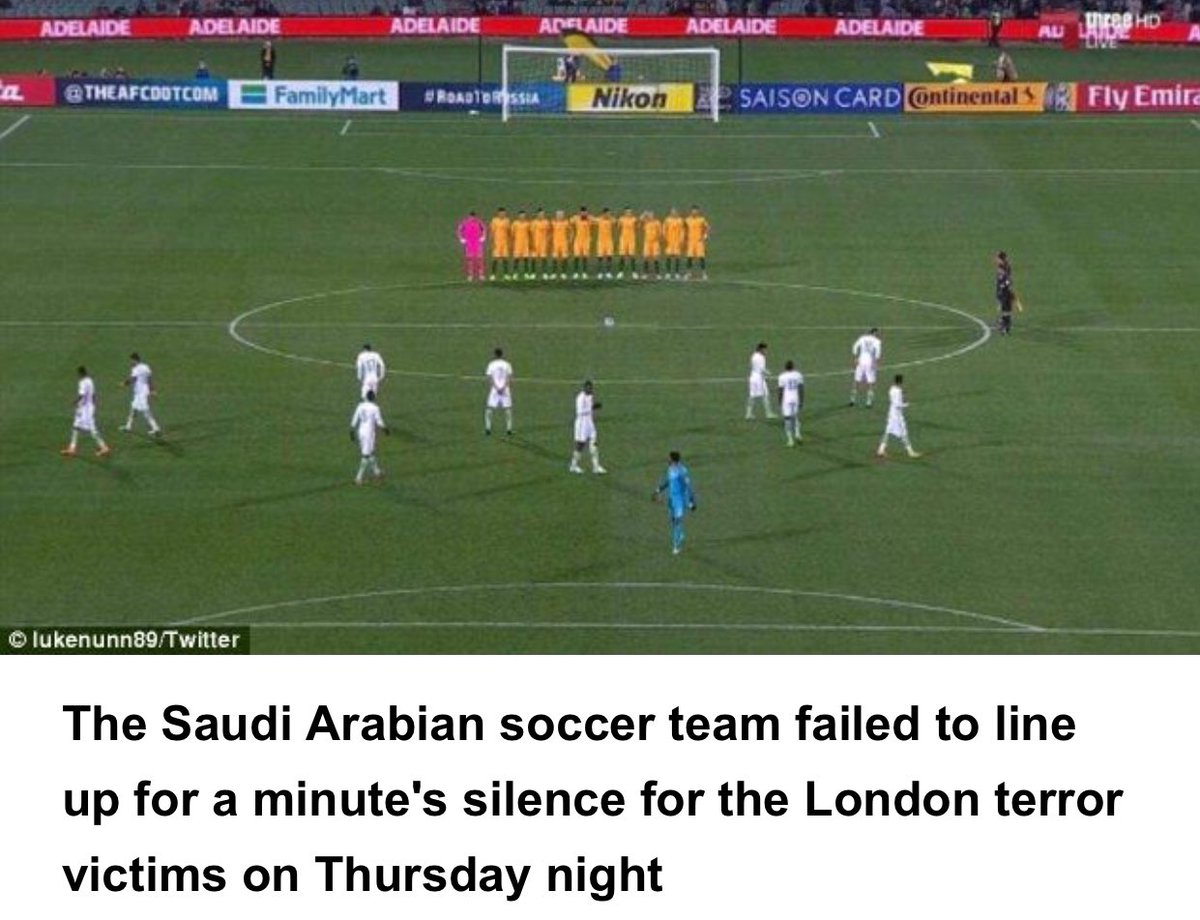 130 UK imams hailed for refusing to perform funeral prayers for jihadis, but Islam forbids funeral prayers for jihadis
In this case they came to pay their respects to the "martyr", not for the victims. Sadiq Kahn, the Muslim mayor of Londonistan, is complicit in giving these imams priority before the kafirs, who were cordoned off so that the believers didn't have to mingle with them. Don't anyone get the idea they were praying for the victims, that's 'unislamic'.
The Muslim Council of Britain has gained worldwide headlines — and praise — for the announcement. Secretary of State Tillerson said Monday in New Zealand: "I was actually encouraged when I heard on the news this morning that a number of imams in London have condemned these attackers and said they will not perform prayer services over their funerals, which means they're condemning their souls. And that is what has to be done, and only the Muslim faith can handle this."
Moderate Muslims stand up at last, right? Here is the MCB's statement:
"Over 130 Imams & Religious Leaders from diverse backgrounds refuse to perform the funeral prayer for London attackers in an unprecedented move," Muslim Council of Britain, June 5, 2017
Imams and religious leaders from across the country and a range of schools of thought have come together to issue a public statement condemning the recent terror attack in London and conveying their pain at the suffering of the victims and their families.
In an unprecedented move, they have not only refused to perform the traditional Islamic prayer for the terrorist – a ritual that is normally performed for every Muslim regardless of their actions – but also have called on others to do the same. They said:
"Consequently, and in light of other such ethical principles which are quintessential to Islam, we will not perform the traditional Islamic funeral prayer over the perpetrators and we also urge fellow imams and religious authorities to withdraw such a privilege. This is because such indefensible actions are completely at odds with the lofty teachings of Islam."
This all sounds great, but there's just one catch: Muhammad is depicted in hadiths as forbidding funeral prayers for martyrs, and Islamic law forbids such prayers as well:
"Narrated Jabir bin `Abdullah: Allah's Messenger used to shroud two martyrs of Uhud in one sheet and then say, "Which of them knew Qur'an more?" When one of the two was pointed out, he would put him first in the grave. Then he said, "I will be a witness for them on the Day of Resurrection." He ordered them to be buried with their blood (on their bodies). Neither was the funeral prayer offered for them, nor were they washed. Jabir added, "When my father was martyred, I started weeping and uncovering his face. The companions of the Prophet stopped me from doing so but the Prophet did not stop me. Then the Prophet said, '(O Jabir.) don't weep over him, for the angels kept on covering him with their wings till his body was carried away (for burial).'" (Bukhari 5.59.406).
"Narrated Jabir bin `Abdullah: The Prophet collected every two martyrs of Uhud in one piece of cloth, then he would ask, "Which of them had (knew) more of the Qur'an?" When one of them was pointed out for him, he would put that one first in the grave and say, "I will be a witness on these on the Day of Resurrection." He ordered them to be buried with their blood on their bodies and they were neither washed nor was a funeral prayer offered for them." (Bukhari 2.23.427)
Muhammad's words in hadiths that are deemed authentic are normative for Islamic law, and Islamic law consequently states: "It is unlawful to wash the body of a martyr (O: even if in a state of major ritual impurity (janaba) or the like) or perform the funeral prayer over him. A martyr (shahid) means someone who died in battle with non-Muslims (O: from fighting them, as opposed to someone who died otherwise, such as a person killed out of oppression when not in battle, or who died from fighting non-polytheists, such as (N: Muslim) transgressors)." — Reliance of the Traveller g4.20
 So what has been taken by Rex Tillerson and the world as a great show of Muslim rejection of terrorism is actually a display of Muslim adherence to Islamic law, acceptance of terrorist deaths as Islamic martyrdom, and application of Muhammad's dictum "war is deceit."
Update:
Muslim London Mayor Sets Up Task Force To Jail Those Who "Annoy" Muslims Online
Muslims are obsessed with shutting down any criticism of Islam. It's a good first step to imposing Sharia on new lands. And they'll pretend this is to be applied broadly, but it will be used 90% of the time to protect Muslims, & the other 10% to protect other enemies of white, Christian conservatives, just like "hate speech" and other such laws in the US and elsewhere are only used against whites.


RELATED – ISIS Jihadi Continues To Lead Courtroom Persecutions Of Irish Christians For Criticizing Islam
Excerpted from Breitbart: The office of London's first Muslim mayor has secured millions of pounds to fund a police "online hate crime hub" to work in "partnership with social media providers" to criminalise "trolls" who "target… individuals and communities."
The London mayor's office for policing and crime (Mopac) will spend £1,730,726 of taxpayer's money policing speech online after applying for a huge grant from the Home Office Police Innovation Fund (PIF), it was announced in a statement.
"The purpose of this programme is to strengthen the police and community response to this growing crime type" is was announced, and will "involv[e] a dedicated police team" backed by "volunteers".
The measures will be "delivered in partnership with social media providers" who along with "specialist officers" will be "filtering and identification of online hate crimes" and "identifying the location of the crime and allocating to the appropriate force…"
London's Metropolitan police force said they welcomed the extra workload and wished to encourage offended people to report perceived hate crimes in ever increasing numbers.
"The Met encourages all victims of hate crime to report any incident to the police and will make every effort to hold offenders to account and bring them to justice."
Convictions for crimes under Section 127 of the Communications Act of 2003, a law increasingly used to prosecute "internet trolls", have increased ten-fold in a decade, official figures revealed in May last year. They showed 1,209 people were found guilty of offences under the law, compared with 143 in 2004, according to the Ministry of Justice.
The law criminalises "using [a] public electronic communications network in order to cause annoyance, inconvenience or needless anxiety," and can result in a six-month prison term or fine of up to £5,000.
"Pure rants, very childish [people online] are increasingly criminalised, and as a result of that the police is becoming more and more involved in controlling our morality", explained Frank Furedi, emeritus professor of sociology at the University of Kent, on BBC Radio 4 this morning.
Section 127 was the law used to prosecute James McConnell, the Northern Irish Pastor charged with making "grossly offensive" remarks about Islam during a sermon broadcast online in 2014. Read the whole thing
Read more at http://www.patdollard.com/muslim-london-mayor-sets-up-task-force-to-jail-those-who-annoy-muslims-online/#BzoZ3VfGvgoCWM6o.99