Peaceful protests mark end of G20 summit
Original CNN headline which they have now taken down.
.
Tens of thousands of peaceful protesters took to the streets to demonstrate against the Group of 20 (G20) summit in Hamburg on Saturday, hours after masked rioters clashed with police, burned cars and looted businesses.
Anti-capitalists branded 'insane' by Arab refugees for destroying a 'beautiful country' as internet mocks G20 rioters for sending snapchats from their iPhones
Riots continued in the streets of Hamburg as Black Bloc militants scuffled with police during the G20 summit
Refugees from Syria and Egypt looked on at the carnage from a falafel joint and 'couldn't believe their eyes'
Violence broke out for a second night as world leaders congregated in the city to discuss global problems
Police were pelted with Molotov cocktails and petrol bombs thrown from rooftops by rioters
Hundreds looted supermarkets and businesses in the city, and barricades were set up in the street 
By Dave Burke and Iain Burns For Mailonline
Clashes between riot police and anti-capitalism protesters have continued in the German city of Hamburg as leaders from the world's biggest economies meet for the G20 summit.
Small groups of hooded anti-capitalist Black Bloc militants scuffled with police after two days of violent clashes which marred the G20 summit.
Arab refugees watching the riots from the relative safety of a falafel joint said the rioters were insane for destroying their tolerant adoptive city and were astonished by what they saw as the police's restraint.
'If people did this in Egypt they would be shot,' said Ibrahim Ali, a 29-year-old Egyptian who came here in 2011. 'The state provides everything: housing, unemployment benefits and education. Yet those people are not happy. I don't get it.'
'They are crazy. I can't believe my eyes,' said Mohammad Halabi, 32, a Syrian who arrived in Germany as a refugee some 18 months ago. 'They have such a beautiful country and they're destroying it.'
Riot police officer pulls a bicycle that protesters used as a barricade during demonstrations as water cannon is used
This is big. This is the first time ever that Germany's extreme left print media is actually pointing a finger at the new/old Nazis:
The head of Germany's Die Welt newspaper Ulf Poschardt has denounced the violence caused by left-wing extremists calling the rioting, "the new fascist violence of the left".
In other news:
EU Expects UK to Take Migrants from Africa in New Relocation Scheme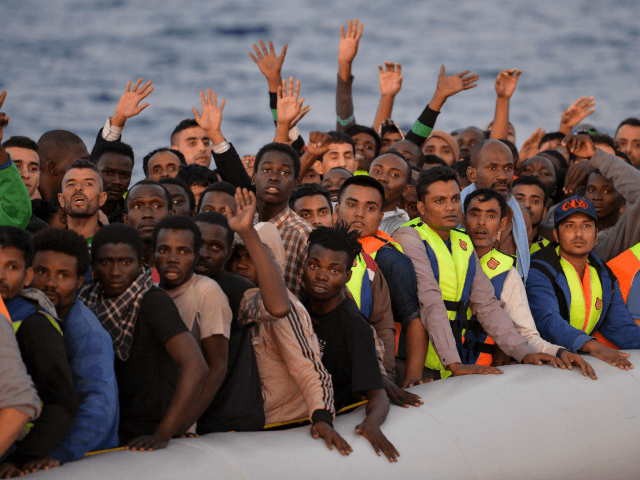 The first vice president of the European Commission has said he expects the UK to take in migrants from North Africa as part of a new European Union (EU) programme.
The bloc is planning to take genuine refugees directly from nations like Libya, hoping to secure a deal where Libya would, in return, accept the immediate return of all migrants found crossing the Mediterranean.
Police protect a branch of a local bank in the Schanze district of Hamburg following the G20 summit as rioters have sprayed 'long live anarchy' on a shutter
Special police forces with machine pistols patrol during clashes in the Schanzenviertel quarter
The summit in Hamburg sparked fury and some have questioned why it was held in a city known for its left-wing views
Pictured: A police riot van sprays a protester with a water cannon as protesters extend into another night in Hamburg
Pictured: A riot police officer points his teargas gun at protesters as riots persist in the German city
Pictured: A protester throws a bottle towards riot police during demonstrations at the G20 summit in Hamburg
Pictured: Protesters react in front of a German riot police van during demonstrations against the G20 summit in Hamburg
Riot police uses water cannons against protesters during demonstrations at the G20 summit in Hamburg
German riot police detain the protester during the demonstration at the G20 summit in Hamburg
Police lines up in front of the Rote Flora in the Schanze district of Hamburg, with helmets on and shields in place
A man receives help after sprayed with tear gas by riot police as they try to control the masses across the city
German police detain protester during a demonstration at the G20 summit in Hamburg where rioters have looted shops
Protesters show V-signs in front of riot police officers during demonstrations
Protesters sit on a street in front of riot police officers with V-signs and banners as they protest the G20 summit
A protester (pictured) throws a bottle towards police as a van sprays water cannon. Black Bloc militants have been scuffling with police during the G20 summit
An injured protestor who has been hit by tear gas has water put in his eye to help soothe the pain
Pictured: Protesters shout slogans in front of riot police officers during demonstrations at the G20 summit in Hamburg
Refugees from Syria and Egypt looked on at the carnage from a falafel joint and said they 'couldn't believe their eyes' as rioters destroyed property. Pictured: German riot police move towards protesters in Hamburg
Pictured: A riot police van fires water cannon at the front of the Rote Flora as G20 demonstrations continue
Pictured: German riot police run towards protesters during demonstrations at the G20 summit in Hamburg
Read more: http://www.dailymail.co.uk/news/article-4677108/Second-night-violence-Hamburg-G20-leaders-meet.html#ixzz4mKd6Id11
Follow us: @MailOnline on Twitter | DailyMail on Facebook
Read more: http://www.dailymail.co.uk/news/article-4677108/Second-night-violence-Hamburg-G20-leaders-meet.html#ixzz4mKcsB1m2
Follow us: @MailOnline on Twitter | DailyMail on Facebook