Lessons from P C Marques and Roy Larner: Resist the Jihad and It Will Flee From You
Not long ago, here at New English Review, I reposted, and remarked upon, the story of Roy Larner, Millwall football fan, who waded into battle – armed with nothing but courage and his bare fists and shouting his battle cry, "F- you, I'm Millwall!" – against the allahu-akbaring London ghazi raiders of 3 June 2017.
The link to that posting is here.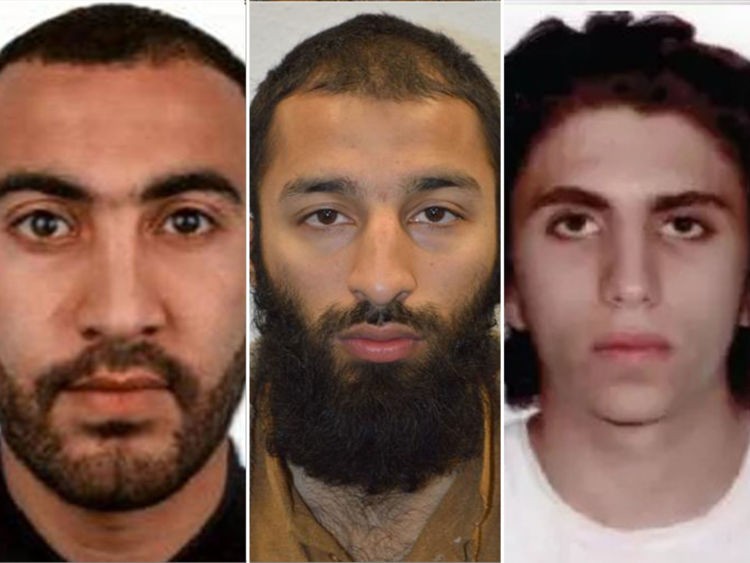 The portion of the original article, to which I wish to draw attention, today, in connection with a second story that I will then discuss – an interview with PC Wayne Marques, he who also tackled the three mohammedthugs, in the name of British Infidel law, armed with nothing but his truncheon – runs as follows:
"… the father-of-one has told The Sun how he reacted when the killers burst into the restaurant shouting "Islam, Islam" and "This is for Allah".
"Like an idiot", he told the newspaper, "I shouted back at them.  I thought, "I need to take the p*** out of these b*st*rds.  I took a few steps towards them, and said, "F**k you, I'm Millwall". So they started attacking me."
'Mr Larner added: "I stood in front of them trying to fight them off.
"Everyone else ran to the back.  I was on my own against all three of them, that's why I got hurt so much.
"It was just me, trying to grab them with my bare hands and hold on.  I was swinging.
"I got stabbed and sliced eight times.  They got me in my head, chest and both hands. There was blood everywhere.
"They were saying, "Islam, Islam!"  I said again, "F*** you, I'm Millwall!
Continued below the fold.
In other news:
News from  Cressida Dick
Remember Scotland Yard chief  Cressida Dick? The twat that praised the victims of the London terror attack for their "diversity" and said "ISLAMOPHOBIA IS INTOLERABLE" right after 2 major terror attacks in Londonistan.
Police have thwarted five terror attacks in the last three months, some of which were minutes from being carried out, it was revealed today.
Britain has experienced a year of repeated atrocities, starting with Westminster Bridge, before the Manchester suicide bombing, the knife attacks on London Bridge and the van ramming in Finsbury Park.
But Met Police Commissioner Cressida Dick revealed it could have been much worse, with five other attacks disrupted by police. 
Continued:
"It was the worst thing I could have done as they carried on attacking me.
"Luckily, none of the blows were straight at me or I'd be dead."….
'Mr Larner, from Peckham, south-east London, said the attackers eventually "ran out of the pub and legged it"
"Despite his injuries, he said he followed them outside.
"It wasn't until I was in a police car", said Mr Larner, "that i realized I was in a bad way. I'd been sliced up all over."
END QUOTE.
In sum: an unarmed (and not in his first youth) non-Muslim man, but fighting mad, using nothing but his bare fists, howling his battle cry, prevents three – three! – knife-wielding Mohammedan stabbers from getting inside a pub.  They wound him – badly – but: there is a point in the battle when it is they, not he, who buckle; when it is the jihadis who make off, the Infidel who pursues.  "..the attackers eventually 'ran out of the pub and legged it'." Keep that in mind, as you read the testimony of the equally-brave PC Marques, as reported for the Independent by Aine Fox.
'Police Officer Describes How He Took On All Three London Bridge Terrorists (sic: Muslim Terror Raiders – CM) with Just a Baton".
'Three of them were standing together, almost shoulder-to-shoulder in like a little wolf pack, and they're staring at me. And that's when I get to size them up."
'A police officer has told how he fought off all three London Bridge attackers with just his baton after being blinded in one eye as they swiped at him with their knives.
'Wayne Marques, who has spoken publicly for the first time since the terror attack earlier this month [i.e. June: the article was published 28 June – CM] said he thought he was going to die after being stabbed multiple times.
'The British Transport Police officer was near the start of his Saturday night-shift and on patrol with a colleague in the area of London Bridge when he heard screams.
'He said he knew something was wrong when he saw bouncers and customers queueing to get into a nearby bar standing "like deers in the head-lights".
'The 38-year-old, who was born in Birmingham but lives in south London, initially thought the disturbance was a pub fight that had spilled out into the streets, or maybe a gang fight "at the most".
'He was approached by an off-duty Metropolitan Police officer who said he saw someone stabbed, and shortly afterward PC Marques himself witnessed people being attacked in Borough High Street near the junction with London Bridge Street.
'He said, "I remember grabbing my baton with my right hand and I racked (extended) it.  I took a deep breath and I just charged the first one (attacker)."
'He added, "As I got near him, I swung at him with everything I had as hard as I could, straight through his head, trying to go for like a knock-out blow."
'He said he heard the attacker "yelp in pain".
'PC Marques, who has since recovered his sight after being wounded just above his right eye, was stabbed numerous times, with the major injuries to his head, left leg and left hand.  The officer, who has worked with British Transport Police for just under two years, and was a PCSO with the Met for around six years beforehand, described the "instant darkness" when he was stabbed in the head by one of the terror trio.
'Terror trio'. Oh, Ms Fox, please. They were not musicians.  They were three Muslim terrorists and that is what you should have written – "stabbed in the hand by one of the three Muslim terrorists". – CM
'He said, "He'd hit me so hard that my right eye went lights out straight away. I just went blind".
'In a fight that he believes lasted somewhere up to 90 seconds PC Marques, who had not long recovered from a football injury, was set upon by all three terrorists.
'He said, "The second one and the third one I was basically fighting from left to right, because I only had one eye so I'm moving left to right, left to right".
'At that point he recalled being stabbed in the leg by the first attacker.
'He said, "I'm thinking "S**t, there's a knife in my leg, while I'm fighting the second one and the third one."
'After being stabbed in the hand he said he could remember little except for "swinging (my baton) all over the place".
'Of his injuries at the time, he said, "I didn't realize how badly I was hurt.  The adrenaline, the fighting, all of that, I could feel what they were doing to me but I couldn't feel it at the same time.  I could just feel that I'd been cut and hurt".
'In a surreal moment seconds later he described how the attackers – Youssef Zaghba, Khuram Butt, and Rachid Redouane – stood facing him.
'He said, "And the three of them were standing together almost shoulder-to-shoulder in like a little wolf pack and they're staring at me.  And that's when I get to size them up.
"The short one that was on the right-hand side, he was the one that I heard saying "Allahu-akbar, Allahu-akbar",  He said it a few times, eyes bulging."
'And he added, "And I'm basically just like the cowboy [in a] western movie, waiting for the draw, waiting for them to make their move."
'For reasons he said he did not know, the attackers instead rushed off towards Borough Market where they continued their rampage.
That is: they did not continue their attack upon him. They turned tail and – presumably – went in search of easier prey.  Just like they had done or would do when they encountered Roy Larner in the pub doorway and found themselves having to fight. – CM
'As his colleague sent a radio message through saying "officer down", PC Marques told him, "Go get 'em, you've got to go get 'em".
In response to 'allahu-akbar', hear the battle cries of infidel London Town: a football fan yelling "F-you, I'm Millwall!" A badly-wounded cop urging his colleague into battle – "Go get 'em, you've got to go get 'em!" – CM
'Other officers rallied round and PC Marques said he sat down, then lay on the ground and began to feel a "black cloud" descend as minute by minute he found it more difficult to stay conscious. He said, "That black cloud starts to come to your vision and starts closing in and closing in and I pretty much knew time was up".
'He told a colleague to pass on his last messages to his parents, partner and the rest of his family as he prepared to die.
'He said, "That was it.  Time was up.  It's hard to explain what you kind of think and feel at the time."
'His next clear memory is waking up in the hospital, feeling a mixture of relief, shock, and surprise.
'After a number of operations PC Marques was discharged from hospital on Friday, almost three weeks after the attack… He paid tribute to colleagues who helped him on the night and the medical staff who have looked after him since…
'On going back out onto the street as a BTP officer he said his family and partner do not want him to return to that role, saying, "You've done enough."
'He himself said it is too early to say whether he will be capable of being a police officer again.  He said, "That decision may be taken out of my hands depending on what state I'm in in the months ahead… The only clear answer I have for you about being a police officer is, it's what I'm good at.  I'm good at what I do."
Indeed you are, mate.   You faced and fought three ravening jihadi ghazi raiders, and it was they, not you, who backed down. – CM
'In the days after the attack, a statement was released on behalf of PC Marques in which he said he wished he could have done more to save people.
'Speaking on Wednesday, he said, "Am I a hero?  I guess in a lot of people's eyes I am, but there are still eight people that lost their lives and many more that got wounded. By the time I got there some of them were already dead and dying.  I couldn't help everybody.  Being a hero was the last thing I was thinking about. Even fighting terrorists was the last thing I was thinking about. All I was trying to do was keep people alive.  That was my job, keep people alive.  And that's what I did, that's what I tried to do."
'All three attackers were shot by police who arrived on the scene within minutes of the first emergency calls being made…".
I've reproduced most of it, but I want to focus back on that moment where PC Marques, badly wounded but still standing, still armed with his truncheon, faces three knife-wielding jihadis… and instead of going back in for the kill, they rush off.  Let's read it again:
'In a surreal moment seconds later he described how the attackers – Youssef Zaghba, Khuram Butt, and Rachid Redouane – stood facing him.
'He said, "And the three of them were standing together almost shoulder-to-shoulder in like a little wolf pack and they're staring at me.  And that's when I get to size them up.
"The short one that was on the right-hand side, he was the one that I heard saying "Allahu-akbar, Allahu-akbar",  He said it a few times, eyes bulging."
'And he added, "And I'm basically just like the cowboy [in a] western movie, waiting for the draw, waiting for them to make their move."
'For reasons he said he did not know, the attackers instead rushed off towards Borough Market where they continued their rampage…".
Just as they did at a certain point in their encounter with howling fist-swinging Roy Larner; they "ran out of the pub and legged it" as Larner put it.
I am putting these two accounts together because it seems to me that there is a lesson here; there is at least a strong indication that, if faced with a sufficiently determined and fierce resistance, the jihadis – even when possessing superior numbers, even when better armed than the one resisting them, even when having inflicted grave injury – may well buckle, back down, turn tail.  One cop whacking hard and often with a truncheon, one bare-fisted bloke in a doorway, could give pause to three fanatical knife-wielding ghazi raiders, stop them in their tracks, even if for a time and while sustaining damage; now, suppose the number of defenders were greater, and it need not be much greater nor much better armed, just courageous and determined?  Reading these accounts one understands, a little better, events at Tours in 732, or at Malta in 1565, or in Israel in 1948, 1967, 1973.
The take-home for us all?  (And this applies, I think, just as much to those like Gavin Boby and others going in to try to stop yet another mosque-building proposal, as to those who face actual battle in the street.)  Keep on fighting; find just a few more people to fight alongside you – you may not need very many more – and the jihad will retreat.
In that connection there is something else I came across, in the comments thread to a Breitbart article about the PEGIDA UK march in Birmingham in June 2016, that bears thinking about. The speaker purported to be a Vietnam veteran, and I see no reason to doubt him.  His words rang grimly true.
Here is the link  – 
http://www.breitbart.com/london/2016/02/06/pegida-uk-marches-in-complete-silence-through-birmingham/
In the comments, one poster made a negative remark about the (non-Muslim) police.  Another poster (identifying as from the Netherlands) insisted that the police could be reached – "In time we get them on our side.  They have families too!"  And then this third poster, 'bamboo viper', chipped in:
"Sure it will take time – but what else are you going to do?  You can't sit by and let things go on as they have been.
'Real quick.  There is one thing I learned from my service in Vietnam: there were times when we were totally outnumbered and literally fighting for our lives.  There would always come this moment you just wanted to quit.  It was due to total exhaustion, loss of hope and just having too many people around you hit or dead.  Although you would want to just give up – you  had to find a way to keep going – and once you were able to do that, it was a very short period of time that the fighting continued because you would find that you had defeated the enemy.
'So, I guess, what I'm trying to convey, is to find a way to keep going.
'You may not be doing actual battle(though some of us may well find ourselves doing that – as did PC Marques and civilian footie fan Roy Larner – CM) [but] fighting against someone, even with ideals and ideas, is still a battle.
'When it looks like you can't keep on going, take a deep breath or two and tell yourself that there are no alternatives but to keep on going.  If I can do that time and time again, so can you and others, I'm no-one special"."
Words of wisdom for every person engaged in any way in the resistance against Islamisation.  
Sursum corda!
Terror in Europe – Why Terrorists Are Allowed to Strike
Terror in Europe – Why Terrorists Are Allowed to Strike
by Ulson Gunnar – Journal-NEO
The London Bridge terror attack saw a repeat of a now familiar narrative in which every suspect involved had been long-known to both British security and intelligence agencies.
The London Telegraph in an article titled, "Khuram Butt, Rachid Redouane and Youssef Zaghba named: Everything we know about the London Bridge terrorists," would reveal:
The ringleader of the London Bridge massacre never bothered to hide his violent, extremist views. Khuram Butt was so brazen that he openly posed with the black flag of the so-called Islamic State in Regent's Park in the centre of London for a Channel 4 documentary, entitled The Jihadis Next Door.
Butt and other extremists linked to the banned terror group al-Muhajiroun were even detained by police for an hour over the stunt in 2015 but were released without being arrested.
The al-Muhajiroun terror group is headed by British-based extremist, Anjem Choudary, who for years helped fill the ranks of militant groups fighting governments the US and UK sought to overthrow in Libya, Syria and beyond. Choudary inexplicably escaped the consequences of his open advocacy and material support for known terrorist organizations for years, with the London Guardian in an article titled, "Anjem Choudary: a hate preacher who spread terror in UK and Europe," going as far as speculating he did so because he was actually an informant or operative working for the British government.
The article would also admit that Butt was under investigation by British intelligence up to the day of the attack:
MI5 and counter-terrorism officers began an investigation into Butt, which remained ongoing even as the 27-year-old launched his terror attack on London Bridge. Butt, who was wearing an Arsenal shirt and a fake bomb strapped to his chest, was shot dead by police on Saturday night.
A second suspect, Rachid Redouane, was repeatedly brought to the attention of police who ignored warnings he was an extremist and a member of the so-called "Islamic State."
The Telegraph reports that a third suspect, Youssef Zaghba, was also known to police:
He was reportedly arrested at Bologna airport in March 2016 trying to get to Syria and was also understood to be on an Italian anti-terror watch list.
The fact that these three suspects evaded capture and were able to carry out their attack despite being known and even monitored actively by British security and intelligence agencies lends even further credibility to the notion that they and others like them work for the British government, not against it.
Unable to Reach Syria, West's Dogs of War Bite Local Population 
Networks like al-Muhajiroun and the extremists they cultivate help fill the ranks of "moderate rebel" groups the US, UK, other European nations including France, as well as regional allies like Turkey, Jordan, Saudi Arabia, United Arab Emirates and Qatar are arming, funding and providing direct military support for in Libya, Syria, Yemen and beyond.
This fact goes far in explaining why extremists are allowed – for years – to openly advocate violence and recruit members into what is essentially a terrorist organization operating under the nose of British security and intelligence agencies – if not with their collective and eager complicity.
While these terrorists are labeled "moderate rebels" when fighting abroad, they are only labeled as such by the Western media out of necessity in an attempt to differentiate them from the extremists that are in fact fighting the West's proxy war for it in places like Syria.
Suspects like Youssef Zaghba even attempted to travel to Syria to fight among the ranks of Western-backed militant groups – and failing to do so – participated in armed violence in the UK instead. Had he traveled onward to Syria, it would have been innocent Syrians instead of innocent British civilians terrorized, attacked, maimed and killed.
A Strategy of Terror and Tension
And despite the reality of the US and UK along with other European and Persian Gulf allies openly fueling terrorism at home and abroad, in the wake of tragic events like in London, Manchester, Paris, or Brussels, the very government organizations clearly responsible for presiding over these terrorists and their networks, sometimes for months and even years before an attack, are granted even more power to address a problem of their own intentional creation.
These organizations are able to do so in plain sight of the public specifically because of another conflict they openly orchestrate, pitting the general public against one another along lines of "anti-Islamic" fervor versus social justice advocates.
What both sides of this manufactured and intentionally perpetuated divide fail to realize is that Muslims are dying by the tens of thousands in places like Syria actively fighting against extremism springing not from Islam or the Qu'ran, but from the Pentagon, Westminster, Paris, Brussels, Riyadh, Ankara and Doha. It is not a clash of civilizations, but a manufactured conflict designed to perpetually fill the ranks of mercenaries abroad while exploiting their violence at home to procure more power and wealth through fear, anger and hysteria.
With wars in Afghanistan, Iraq, Syria, Yemen and beyond adding up to trillions for defense contractors and including weapon systems designed to fight them, with the F-35 joint strike fighter alone topping one trillion US dollars and as the West continues to openly act with impunity when and where it pleases despite violating the very international law it claims it is upholding globally, it is clear that, for now, this strategy is working.
If and when the general public understands the truth of why their lives are put in danger and their nation's resources are being squandered abroad instead of at home for building their own futures, this strategy will be less successful. Until then, it appears that simplistic propaganda still works in convincing the public that governments like in London are simply incapable of arresting terrorists who appear regularly on TV, in the media and who openly operate in public with apparent and otherwise inexplicable impunity.
Ulson Gunnar, a New York-based geopolitical analyst and writer especially for the online magazine "New Eastern Outlook."