Cartoons cause jihad. "Islamophobia" is worse than the blood in the streets. Exposing the jihad ideology and the religious texts motivating the jihadists cause the next attack. That's the idiocy our political clown gallery and the journalise bought into, and only submission will keep us safe.
Charlie Hebdo draws ire with Barcelona attack cartoon
Reactions pour in over cover showing a van running over people with the caption: 'Islam: religion of peace…eternal'.
Critics have taken to the internet to condemn the French satirical magazine, Charlie Hebdo, over a front-page cartoon linking Islam to a recent deadly attack in Spain, saying it risked fanning Islamophobia.
Who are these "critics?"
The latest edition of the magazine, which was attacked by gunmen in 2015, shows two people lying in a pool of blood having been run over by a van next to the words: "Islam: religion of peace…eternal".
A dozen fighters of Moroccan origin are believed to have plotted last week's attacks in Barcelona and Cambrils.
In Barcelona, at least 14 people were killed and more than 100 injured after a van drove into crowds.
Critics of Charlie Hebdo saw its cover as tarring an entire religion, practised by around 1.5 billion people worldwide, by implying it was inherently violent.
The "entire religion" is bad. Islam has no redeeming features. Islam is inherently violent. This is a fact that is undeniable.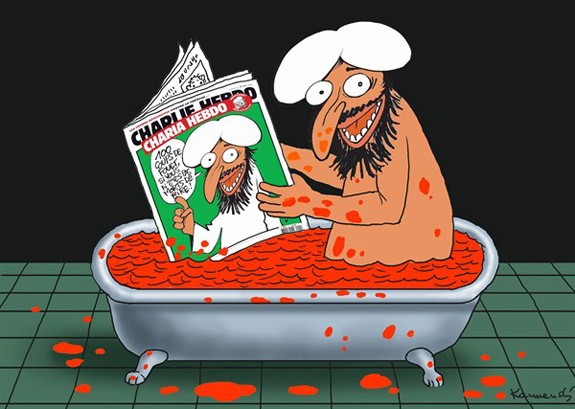 But who defends Charlie Hebdo today?
As the cartoon became one of the top trending topics on Twitter in France, prominent Socialist MP and former minister Stephane Le Foll called it "extremely dangerous".
"When you're a journalist you need to exercise restraint because making these associations can be used by other people," he said.
Dhimmi. Cuck.
Charlie Hebdo editor Laurent "Riss" Sourisseau explained the choice in an editorial, saying that experts and policymakers were avoiding hard questions out of concern for moderate, law-abiding Muslims.
"The debates and questions about the role of religion, and in particular the role of Islam, in these attacks have completely disappeared," he wrote.
We cannot coexist. Islam doesn't tolerate the other.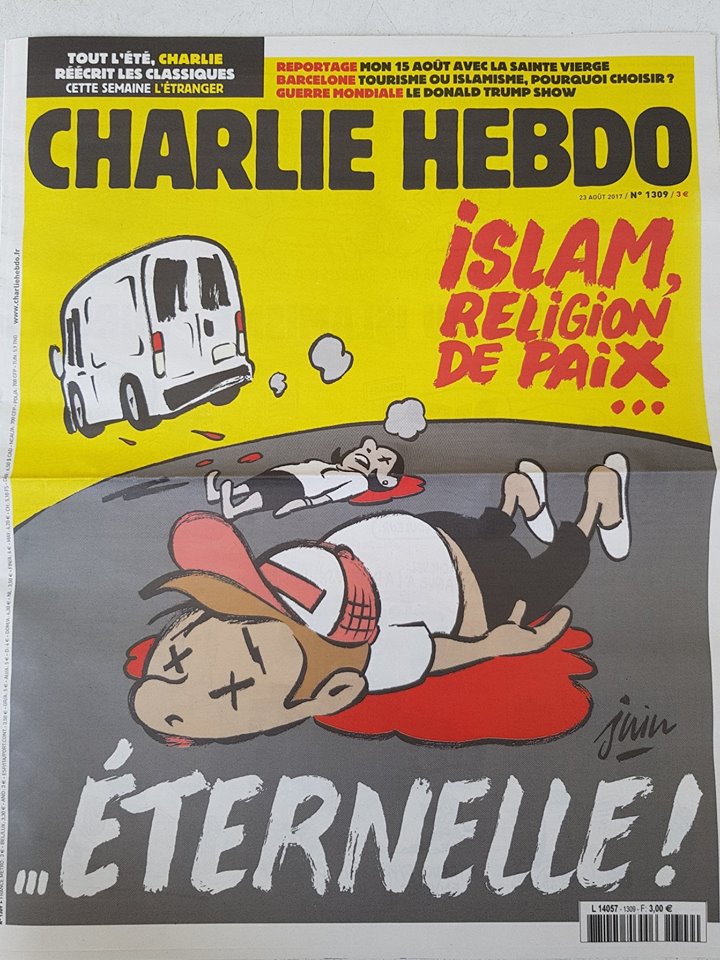 Translation: We were expecting it. Another Charlie Hebdo cover to incite anti-Muslim hatred #nausea
Charlie Hebdo lampoons all religions and religious figures, but its depictions of the Muslim Prophet Mohammed – an act considered sinful under Islam – led to outrage, death threats and, ultimately, violence.
Translation: I love the Islam that taught me. I denounce its exploitation by terrorists. I respect the freedom of all caricaturists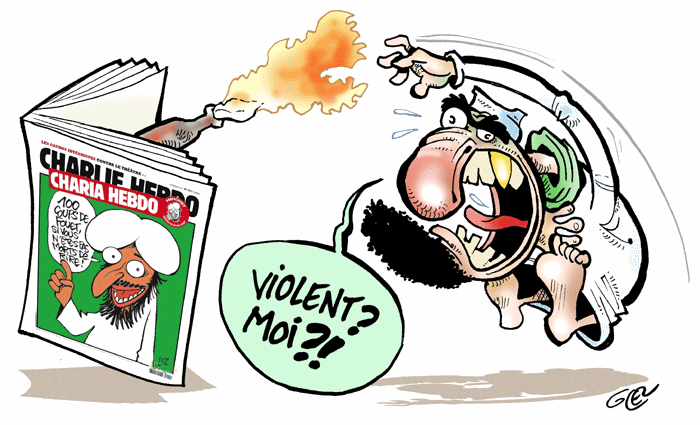 Two gunmen who claimed allegiance to al-Qaeda killed 12 people in an attack on its offices in January 2015 which left many of its star cartoonists dead.
Hundreds of thousands of people marched through the streets of France afterwards, rallying behind the slogan "Je suis Charlie" ("I am Charlie") in defence of the right to free speech.
Today, no one is Charlie. No one defends free speech. And the state persecutes those who do.
Riss said in the wake of the violence that the magazine would stop depicting the prophet, leading one top journalist to quit and accuse its new management of going soft on "Islamist extremism".