Update:
With "experts" like this, we have no option other than to submit, lest the Mohammedans blow us to smithereens. May I suggest that "Deradicalisation expert Clarke Jones" never de radicalised a single jihadist and never will?
National security experts say One Nation Senator Pauline Hanson's burka stunt may undermine intelligence agency ASIO's work with Islamic communities.
Defending the burqa promotes oppression
Pauline Hanson addresses the Senate wearing full burqa
PAULINE Hanson's burqa stunt gave her the cheap publicity she was seeking but it also revealed the breathtaking ignorance and hypocrisy of those who rushed to condemn her.
It's one thing to be perturbed by Hanson's prank but to defend the burqa, a tool of oppression inflicted on millions of disempowered women around the world, is unconscionable.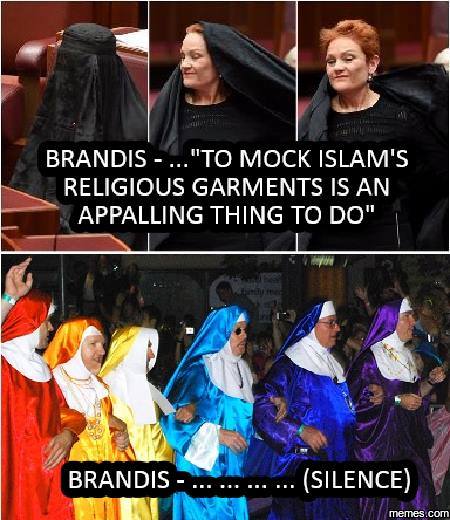 Hanson has the right cause, but the wrong argument.
Calls for a burqa ban should be on the grounds of equality and assimilation, not national security.
Countries such as France, Belgium and the Netherlands didn't ban the burqa and niqab because of the threat of terror but because full face veils are dehumanising and obstruct social cohesion — security concerns were a secondary matter.
The European Court of Human Rights has upheld the burqa ban on those very same grounds.
In 2009, French president Nicolas Sarkozy was clear on the need for a ban on full face veils.
"We cannot accept to have in our country women who are prisoners behind netting, cut off from all social life, deprived of identity," he said.
"The burqa is not a sign of religion, it is a sign of subservience. It will not be welcome on the territory of the French Republic."
Contrast that with Attorney-General George Brandis' searing defence of a garment that symbolises the systematic subjugation of women.
You know you've stuffed up when your conservative colleagues remain seated but Labor and the Greens give you a standing ovations — and worse still, Fairfax praises your "finest" moment.
Displaying dangerous levels of sanctimony and outrage, Brandis was almost shedding tears of anger as he scolded Hanson in the most paternalistic manner imaginable.
Hanson-Young slams Hanson over burqa stunt
If a female on the Left had been chided in such a patronising manner by Brandis, there'd be cries of misogyny — but instead the unfailingly hopeless Attorney-General became the darling of the regressive Left who have consistently turned a blind eye to the plight of women living under Islam.
Brandis suggested Hanson's "appalling" actions could alienate the Islamic community and increase the threat of terror.
For a QC and veteran politician, Brandis is about as insightful as a box of rocks and has given One Nation a major free kick as the Queensland state election approaches.
Then there are the Greens who excel at hypocrisy and acts of virtue signalling idiocy more than any other political party.
Displaying the bigotry of low expectations, Greens senator Peter Whish Wilson tweeted: "Hate to think how many future Jihadi's (sic) Pauline Hanson has single-handedly recruited for ISIS today. All for her crass political gain."
More Rita Panahi:
Body shaming of Warnie reeks of double standards
Miserable activists trashing Australia Day
When Hanson first entered the chamber, the witless Whish Wilson rushed to shake the burqa-clad figure's hand, presuming it was a protester there to embarrass the One Nation leader.
Of course, if the woman under the burqa had really been a devout Muslim, then she would have been highly unlikely to shake the hand of male stranger.
Not to be outdone in the hypocrisy stakes, Labor's Sam Dastyari chimed in. "Hanson is a disgrace. Government is weak and reliant on her vote. Pathetic," he tweeted.
Shanghai Sam, who is an atheist and apostate, had his book halal-certified in order to be provocative and receive the publicity that he so desperately craves.
Sound familiar?
We've had an MP in a chicken suit turn up in parliament and another in zany pyjamas, but Bruce Goodluck and Nick Xenophon's stunts weren't met with hyperbolic condemnation.
Hanson counts on this type of reaction that garners her public sympathy because the outrage is completely disproportionate to the "crime". The truth is that a great many Australians back calls for a burqa/niqab ban and believe such garments have no place in a civilised country.
Last week, a study by RMIT University reiterated previous polls that show many have serious issues with the burqa. The study focused on two Melbourne suburbs with significant Muslim populations, Broadmeadows and Fawkner, and showed that two-thirds of those polled felt uncomfortable with the burqa.
Even 28 per cent of Muslims surveyed said a woman in a burqa made them feel uncomfortable.
This discomfort isn't due to "Islamophobia" but born out of concern for the women and the fact that the veil prevents normal human interaction. The face is crucial to communication, so much of which is non-verbal.
The burqa is designed to separate, subjugate and control.
It's amusing that Hanson is the only one accused of being divisive when the very purpose of the burqa is to divide the wearer from the rest of the world.
Arguments about freedom of religion and freedom of expression are obtuse when the majority of those who don the burqa and niqab are forced to do so by either law or cultural and familial expectations.
Full-face veils are the most backward and repressive examples of modesty culture forced on women.
You may disagree with imposing a ban, but to defend or celebrate the burqa and niqab is a betrayal of the women yearning to be free of its oppression.
Rita Panahi is a Herald Sun columnist
Sarah Hanson-Young blames Pauline Hanson for next Jihadist Massacre
Andrew Bolt, Herald Sun 21st August 2017
What a surrender. Greens Senator Sarah Hanson-Young excuses the next jihadists to kill us, blaming the victims for not respecting a black sack that robs women of identity and power:
As I said, the terrorists aren't the godless cowards here:
Greens Senator Sarah Hanson-Young has accused Pauline Hanson of "doing ISIS's work" as she criticised the One Nation leader for wearing a burka in the federal parliament.
Senator Hanson-Young told the One Nation leader the "next attack in Australia will be on your head" and that her actions had put the country at a heightened risk of a terror attack.
"Acts and stunts like this only serve to incite more violence and hatred from extremists on both sides, and I think that is extremely dangerous and not fit for somebody who wants to sit in parliament," Senator Hanson-Young told Senator Hanson on Sunrise this morning.
"You really need to reflect on the fact that security experts, foreign policy experts, have said that what you did last week will now be used as the recent kind of fodder for promoting extremism.
"You are doing ISIS's work for them. It is extremely dangerous; you are putting the entire country at risk."
Why have we allowed into Australia people who are so dangerously volatile that they will kill people if some politicians mocks the few who want women dressed in sacks? If Muslims are this lethally sensitive we had a huge problem.
Do Christians kill in outrage at the regular mockery of nuns at the Sydney Gay and Lesbian Mardi Gras?
Can Hanson-Young list those other things we now may not say about Islam that may inspire Muslims to kill?
Can she list all Islamic terrorist attacks where the victims have only themselves to blame?
Incredible, the ABC manages to hold a "debate" where two non-Muslims manage actually to agree with each other than the burqa "empowers" women.
Guess that's why so many women in burqas run companies and stand for election.
Fools.
The easiest way to get rid of a problem is to say it's not problem at all. It's the Munich solution.
Left proves they're big bunch of burqas
Not just the Left. The whole clown gallery, from left to right and in between. Everyone surrendered to Islam by defending the hideous freedom sack.
Piers Akerman The Sunday Telegraph 20th August 2017
Nothing sums up the chaotic nature of the body politic better than the vision of Labor and Green senators uniting on Thursday to give Attorney-General George Brandis a standing ovation for his incoherent defence of the burqa — that symbol of Islamist fundamentalist oppression.
Nor could there have been a better illustration of the ludicrous nature of his over-the- top emotional slap down of Pauline Hanson's silly little stunt than the placement of The Daily Telegraph's two-page coverage of the farce and the subsequent story about Moutia Elzahed, the wife of jailed terrorist recruiter Hamdi Alqudsi, accompanied by a photo of a burqa-clad figure — presumably Ms Elzahed.
Ms Elzahed was ordered to pay $250,000 in court costs in June after losing a civil suit against NSW police whom she claimed had assaulted her during a 2014 raid on her home.
She was subsequently charged with nine counts of disrespectful behaviour after ­refusing to stand as District Court Judge Audrey Balla ­entered the court during the civil hearing last November and December. She has pleaded not guilty and sought legal aid to represent her.
It is a fact that most Australians only see burqa-clad forms (who knows whether they are men or women?) when the television news features court cases involving alleged terrorists or their supporters. Ms ­Elzahed's husband is serving a six-year sentence for assisting young Australian men to travel to Syria to join the brutally evil ­Islamist forces.
Further, the burqa is not a religious garment as Senator Brandis piously claimed. It is not a vestment, or a sacred robe. In those countries where it is mandated, it is a symbol of the suppression of women.
Will Senator Brandis get a standing ovation from Labor and the Greens should he support the Saudi Arabian ban on women driving cars, or travelling in public unchaperoned, and where do they stand on the alleged criminal activity of being alone with a male who is not a close relative?
The most recent study on Australians' thoughts on face coverings was conducted in the Melbourne suburbs of Broadmeadows and Fawkner by RMIT associate professors Val Colic-Peisker and Karien Dekker in 2016-17 in partnership with the Islamic Council of Victoria, Moreland City Council and Hume City Council, Victoria. The researchers found that non-Muslim and Muslim locals were doubtful about the face covering (burqa or niqab).
"Most people disliked this form of religious attire and said they would prefer to see the face of a person they meet on the street or need to communicate with. Others mentioned that they expected the face covering referred to unequal gender relationships," it found.
The study examined ­whether the religious visibility of Muslim residents had an ­impact on local community cohesion and what the researchers termed "Islamophobia".
Perhaps contrary to the ­expectations of the Green and Labor luvvies who shriek about their fears of "Islamophobia" whenever an Islamist terrorist attacks a Western target as ­occurred in Barcelona on Friday, the researchers found that "visibly Muslim men were usually regarded by non-Muslims as standing out in one way or another but a vast majority had no problem with encountering visible Muslim men".
One female ­respondent noted a lack of respect for elderly women by Muslim men. However, what the ­researchers thought particularly noteworthy was the distaste for ­facial coverings by Muslim and non-Muslim respondents alike.
"A standout element of the local attitude towards Muslim visibility in both suburbs was a widespread dislike, among non-Muslim, but also some Muslim respondents, of facial coverings worn by some Muslim women," they said in their report.
Not only did they find that 47 per cent of their respondents agreed (including "strongly agreed") with the statement "I dislike when women cover their face", the researchers also thought they should comment that "we know that a considerable number of people ­expressed verbal dislike for the face covering but did not want to register such an attitude in the survey".
"Therefore, in reality the dislike for face covering is likely to be stronger than what was shown by the survey data," the report said. "It is interesting to note that a considerable number of Muslim ­respondents (28 per cent) commented about their dislike of face covering. This did not seem to be an ­expression of Islamophobia among either Muslim or non-Muslim respondents, but ­rather an ­expression of concern that the face covering precludes interaction of locals with 'veiled' Muslim women.
"There was a sense among the respondents, both Muslims and non-Muslims, that the face covering of Muslim women (niqab) was problematic. The unease about niqab had different sources and was articulated in different ways: in terms of uncertainty of the identity of the person; fear and unease, including feeling unsafe from terrorism; finding face covering culturally 'confronting'; preventing communication with a person whose face is covered."
RMIT is not known for its conservative politics yet this ­research supports the views of Pauline Hanson's supporters, not those of the Greens, Labor or Senator Brandis.
As an Australian woman in her 30s commented to the researchers: "I find it quite daunting when I see somebody wearing something like that. I don't mind the hijab (with) the face showing … that doesn't worry me. But the full face covering does … I think it's ­because I can't see their face."
The report also quoted a Muslim man: "I reckon the burqa … I reckon that's a bit too much … it can frighten some people … it's just fearful."
The professors noted: "The quotes illustrate covering face was seen as a barrier that precludes intercultural mixing and therefore, by extension, Muslim — non-Muslim understanding.
"It was also seen as have a potential to limit successful integration and Muslims 'becoming Australian'. For some respondents, it meant a denial of the equality of women with men," they wrote.
And that's what the idiots in the Senate stood and cheered.
1/ One Nations Leader Senator Pauline Hanson wears a black burqa in the Senate. Picture: Gary Ramage
2/ Attorney-General George Brandis. Picture: AAP Image/Mick Tsikas
3/ Moutia Elzahed wears a full burqa.
National security experts say One Nation Senator Pauline Hanson's burka stunt may undermine intelligence agency ASIO's work with Islamic communities.
Key points:
Hanson wore full Islamic dress during Question Time, called on Government to ban it
Experts say Hanson's actions were "toxic" and counterproductive
Brandis praised for "pretty damn impressive" response
Senator Hanson wore the full Islamic dress during Question Time on Thursday and called on the Federal Government to ban it.
Her actions prompted an emotional rebuke from Attorney-General George Brandis who said Senator Hanson had acted appallingly.
John Blaxland from the Australian National University said Senator Hanson's comments were "toxic" and counterproductive.
Professor Blaxland, who wrote a history of domestic spy agency ASIO, said the comments could damage its relationship with the Islamic community.
"It is so important that people who are wavering, who know something really dodgy, can have confidence they can go to the authorities and be treated with respect," he said.
"It is important [they] know that what they communicate will be treated with confidence and used appropriately."
Deradicalisation expert Clarke Jones said Senator Hanson's comments would make Islamic youth feel unwelcome in Australian and could radicalise them.
"Comments like that, the language she used, stunts like this, is damaging kids' spirits and making them question where they are and if they belong," he said.
"It's a terrible thing and it's got to stop."
Birmingham slams Hanson for 'appalling stunt'
Senator Hanson defended her actions, saying it was an extreme way of getting her message across to attempt to highlight what she sees as security risks.
"It is not a religious requirement. This is brought in by men who want to cover up their women. It is oppressing women," she said.
VIDEO: Pauline Hanson speaks after removing the burka she wore in the Senate chamber. (Photo: Jed Cooper) (ABC News)
But Coalition frontbencher Simon Birmingham accused Senator Hanson of undermining the work of Australia's law enforcement agencies.
"It was an appalling stunt. It was an insult to Senate conventions and practice. It was an insult to many thousands of hard-working, law-abiding Australians," Senator Birmingham told Lateline.
"It was something that undermines the hard work of our law enforcement agencies."
Brandis put 'a wet blanket on the flames'
Both Dr Clarke and Professor Blaxland praised Senator Brandis' response to Senator Hanson, which drew applause from all sides of politics.
"To ridicule that community, to drive it into a corner, to mock its religious garments is an appalling thing to do," Senator Brandis said.
"I would ask you to reflect on that."
Mr Blaxland said Senator Brandis put "a wet blanket on the flames".
"It was pretty damn impressive, actually," he said.
ASIO and the Australian Federal Police were contacted for comment.