First BBC asked what the punishment for blasphemy should be…now this. FFS.
By Georgina Rannard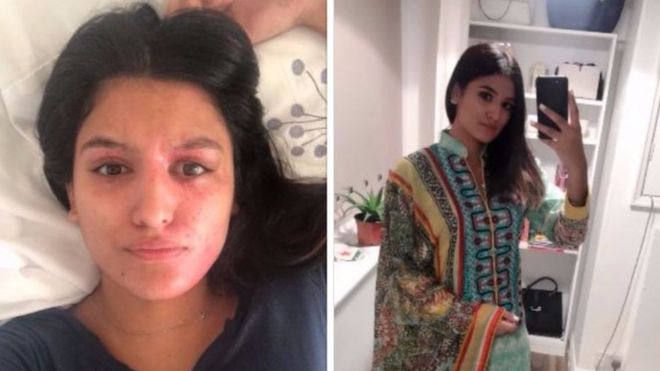 Should I use primer as well as foundation? Will mascara do, or is it a false eyelash day? Many of us ask ourselves these questions every day, bleary-eyed before work or in front of a mirror for a night out.
But what do you when your beauty practices are disrupted, perhaps forever?
Business student Resham Khan survived an acid attack on her 21st birthday in London in July, sustaining burns to her face and body and damage to her left eye. Since then she has been blogging about what her make-up and beauty routine is like.
After pictures of Resham celebrating Eid were shared in national media, she revealed the tough reality of what it took to prepare for the photographs and posted photographs of herself without make-up.
"First of all I just wanted to make clear that what you see on the internet isn't real," Resham wrote in a post on Wednesday.
"The images you saw were the result of me finally deciding to try on a full face of makeup. In terms of applying make-up, it has become so much harder."
Resham was able to contour on one side of her face, but it hurts to apply make-up, and fake eyelashes are something she can only long for, the blog revealed.
"As my skin is tough, mixing lipsticks is difficult. My eyebrows have been burnt and grow a bit funny so they were proving difficult, so I just shaded them rather than trying to shape them into anything fancy," she continued. She had previously revealed that she is advised not to pluck her brows.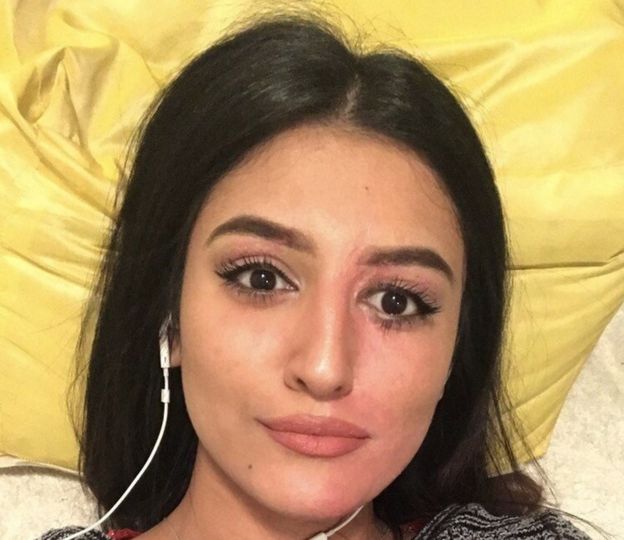 But it did make her feel like herself again.
"I got those mushy emotional tears of happiness. I looked in the mirror and I felt like I looked like the old me again."
Resham disclosed that she used an app to edit the photographs, altering their brightness, and explained she took the pictures from an angle to disguise the "mix of scars, pink, burns, hard skin, raised skin" on part of her face, as well as her "dodgy eye".
"Make-up did a great job and so did angles and an edit. I've loved the compliments but the harsh reality is it is not real."
She has also put up photos of herself "natural and unedited" on Snapchat and Instagram Live, she explained, adding she is trying to stay positive and looks forward to surgery on her eye.
Resham has blogged previously about bathing difficulties because she must avoid particular chemicals, and she gets out of the bath to wash her hair to avoid shampoo touching damaged skin.
Twitter users sent their best wishes to Resham.
"Just looked at your pictures without make-up – you look beautiful! I am inspired by your resilience and your work to highlight acid attacks," wrote youth worker @AbigailOgier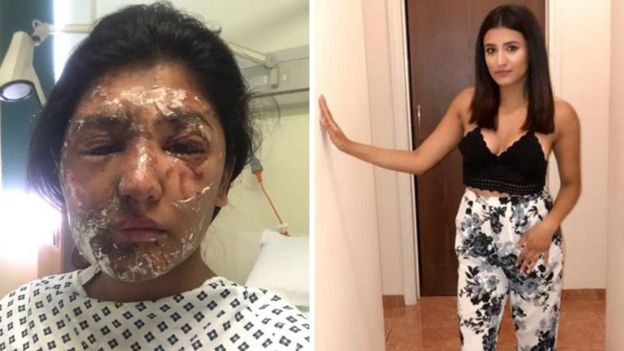 Resham and her cousin Jameel Muhktar, 37, were attacked on 21 July when acid was thrown through a car window in London. Jameel remains seriously injured.
John Tomlin, 25, has been charged with grievous bodily harm with intent. He is due to appear at Snaresbrook Crown Court in November.
Acid attacks have been on the rise in England – assaults involving corrosive substances have more than doubled since 2012.