And this from Australia:
by Christina McIntosh
The girl in question – one may safely assume she was another Muslim, though her precise ethnic background is not specified – was just fourteen. Yet another story featuring one of those poor "persecuted" "Rohingya" Muslim "refugees" from Myanmar. As reported by Emma Younger for the ABC.–
Read More… below the fold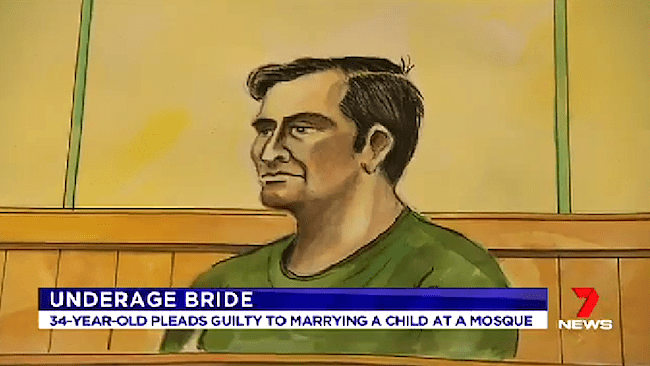 (Note tht there are no pictures available. Once again, we see the media complicit in protecting the identities of Muslims who flaunt Australian law.)
The international community has questioned Myanmar for the Rohingya crisis but has forgotten the bloody contribution of Pakistan-based jihadist groups to this catastrophe
The UN Security Council has criticised the Myanmar government for condoning violence against Rohingya Muslims in its Rakhine State leading to a humanitarian crisis with lakhs fleeing to neighbouring Bangladesh fearing persecution. The current crisis is the fallout of a coordinated attack on multiple police posts on August 25 by more than 150 Rohingya militants in Maungdaw, Buthidaung and Rathedaung townships in the north Rakhine State.
The same night, 12 Myanmarese troopers died after militants claiming to belong to Arakan Rohingya Salvation Army tried to attack an army base. More than 80 Rohingya Muslims died in the attack. Last year on October 9, the Rohingya militants attacked three police posts in Maungdaw Township, resulting in the death of nine policemen and looting of arms and ammunition.
Myanmar President Htin Kyaw held Rohingya militant group Aqa Mul Mujahideen (AMM) responsible for the attack. The Rohingya crisis has turned State Councillor Aung San Suu Kyi, once a darling of the West into a devil, for not being able to stop the tribal violence against the minority community. Apart from the UNSC, Pakistan issued a statement on September 3 expressing deep concern over the growing number of deaths and forced displacement of Rohingya Muslims. Islamic fundamentalists such as the Afghan Taliban, Al Qaida's Yemen Branch, Lashkar-e-Tayyeba, Jaish-e-Mohammed and other groups have called for attacks on Myanmar authorities in support of the Rohingyas.
There is an urgent need for de-escalation in levels of violence in Rakhine State as there is a strong possibility of other displaced Rohingyas being radicalised by Sunni fundamentalist groups including the Bangladesh chapter of the Islamic State to take to arms. The Rohingya displacement is a matter of serious concern but the root cause of increased animosity among the Burmans and other ethnic groups against the minority community should also not be glossed over. The international community has questioned Myanmar for the crisis but has forgotten the bloody contribution of Pakistan-based jihadist groups to this catastrophe. There is now evidence that little known AMM had emerged from Harkat-ul-Jihad Islami Arakan (HUJI-A), a Pakistan-based extremist outfit involved in espousing the Rohingya Muslim cause in Myanmar. The HUJI-A is headed by Abdus Qadoos Burmi, a Pakistani national of Rohingya origin, closely associated with LeT chief Hafiz Saeed for militant and explosive training for radicalised Rohingya cadres. According to information available with intelligence agencies in Bangladesh and Myanmar, AMM leader Hafiz Tohar aka Abu Aman Jununi was recruited by Burmi from Kyuak Pyin Siek village of Maungdaw and trained in Pakistan. After training a few AMM recruits, new cadres were recruited from among the Rohingya youth in Rakhine State and refugee camps in Bangladesh's Cox's Bazaar. The AMM cadre was trained along the Bangladesh-Myanmar border, which saw large-scale testing of improvised explosive devices in 2014. The role of Pakistan-based groups was revealed during an IED blast at Buthidaung Township on May 4 this year. Investigations revealed that two out of four killed while assembling the device were Pakistani nationals and the remaining two were local Rohingyas from the same township. The Pakistani nationals of Rohingya origin were identified as Abdul Rahim and Anarthullah, who had returned to Rakhine State after spending 20 years away in Af-Pak region.
In a first, Myanmar's 'ethnic cleansing' of Rohingyas unites Suu Kyi's party, army, public
Rohingya crisis can become security concern for India's NE: Bangladesh envoy
Intelligence agencies believe that Rohingya militant activities concentrated in Bangladesh's Chittagong area and Thailand's Mae Sot, Tak province have the sanction of the Pakistani deep state. Frequent movements of Maulana Ustad Wazeer aka Noor Kabir and Fareed Faizullah, both Pakistani nationals of Rohingya origin, to the Thai border have been noted by intelligence agencies for getting cadres indoctrinated and trained in insurgent activities. In May 2016, Omar Faruk aka RSO Faruk of the LeT-backed Rohingya Solidarity Organization (RSO) was arrested from Chittagong for attacking the Bangladesh ANSAR camp at Teknaf, looting weapons and killing the troop commander.
"Rohingya"
Rohingya Muslim Groom Knowingly Flouted Australian Law, Married Child Bride in Mosque After Warnings
The girl in question – one may safely assume she was another Muslim, though her precise ethnic background is not specified – was just fourteen.
Yet another story featuring one of those poor "persecuted" "Rohingya" Muslim "refugees" from Myanmar.
As reported by Emma Younger for the ABC.
http://www.abc.net.au/news/2017-09-20/mother-groom-warned-marriage-to-14yo-melbourne-girl-illegal/8964056
"Groom 'turned his nose up at' authorities by marrying child bride after warnings, court hears".
'Authorities warned a Melbourne mother (that is: "a Melbourne-resident Muslim mother" –CM) and her 14 year old daughter's groom-to-be that it would be illegal for the pair to marry, just a day before they went ahead with an Islamic wedding, a court has been told.
But Australian law is one thing and the sharia of Islam is another; under sharia, nine is marriageable age, and it seems that in the eyes of our so-called "Rohingya" Bengali Muslim "refugee", the sharia of Islam takes precedence over Infidel Australian law.  This man should not have been permitted into Australia. – CM
'A Burmese asylum-seeker (sic: "a formerly-Burma-resident Muslim 'asylum seeker'" – CM) sobbed throughout a pre-sentencing hearing in the County Court in Melbourne after pleading guilty to marrying the girl at a Noble Park mosque last year.
"A" Noble Park mosque?  Does this mean there is more than one mosque in that suburb?  As for the tears… pffffft.  A 30-plus man who "marries" a 14 year old girl gets no sympathy from me.  I don't believe his tears.  Play-acting, most likely. – CM
'The man in his 30s cannot be named due to a court-issued suppression order to protect the identity of the high-school student (that is: of his early-teens "wife" who is still at high school – CM).
'The court was told the man was living as a boarder in the same houses as the girl when they struck up a friendship.
I don't believe that about a "friendship". The girl's family are, I assume, Muslim also. Strikes me that it's more likely they did a deal with the guy to try to consolidate his "foothold" in Infidel Australia, the goal being the expansion of the Ummah colony Down Under. –  CM
'Prosecutor Krista Breckweg told the hearing that a day before the marriage ceremony Department of Health and Human Services (DHHS) workers warned the girl's mother and the man that it would be illegal for them to marry because the girl was under 16.
How did DHHS come to know of this projected "marriage"?  Had the girl contacted them? – CM
"This offender turned his nose up at what DHHS was saying to him," she told the hearing.  "He clearly knew it was wrong.  It's not a case of cultural misunderstanding".
Too right it is not. He is a Muslim who has been taught an attitude of total contempt toward all Infidel beliefs, laws and morality. – CM
'Groom thought he was "rescuing" girl: lawyer.
"Rescuing"??  From what, precisely?  Pull the other leg, mate, it's got bells on. – CM
'But the man's defence lawyer, Sophie Parsons, said the girl's mother had been the principal organiser of the union.
"The complainant's mother raised the idea on several occasions with [her daughter] and then reassured and encouraged my client to proceed with the marriage ceremony", she told the hearing.
I observe no mention of the girl's father, nor of any other relatives.  Why?  – CM
'She said the girl had been having difficulties with her stepfather, and her groom-to-be saw himself as "rescuing the [girl] and becoming the supportive figure in her life".
Suuuure.  The thing to remember is this: Muslims lie. They will lie to save face, they will lie to protect Islam.  It is perfectly possible that the 'husband' and the mother and any other Muslims involved in this sordid business are all lying through their teeth.  One must assume they will all say whatever they think the gullible Infidels might believe.   – CM
'Judge Lisa Hannan said the girl's mother was lucky she had not been charged as a co-offender.
Why not, if she was so active in pushing the marriage?  If it was primarily her idea? – CM
'The man was living in Melbourne on a bridging visa at the time of the wedding, having fled Myanmar as an asylum seeker.
Correction: "Having gained entry to Australia by purporting to be an 'asylum seeker' from Myanmar".  If 'Rohingya' in Burma display as much contempt for the law of the land, there, as this bloke has just done, in Australia, then it's no wonder that the Burmese Infidels have had quite enough of them.  Me, I would advise our Immigration Department to cancel this so-called 'asylum seeker's" bridging visa, and put him on a plane with a one-way ticket to Bangladesh; after he has served his prison sentence. – CM
'Ms Parsons told the hearing that the man was "culturally isolated" (sic: but Muslims isolate themselves, being taught not to befriend nor ally themselves with Unbelievers – CM), and was vulnerable (oooh, poor little 30 -year-old petal – CM) to the reasurances of the girl's mother and the Imam that married the pair.
"He understands very clearly there is a different culture here", she said.
Then he could have asked whatever social worker is on his case.  I bet there is one. – CM
'But Judge Hannan said ti was not a cultural issue but a legal one.
"Culture" should be no excuse. – CM
"He's warned in close proximity, he's wawrned he cannot do that, by an Australian authority", she said.
'Girl "too young" for marriage certificate: Imam.
'Police found a video of the wedding ceremony on the man's phone when he was arrested five days later.
'It showed the pair in the office of Imam Ibrahim Omerdic, who was later convicted and jailed for two months for his role in the illegal ceremony.
I wonder how many other sharia-compliant but in-breach-of-Australian-law 'marriages' this Imam is likely to have presided over?  He is, I gather, of "Bosnian" Muslim origin.  He, too, should never have been admitted into Australia in the first place. – CM
'The court was told Omerdic could be heard confirming the man had handed over $1,480 in gold as a traditional form of payment to the bride's family.
The bride's family.  The mother and the stepfather?  Or… are there others? Who are they? How many people were in on this deal, exactly? – CM
'The disgraced former Imam could also be heard telling the couple that he could not give them a copy of the marriage certificate as the girl was "very young".
'The court was told the man will be released to immigration detention when he serves his jail term.
'He cannot be sent back to Myanmar as he is a persecuted minority'.
He claims to belong to a persecuted minority.   But Muslims always claim to be persecuted, wherever they are in a situation where they do not hold absolute power over any circumambient infidels.  And if his mob behave in Myanmar with the same contempt toward infidel law and morality that this man has exhibited here in Australia, then one can understand exactly why the Burmese are fed up with them.  Ideally, he would be packed off to Muslim Bangladesh on a one-way ticket. – CM
'The man faces a maximum five years' jail and will be sentenced in the County Court on Thursday".