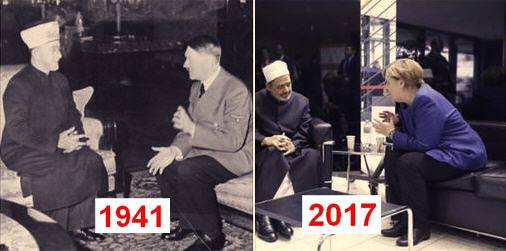 History repeats itself.  Two German chancellors, two Arab Grand Muftis. Both muftis are Jew-haters. Both chancellors have a positive disposition to Islam. One knew about the doctrine and used it for his own purposes. The other one doesn't seem to have the faintest idea, but tells us Islam 'belongs to Germany'. Back then it all ended in a huge catastrophe. What will it be this time?
Michael Stuerzenberger
Manchmal wiederholt sich Geschichte unter anderen Vorzeichen: Zwei deutsche Kanzler, zwei arabische Großmuftis. Beide Großmuftis Judenhasser. Beide Kanzler zum Islam positiv eingestellt. Der eine wusste genau über den Islam Bescheid und nutzte ihn für seine kriegerischen Zwecke. Die andere scheint nicht die geringste Ahnung vom Islam zu haben, zumindest wenn man ihre öffentlichen Aussagen zugrundelegt, meint aber, dass er zu Deutschland gehöre. Damals endete alles in einer großen Katastrophe. Und heute?