Generation jihad: be warned, some caliphate kids are out to kill Australians
Islamic State rears the children of the caliphate to be willing killers for Allah. The UN believes caliphate youth have an unquestionable right of return to Western countries. And who among us would deny children raised by jihadists the promise of safety in the bosom of the West?
The problem is that many caliphate youth have been filmed delighting in the torturous slaughter of innocents. And teen jihadists have prepared some of the worst terrorist attacks on Western soil, including the slaughter of our children. We are avoiding the vexed question of government policy to settle caliphate kids in Australia. Are we welcoming the return of innocent children from Islamic State or rolling out the red carpet for generation jihad?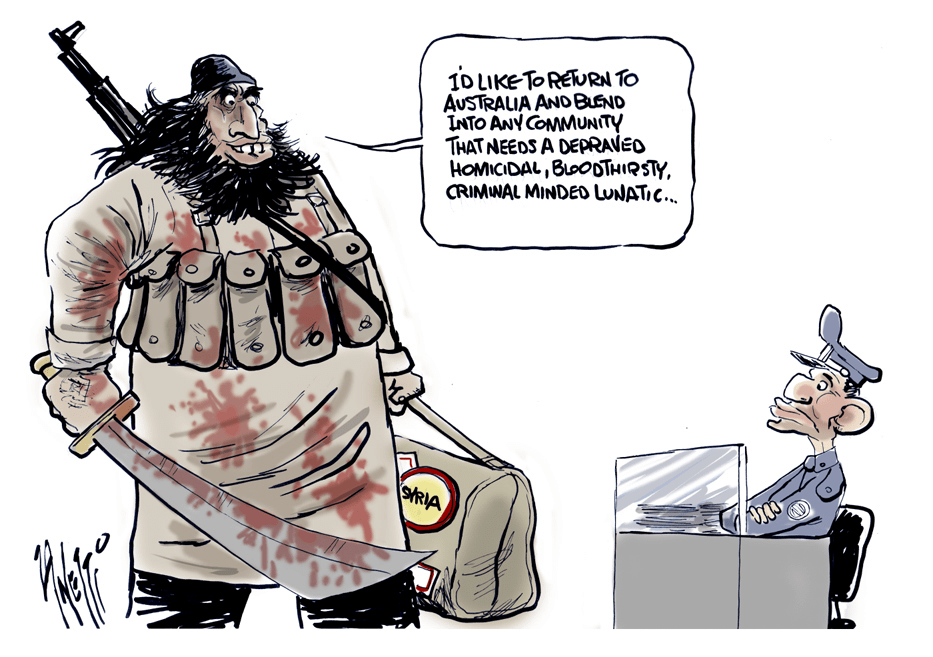 For many, the symbol of jihadist depravity is the image of Khaled Sharrouf's son gripping the decapitated head of a slain soldier. The image that haunts me is teen jihadist Dzhokhar Tsarnaev carefully carrying a bomb through a crowd at the Boston Marathon before setting it down behind a row of children. Tsarnaev was 19 and had been welcomed into America as a refugee. Among those he targeted was eight-year-old Martin Richard. Martin's tiny body bled out after the bomb tore through him, leaving one arm ­almost severed and his intestines exposed.
There are many child victims of jihad. There is the toddler held aloft by her wailing father after ­Islamic State jihadists decapitated her for being Christian. There are the children Islamic State soldiers threw off buildings and burned in ovens because they wouldn't deny Christ. There are the child brides of Boko Haram, the Yazidi sex slaves of Islamic State, the babies orphaned by the misogynist Taliban. There are the Egyptian children shot because they refused to renounce Jesus and convert to Islam. And there is Sharrouf's son grinning in front of a man who hangs from a cross with a sign strung around his neck: "Collaborating with Christians. The punishment: Execution."
The Sharrouf children illustrate the problem with government policy to resettle caliphate children in Australia. It is believed that two died with Sharrouf in ­August. The others include Zaynab, whose story would stir sympathy in the hardest of hearts. She was made a child of the caliphate without her consent. She was made a bride of her father's fellow jihadist, Mohamed Elomar, before she could legally consent. She is a child who gave birth to a child by a pedophile who sexually enslaved Islamic State captives.
No one could deny that Zaynab deserves our pity. But sentiment should not obscure rationality when considering the question of returning ­jihadists. By way of example, consider Zaynab might be more than just a victim of jihad. She captioned an image of the World Trade Centre in flames: "September 11 is the best day of my life. Our brothers gave there (sic) life (sic) to establish the dean (sic) of Allah on earth and they fulfilled what is mandatory on every Muslim to terrorise the enemy of Allah." Is a girl who celebrates the Islamist slaughter of Americans, a girl who considers jihad "mandatory", a good candidate for Australian citizenship? Does she have a defensible right of return?
Justice Minister Michael Keenan has urged sympathy for the children of the caliphate, saying we should "put them into the ­social services system run by the states to ensure their welfare is looked after". He believes the government can vet security risks on a case-by-case basis.
The official ­response strikes me as somewhat naive. The use of children for jihad is not incidental. It a highly developed strategy of war. Islamic State's playbook, Management of Savagery, provides a blueprint for tactical warfare using jihad to ­destabilise nations from within. ­Islamists are directed to attract youth to jihad for small, intensive operations to maximise chaos by exhausting governmental resources as police and military are ­deployed to protect citizens.
Australia already has a well-­developed problem with organised youth jihad. Teenagers have been responsible for preparing gruesome Islamist violence against Australian innocents. Last Decem­ber a teenager referred to as MHK was sentenced to seven years' jail for preparing a terrorist act. He was 17 at the time of his ­arrest. Police raided his family home and recovered bomb-making materials and instructions for a device similar to that used in the Boston attack. The teen expressed violent hatred of people described as "nonbelievers" and Shia Muslims. He had planned to massacre Australians by exploding bombs on a Melbourne street or train.
Last October police arrested two teens allegedly armed with bayonets and intending to decapitate people. One had been filmed before abusing police: "Whatever Allah orders me to do I'm going to do it … youse (sic) are nothing but a bunch of pigs and we are going to rule this earth by sharia."
Farhad Jabar was a teenager when he murdered police worker Curtis Cheng in NSW. Another teen, Raban Alou, pleaded guilty to engaging in the terrorist act and allegedly told Jabar's older brother: "He (Farhad) died for the sake of Allah. You should be happy."
Teenager Sevdet Besim was sentenced to 10 years' jail for planning an Anzac Day terrorist attack in Melbourne. His suicide note outlined plans to carry out a terrorist attack to "establish jihad in Australia … to fight … those who have implemented man-made law … to defend Islam and put fear into those who are enemies to Allah and his religion". Besim was friends with teen jihadist Numan Haider, who was shot in 2014 after stabbing two police officers and climbing on top of one who had fallen injured to the ground, knifing him as he lay prone.
Generation jihad has been trained to destroy the West from within. It is never wise to walk blindly into battle but it is suicidal to believe social welfare will transform soldiers of jihad into fine citizens of the Judeo-Christian West.