Another jihad attack? Maybe. The driver was a Muslim, as suspected.
Last June, the Islamic State published a poster depicting an SUV driving over a heap of skulls and bearing the legend "Run Over Them Without Mercy."
Update: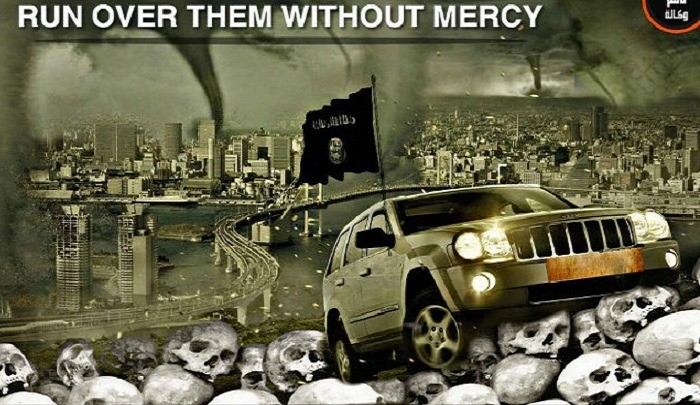 And the Islamic State issued this call in September 2014:
So O muwahhid, do not let this battle pass you by wherever you may be. You must strike the soldiers, patrons, and troops of the tawaghit. Strike their police, security, and intelligence members, as well as their treacherous agents. Destroy their beds. Embitter their lives for them and busy them with themselves. If you can kill a disbelieving American or European — especially the spiteful and filthy French — or an Australian, or a Canadian, or any other disbeliever from the disbelievers waging war, including the citizens of the countries that entered into a coalition against the Islamic State, then rely upon Allah, and kill him in any manner or way however it may be….If you are not able to find an IED or a bullet, then single out the disbelieving American, Frenchman, or any of their allies. Smash his head with a rock, or slaughter him with a knife, or run him over with your car, or throw him down from a high place, or choke him, or poison him….
11 Inured, One Arrested as Car Rams Pedestrians Outside Natural History Museum, London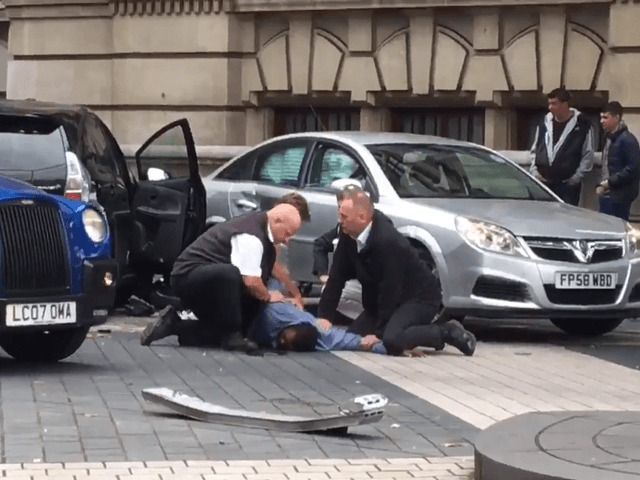 by OLIVER JJ LANE, 7 Oct 2017
Large numbers of police and other emergency vehicles are attending an incident outside the landmark and top tourist destination the Natural History Museum in London Saturday afternoon, after a private hire car mounted the pavement.
The London Ambulance Service said in a statement Saturday evening they had treated "11 patients, mostly for leg and head injuries, and took nine of them to hospital". Fortunately, there have been no fatalities.
Over three hours after the incident, London's Metropolitan Police used twitter to announce they were not treating the incident as an act of terrorism, making clear instead that "It is a road traffic collision."
Update:
BREAKING – UK: Several people are injured after a Muslim terrorist rammed a car outside the National History Museum in London. The terrorist has been arrested at the scene.
TERROR IN LONDON – LATEST: Witness saw the Muslim terrorist in handcuffs who "looked really proud of himself, he was laughing", after he mowed down 11 pedestrians in a vehicular attack outside the Natural History Museum.
3 charged over makeshift gas canister bomb in Paris
The three, identified as Amine A, his cousin Sami B, and Aymen B., were charged late Friday with "attempted murder in an organised group in connection with a terrorist enterprise" and placed in pre-trial detention, the source said.
French prosecutors have charged three men in connection with a makeshift explosive device made of gas canisters placed inside an apartment block in western Paris, a judicial source told AFP on Saturday.
All three were arrested on Monday evening, two days after the device was found in a block in the 16th arrondissement, one of the city's most exclusive neighbourhoods.–World Bulletin / News Desk
In other news:
Polish President: "Forcing migrants on nations will mean the end of the EU"
As FBI investigates Vegas attack, remember its FAILED investigations of Orlando jihadi mass murderer, Boston… 
The Met-police is lying about it. Why would they hold someone down if it was indeed an accident? If his name was Mohammed, you know everything….