Berlin is a fever swamp  full of watermelons, old Stalinist blockheads,  bludgers & Mohammedan cultural enrichers. These people vote for their own demise.
Once again the #BBC misrepresents legitimate opinion as "far-right", and knowingly imparts false information. Not fit to broadcast the news.
Thousands march in Berlin against far-right party
Several thousand people have demonstrated against the rise of the far-right Alternative For Germany (AfD) party days before they take their seats in parliament. (Video here)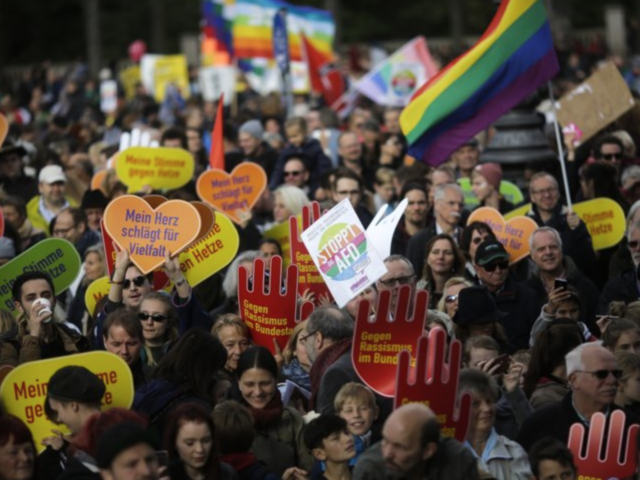 BERLIN (AP) — Several thousand people have marched past Berlin's Reichstag building to protest "hate and racism in parliament" as newly elected lawmakers from the nationalist, anti-migration Alternative for Germany party prepare to take their seats.
The new parliament holds its first session Tuesday. Its 709 lawmakers include 92 from Alternative for Germany, or AfD, which won 12.6 percent of the vote in last month's election. The party is entering the national parliament for the first time.
Sunday's demonstration saw protesters march from the capital's Brandenburg Gate past the domed Reichstag building, home to the national parliament.
Participants carried signs reading "Humanity First," ″Stop AfD" and "My heart beats for diversity."
Ahead of the demonstration, senior AfD lawmaker Peter Felser described it as "an attack on democracy" — an accusation that organizers rejected.