'Refugee tried to strangle medic' at Manus Island
Who determined that the perp is a "refugee?" No Muslim is a refugee. All Muslims are soldiers of allah.
Asylum-seekers protest the closure of their detention centre on Manus Island last month. Picture: ABC
The Australian,  
A Manus Island refugee was ­arrested for allegedly trying to strangle a female doctor with a plastic bag and punching her in the face after receiving treatment at a medical centre run by the ­Australian government.
Horrific video from within the Manus Island detention centre ­reveals the squalid conditions faced by the men who have refused to leave… Urinals are filthy… Green slime covers the floor of the shower-recess and there is grime and mould on the walls.
Andrew Bolt, Herald Sun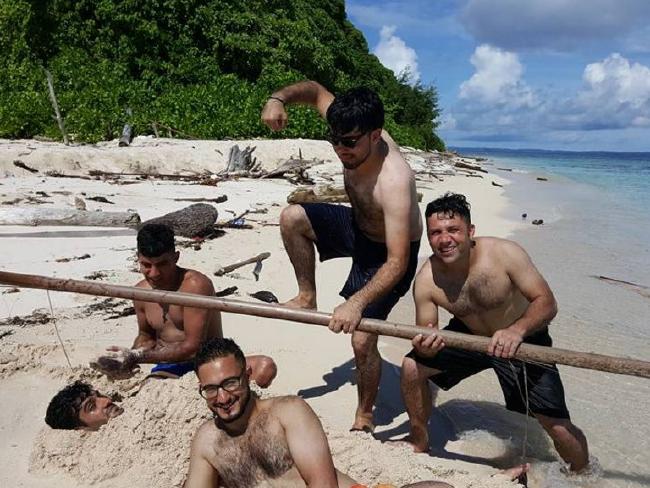 There are nearly 600 idle blokes at this centre. None of them have time to clean the urinals or wipe down the walls of their own shower?
Exactly who do they expect must clean up after them?
What's horrific here is the sheer laziness and lack of pride. No wonder few Australians take refugee activists seriously when we're expected to feel pity that these men are expected to do the cleaning that most Australians do in their own homes every week.
Continued:
The Australian understands the 50-year-old man was accused of attacking a senior female doctor after he was treated at a clinic operated by the International Health and Medical Services, which is paid for by the federal government and treats asylum-seekers residing on Manus Island.
Papua New Guinea police ­alleged the man pushed a female doctor into a room after being discharged from an overnight stay.
The woman, who was not a local, tried to fight the man off, with the noise prompting another medical officer to storm into the room and restrain the refugee.
An incident report filed by IHMS claimed the man, who arrived on Manus Island as stateless, tried to strangle her with a plastic bag and punched her in the face, allegedly causing a gash on her forehead. The man was arrested and charged by PNG police for the incident, which happened in March, but the case was later ­dismissed in the courts.
An Immigration Department spokesman said law and order on Manus Island was a matter for PNG authorities. "It would be inappropriate for the department to comment further given it is a matter for the government of PNG."
Senior government sources confirmed the incident yesterday after a former guard at the Manus Island detention centre described the attack on Melbourne radio station 3AW on Wednesday. The man, who did not provide his real name, detailed allegations about the accused's trial which The ­Australian could not confirm. "Down the track when the doctor went to court no police have shown up and evidence went missing," 3AW was told.
"We later found out through intelligence that this GoFundMe page that the refugees had created through advocates had a large amount of money which they were paying off the police to get rid of the evidence."
Immigration Minister Peter Dutton did not provide a comment by the time of publication yesterday. Lawyers for about 540 asylum-seekers refusing to leave the closed detention centre yesterday lodged an appeal to the PNG Supreme Court to keep it open. They say their safety is at risk if they move to a new camp in ­Lorengau, which they say is not finished.
PNG Prime Minister Peter O'Neill warned the asylum-­seekers they would be arrested if they did not voluntarily leave the centre in the coming days.
"Those involved in disruption have been identified and appropriate means will be used to apprehend individuals who are causing unnecessary anxiety and violence," he said.
"Their actions are now heading towards a law and order situation, as well as a hygiene and sanitation problem, and it will be dealt with as such, whether they are genuine refugees or not."
Barrister Greg Barns, who is advising lawyers for the refugees, said Mr O'Neill should retract his statement. "Threats by Prime Minister O'Neill to use violence and force over the next 48 hours shows a gross disrespect of the court process and an interference with the right of an individual to appeal a decision," Mr Barns said.